You love dresses and skirts which swish and swirl as you walk. Your past life boyfriend was Gregory Peck. Being an eternal romantic, you love old movies like "Top Hat" and swoon when you see Ginger Rogers dancing in her gown of peacock feathers. At the same time, you want something more to a relationship than simply romance. You want a co-star, someone who recognizes and cherishes the real you. The maxi is just your style!
Okay, maybe I'm projecting just a little here, but you get the idea. When maxi dresses first came out, I thought, "too much fabric". I didn't want to hide my legs under a tent. Then I started seeing maxis which not only compliment the feminine silhouette, but which are ultra sensual. In some, the fabric beautifully contours to the shape. In others, I've seen a glimpse of the Ginger Rogers effect: as the woman walks, her skirt moves with her – ever so gracefully.
I would like to share a few maxi dresses/skirts which have recently had me swooning.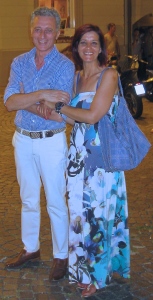 The woman above was spotted near Lake Como in July. The fabric of her maxi dress is silky, and given that I saw it in Italy, I presume it is silk. As she moved across the plaza in a village named Varenna, her dress floated along with her. This week temperatures in parts of the San Francisco Bay Area have been in the 80's (Fahrenheit), and so, I can imagine the dress still being worn today, although I might expect to see darker colors to match the season. As the air chills a bit in the evening, a short cardigan or light jacket would be a perfect topper.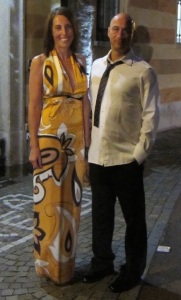 The silky dress pictured above was also observed gliding along the cobblestones of Varenna in July. This is definitely summery with the halter top and bright colors (yellow and white), but it illustrates the luxurious effect of a fabric which skims over the body to show off the beautiful, svelte figure of its wearer: a completely sumptuous frock!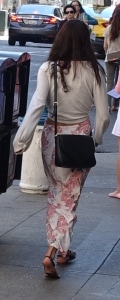 The young woman shown above was spotted in Union Square (San Francisco) in a maxi skirt with a life of its own. A slit to the side aided her in hurrying to her destination, and as she moved, the skirt whirled around her most gracefully. Notice that she wore a sweater to keep warm on that windy day. I love the transition-weather choice of flat sandals for this outfit. It is only seconded in my book by a sleeveless dress with shorty boots.

The style of maxi dress pictured above offers the best of both worlds: a way to show off the gams while allowing for a flowing long hemline. The photo of this gorgeous I. B. Bayo dress can only suggest its movement. While a beautifully dressed woman (or man) might inspire us, the same person moving easily and gracefully before us is truly something to behold.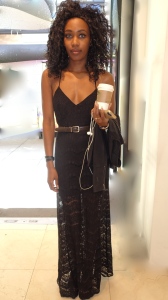 We have another example above of the maxi dress with a sheer lacy top layer over a cocktail-length slip. For cooler days ahead, I can totally see this with a short, fitted leather jacket in black, ivory or maybe red (with a pair of fabulous red heels). Our muse is carrying a little black cardigan, which I imagine also works quite well.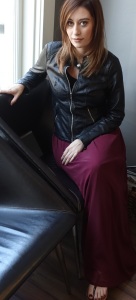 Above we see a leather jacket worn with a maxi skirt in a clingy fabric which hugs the contours of the body rather than simply covering it. There is an interesting balance here of a long girly skirt with edgy motorcycle jacket. For when the air is once again crisp, I love this example of transition dressing: a jacket with flip flops. So cool!
Pictured above is a maxi dress of a stiffer fabric, but one which is befitting for this Chinese inspired design. The side slit is definitely sexy, although I might have a taylor stitch it up just a tad at the top unless of course, I were planning to walk a red carpet or fashion show runway. An austere black shorty jacket seems to be the best choice for an additional layer in cooler termperatures, don't you think?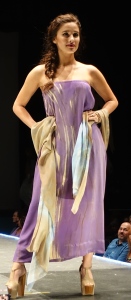 The maxi dress above is truly an objet d'art, made of silk and hand painted by Ellen Brook of San Mateo, California. Although it is not super fitted, the fabric did not obscure the model's silhouette in the least but rather, it swirled beautifully around her figure.
The way it is worn here is ideal for showcasing the artistry of this creation. From a body conscious perspective, I can imagine it worn with a decorative belt to define the waistline, although this would obstruct the painterliness of the piece. When the wind picks up, the silk scarf would be great for covering the shoulders. A shrug would also be useful for covering up but would also interfere with the composition of the painting.
The muse above also models beautifully hand painted silk by Ellen Brook. I love the way the skirt outlines her shapeliness, clinging just the right amount.
Although the fabric might be similar to that of our Italian muses at the beginning of this post, there is considerably more detail here: an asymmetrical poncho with grommets and leather lacing down the shoulder and a skirt with high slits. The back of the skirt is mostly black with a patch of the orange, toffee and pink seen in the front. The artist and designer suggests that they may be worn with leggings, a great idea for upcoming weather.
Maxi skirts and dresses can seriously be worn at least three seasons of the year in California. We are so fortunate! They are expressive garments, with a slight tendency toward drama (the good kind!) and elegance. I love giving myself license to don a long dress in the daytime or summer, and wear short dresses or skirts in the evening. It is like painting with colors which match our feelings rather than what we see outside of ourselves. After all, isn't that what style is all about anyway: expressing our individual (inner) selves?
What are some of your thoughts about maxi dresses/skirts?