This improvised resort outfit was my favorite look on a recent trip to South Beach in Miami. I was so excited when Mark sprung on me an opportunity to go to a tropical paradise – albeit during hurricane season!
I ended up packing mostly black and white garments. Interestingly, as you may have read in Liliya's last post, that is also what she primarily packed on her recent Hawaiian adventure. Mixing and matching is so easy with those two colors, especially in a warm climate. I mean, you can go with any combination, including white on white.
Despite the beautiful resort setting, we didn't come here for vacation. That's because Mark was here for work, and I also worked from the hotel room. But fortunately, I got wifi on our balcony. What a gorgeous respite it was from the Seattle rain!
Dinner at South Beach
Going out to dinner was one of my favorite parts! That's because food in South Beach is a-mazing! I asked our taxi driver what was recommended in these parts, and he answered that you can get anything. But, he seemed particularly fond of the seafood and Italian. We soon found out why!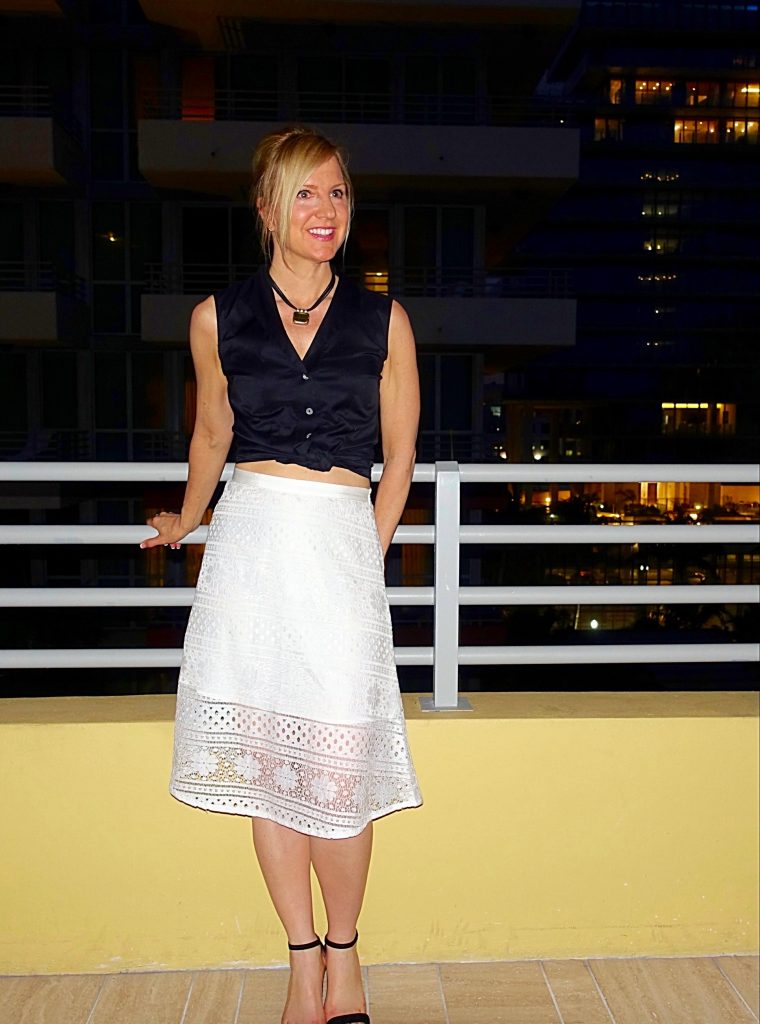 Joe's Stone Crab had the best seafood – ahhhh, the branzino! – and cocktails while Pappa & Ciccia served amazing Italian – I couldn't get enough melon and prosciutto! Our waitress was from Milan; she and the food made us feel like we were back in Italy. With such wonderful Mediterranean fare, I can see how the South Beach Diet originated here!
We were lucky; no hurricanes came through. But the winds seemed to have kept down the crowds. Restaurants along popular Ocean Drive were all quite full, but we could go just about anywhere without a reservation (mid-week).
My improvised resort style
I didn't originally plan on wearing the pieces of this look together. But I think that they worked out perfectly. The windy-yet-warm evenings made me want to tie my sleeveless button-down shirt in a knot to give it a more resort, cropped feeling. I tucked in the ends of the knot to make it look neater.
And I was so excited to get my first wear out of a skirt I picked up end-of-season at a huge discount. I absolutely love lace, and the A-line is not only a classic cut but flattering on a pear shape.
I was also hoping to wear it with a black sweater and boots this fall. But, it is really so thin and made of a very cool lacy cotton, and so, it didn't work out as planned.
A Word of Caution
As for the sandals…now I have to admit that I do not recommend these for hot and humid places where you'll do a lot of walking. I love the ankle strap, and a block heel is very comfortable.
But with much of your weight resting on a thin strap in front, you can literally rub the skin raw in a line across the tops of your toes if your skin is at all moist. Mark and I had to take a taxi 3 blocks back to our hotel after dinner this night!
Although temperatures were between the 70s and 80s, I brought my white and black cardigans along to restaurants. That's because you never know if they'll be blasting the air-conditioning. I chose a white one this night just because I could. After all, we were in tropical paradise!
I hope you'll let me know what you think of this outfit. Do you like to pack black and white for vacation, or do you prefer bright colors for a beach resort?
XO, Janea
---