I would have to say my favorite color combination for this summer is light grey with white. It's a softer, more sophisticated variation of the all-white look which has been so popular this summer. Just adding a slightly darker tone – light grey – makes an outfit look airy and light but not glaringly in-your-face.
When I first saw my colleague Alyssa wearing the Banana Republic ensemble pictured below, I was reminded of an old black-and-white negative print: a reversal of the more commonly seen dark suit with white collar. She also looks a little celestial with her cloud-like white polka dot top, don't you think? The black accents at her collar and feet "ground" her and nicely frame the outfit.

My favorite element here is the double-stranded coral colored choker necklace, handmade by Alyssa herself. It is a perfect accent of color, contrasting beautifully with the black-to-white spectrum. Notice also how it draws your eye upward to her face.
This next look (pictured above) is cool, casual and youthfully lady-like. The fitted, long-sleeved top is a more polished alternative to the more typical tank top or t-shirt, and the grey skirt keeps the white top in check so as to prevent too stark an impression. It is the perfect outfit for a warm Saturday afternoon.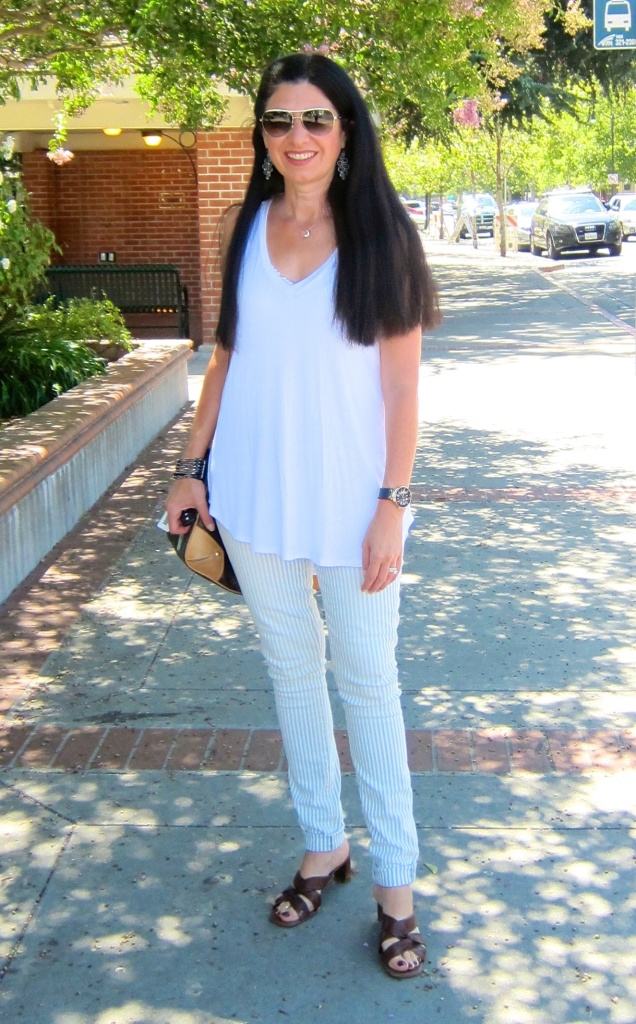 This third ensemble (pictured above) is a casual, comfortable look which I originally photographed for an earlier post regarding alternatives to yoga pants for everyday wear. It is simple and uncomplicated, but definitely stylish. With something like this in the closet, there's no need to resort to those boring yoga pants for a weekend stroll about town, now is there? This woman was pictured on a shadowy sidewalk, but I assure you that when she stepped into the sunshine, she glowed (oh so softly).
Sandy's lovely ensemble (pictured below) was featured in an earlier post about sparkly sandals. I include it here as a beautiful variation on the grey-white combination. Both Sandy and Alyssa (in the first photo) demonstrate how adding an additional color can wonderfully enhance the palette.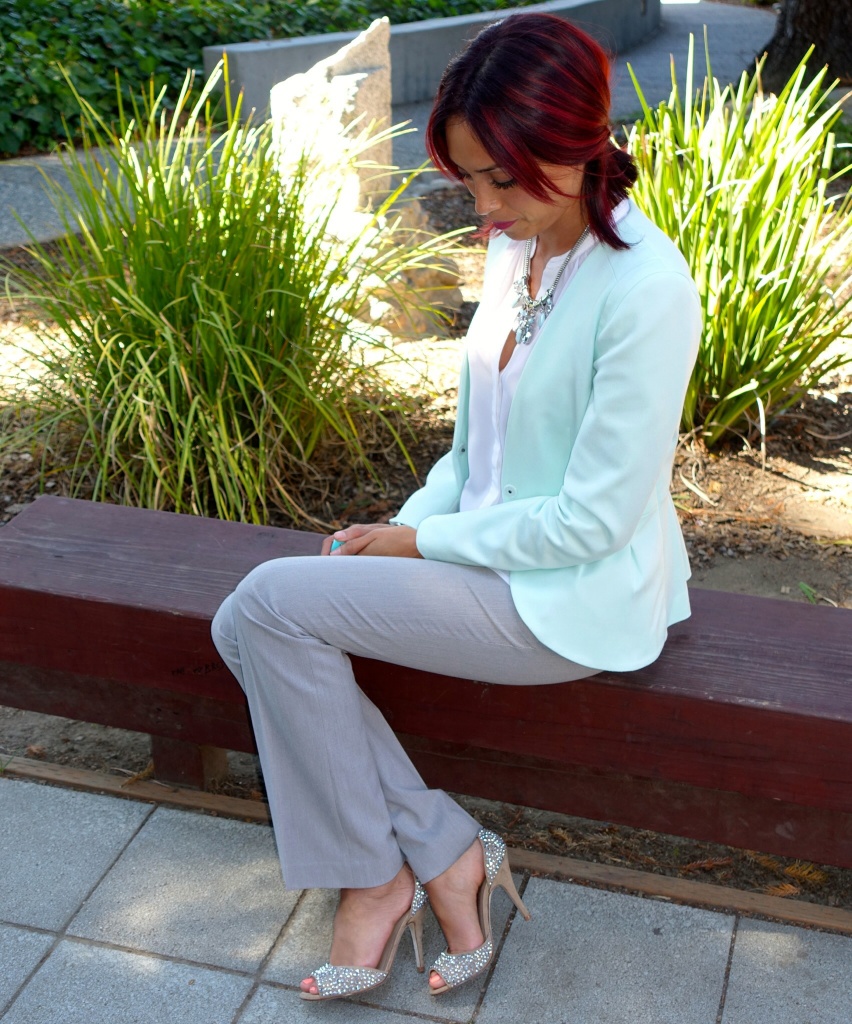 Adding a third color works best in my opinion, if it is very close in tone to the grey – as is the light wintergreen pictured above – or if it is a strategically placed small detail, as in Alyssa's ensemble. Both ladies chose accent colors which flatter their natural coloring.
The only problem I can foresee with this grey/white pairing is the upcoming change in seasons. But then, we can always resort to grey and winter white! Does this combination get your vote?