I love mishmashes of things, like an inexpensive cotton sundress from Target worn with Gucci sandals and Fendi handbag or my favorite breakfast of french toast made with sourdough bread and topped with almond butter, fresh fruit and plain yogurt (made for my birthday breakfast this morning!) I was thoroughly entertained some time ago upon overhearing conversation between two hispanic college students in an arbitrary jumble of Spanish and English. Yes, blends are what often catch my attention.
It should be no wonder that during my recent visit to Milan, hipsters would catch my eye and bring a smile to my face.
As opposed to these San Franciscan hipsters…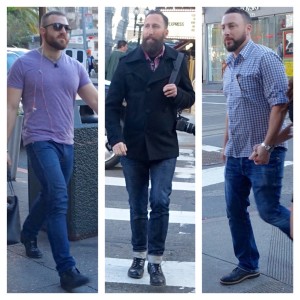 or this more chic hipster from New York…
Milan once again takes the cake when it comes to style…this time among the iconic bearded, skinny-legged hipsters! 
This fellow on a bike has a bit of the Riviera look about him, wouldn't you say? 
And our next hipster muse looks immaculately tattered. Love all the silver rings on his left hand!
I'm not trying to imply that hipsters outside of Italy lack style, but this is especially delightful!
The dude pictured below gives off a sleek, professional vibe.
Of course in Italy, handcrafted beer is not the required libation for hipsters. 😉 On a hot, summer day, white wine might be the beverage of choice.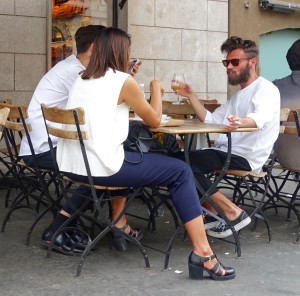 According to theSTYLetti writer Julia, hipsters haven't been as visible in Milan until this past year. Part of me has to wonder why in such a style- and fashion-rich culture, anyone would look outside of it to influence his or her look.
But then, hipster culture is worldwide. Why shouldn't Italians be among those who take part in the movement? I must say I am grateful and thrilled that so many do it with extra panache. Leave it to the Italians to take even hipsterism to the next level!
XO, Janea
---
?