What do you wear to walk around New York City in spring when the air is still chilly? Liliya's OOTD offers the perfect solution: colorful Kate Spade and a fun mix of patterns.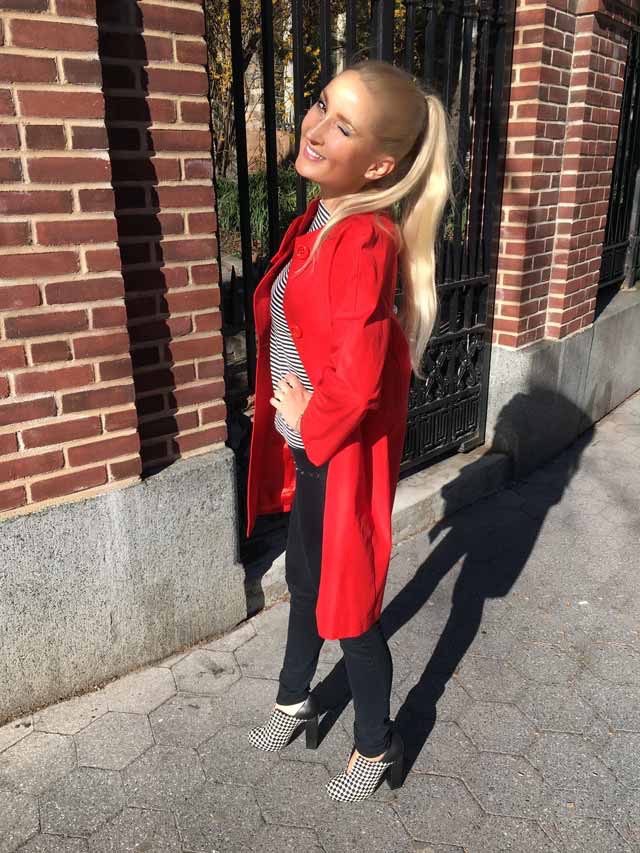 Casual Kate Spade
All three garments here – the bright red coat, striped tee, and pants are from Kate Spade's Broome Street collection. The casual line is considered a lifestyle-focused brand. That basically means that it's an expression of everything we do. Although Liliya loves to dress up, you may recall her confession that her quintessential style is EASY-GOING.
Liliya explained to me that this fashion shoot was a bit experimental. As she walked around, a friend took random shots of her. Sometimes she got a chance to pose, while at other times, she was caught giving the cold "stink eye." 😉
Back to the outfit though, Kate Spade is a perfect choice for spring. That's because the brand is known for its bright colors. I also love how ladylike it is, as you see in this coat with a bow at the neckline.
I recently blogged HERE all about spring's hottest colors according to Pantone. And I might add to that some news by to Elle magazine that "power" RED is on the rise. (Hope you didn't miss Liliya's gorgeous red LAYANA AGUILAR DRESS for New Years Eve.)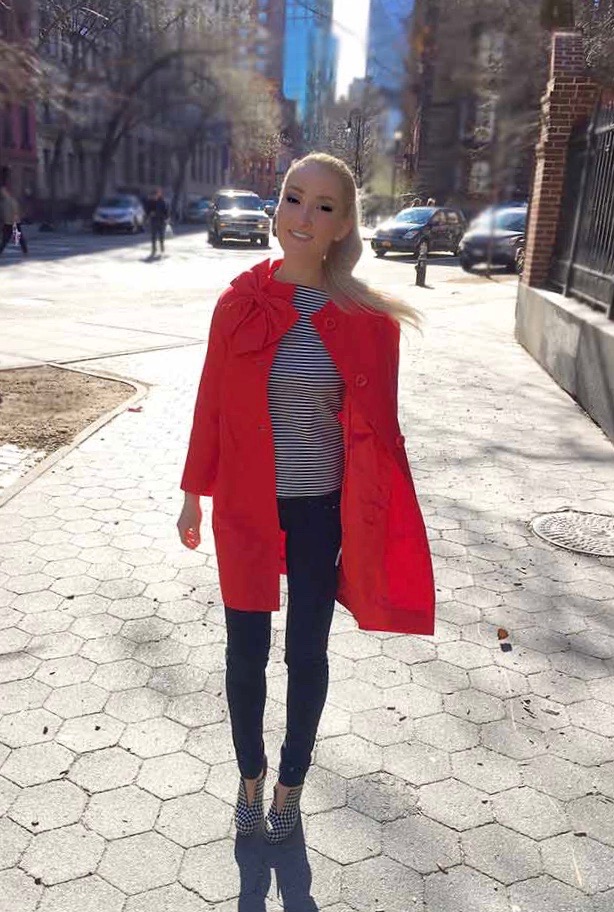 Shoe-lover shoes
As for the shoes – ah, the shoes! – they make for a chic play of patterns: stripes with checks. The booties are by Charline de Luca, a designer of whom I had not previously heard. (Leave it to a shoe-lover like Lilya to discover the goodies!)
Charline de Luca footwear is made in Italy. Although from Rome, Ms. de Luca studied architecture in New York before returning home. Her shoes in general strike me as architectural, including these art deco-ish lovelies.
These shoes are actually what caught my eye when I first asked Liliya if I could take her photo. And of course, the rest is HISTORY.
XO, Janea
---