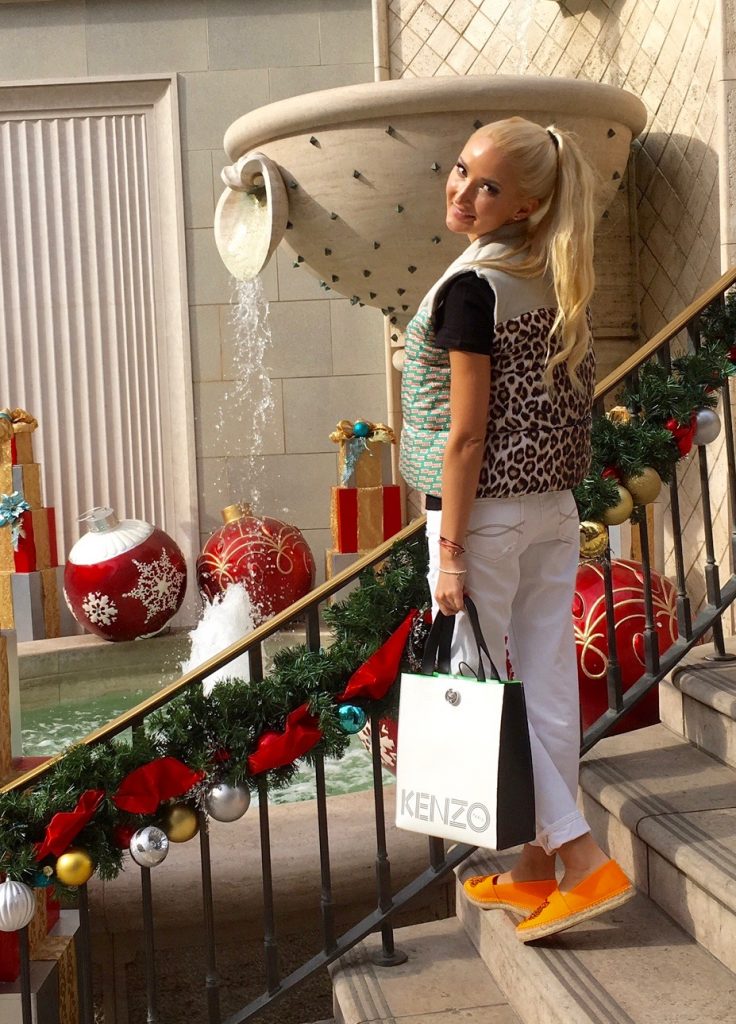 Liliya's outfit of the day for walking around Beverly Hills is very Kenzo and very fabulous. We get to see some great pieces she got from the Kenzo X H&M limited collection and how she combines them with some original Kenzo and another piece which echoes the jungle theme of the Kenzo brand. The result? An outfit that is casual, fun, and chic.
Tote and T-shirt from the Kenzo X H&M limited collection (sold out) / Kenzo espadrilles / Abercrombie & Fitch boyfriend jeans / La Prestic Ouiston vest (sold out)
To my surprise, this day in L.A. wasn't too warm. It was probably in the low 60s. When I was packing for my not-too-planned trip, I put some warm clothes in my luggage. But I have to say that most of what I packed was summery. I guess that's because L.A. has always been a summer destination for me.
Very Kenzo
Naturally, I took some of my new Kenzo X H&M pieces that I recently bought and never had a chance to wear. (The weather has been way too cold in New York!) They include a leather shopper bag and an embroidered jungle tiger T-shirt. I bought these original Kenzo flats with the tiger motif before the Kenzo X H&M collaboration came out, and I think they match the newer pieces perfectly.
Playing in Beverly Hills
The day I wore this outfit, I met up with my friends Vadim and Jonathan for coffee and shopping for Christmas decorations. Kostya, with whom I flew out from New York, was also part of the gang. It was Kostya's first time in California and actually his first time flying within the U.S. And so, you can imagine how exciting it was. I had a great time showing him around Beverly Hills and Rodeo Drive. We had a blast! And it was so nice to see shops decorated for the holidays without cold Arctic winds blowing down our backs. 🙂
Well, I have to admit that I was a little cold in that T-shirt – and even with the vest which I felt I was being so thoughtful in taking. Fortunately, however, it got really sunny in the afternoon. And so, the walk ended up being very enjoyable. Maybe the weather heeded the call of the jungle!
---