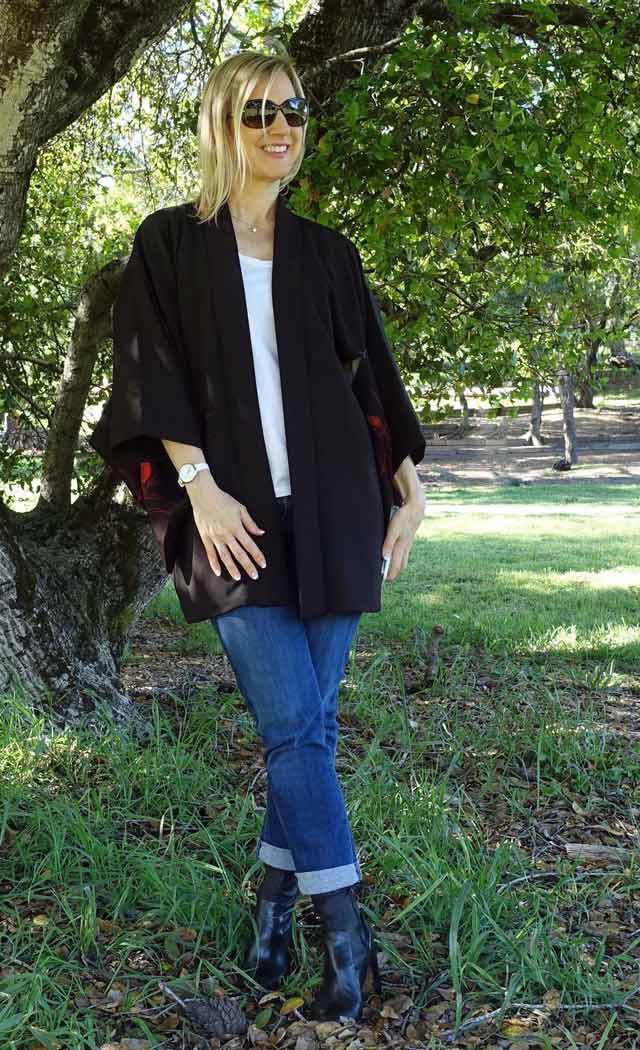 In the spirit of playing with the oversized clothing as I did in THIS POST, here is a new favorite look. It's my "kimono style." If you want to be technical about it, what I'm wearing is a Japanese haori. It's a jacket you'd wear over a kimono. But whether you call it a kimono or haori, here's a simple, cool way to style it: with jeans and a white tee.
Silk haori – Tokyo Narita Airport shop / Hudson boyfriend jeans – SIMILAR / Alternative Apparel tee – SIMILAR / Vince ankle boots – SIMILAR
The Kimono 
Mark brought me back this kimono from Japan, where he recently went on business. A true kimono can easily run up to $10,000. That's the full-length kind that takes forever to tie in some ceremonial way. I know because in high school, I borrowed one from a friend who had been a foreign exchange student in Tokyo.
This one was purchased at the airport at a reasonable (tourist) cost. And it's much more translatable to a modern look. It has a couple of white fabric ties on the inside, but I prefer to wear it open.
Why a silk kimono is perfect for early spring
Surprisingly, I found that this silk kimono is perfect for spring weather! You may be able to tell in the photos that it was very windy in Santa Cruz, California when I wore it. But, the kimono/haori has a substantial weight to it. Besides that, I recently discovered HERE that silk is an ideal fabric. It…
keeps you warm in the cold.
is breathable, and will therefore, keep you cool on hot days or warm nights.

naturally repels mold and mildew.

is hypoallergenic, which is great for sensitive skin.

has a naturally beautiful luster from smooth threads.

doesn't tend to cling or crease because it does not create static.
I have a silk tunic, which I featured in THIS POST. I wear it on plane trips, and am amazed at how I can be all shrunched up in an economy class seat for hours. And it comes out wrinkle-free at my destination!
Other styling ideas
I am looking forward to styling the kimono in other ways. I might actually prefer it with skinny jeans – rather than boyfriend jeans – for a more flattering silhouette. And I'm thinking that for date night, I'd love to try combining it with dressy black cropped pants, a silk cami, and heels. Another option would be to wear it over a simple, short LBD.
I hope you like this kimono style outfit. If you're wanting a haori, it might not be cost-effective to fly to Japan. But ETSY has beautiful and affordable pieces, some of which are even vintage. How cool is that?
XO, Janea
---