Hello, dear readers!
Just got back from spring break with my husband, Mark, and I am so excited to share some of the great street style I saw in L.A. – places like the Promenade in Santa Monica, the Grove in West Hollywood, and of course, Rodeo Drive in Beverly Hills.
As I blogged after my last L.A. street style shoot, I am so inspired by creativity and free-spirited looks I see in that part of the country. And who doesn't enjoy bright, sunny days to further illuminate a girl's look?
Although most of my street style shots are candid, I simply had to stop this woman briskly crossing Rodeo Drive to request her portrait. I'm reading everywhere this spring about slip dresses, that garment which I imagine looks hideous if improperly styled.
I am totally inspired by how this angeleno did it: a black slip dress over a filmy dancer-style top and ankle boots (perfectly fitted to the ankles). At first, I thought that her upper body was covered in tattoos until I looked more closely. I didn't ask if the effect was intentional, but if so, brilliant!
The shiny patent leather boots bring out the sheen of her dress for added elegance, don't you think?
Rodeo Drive, Beverly Hills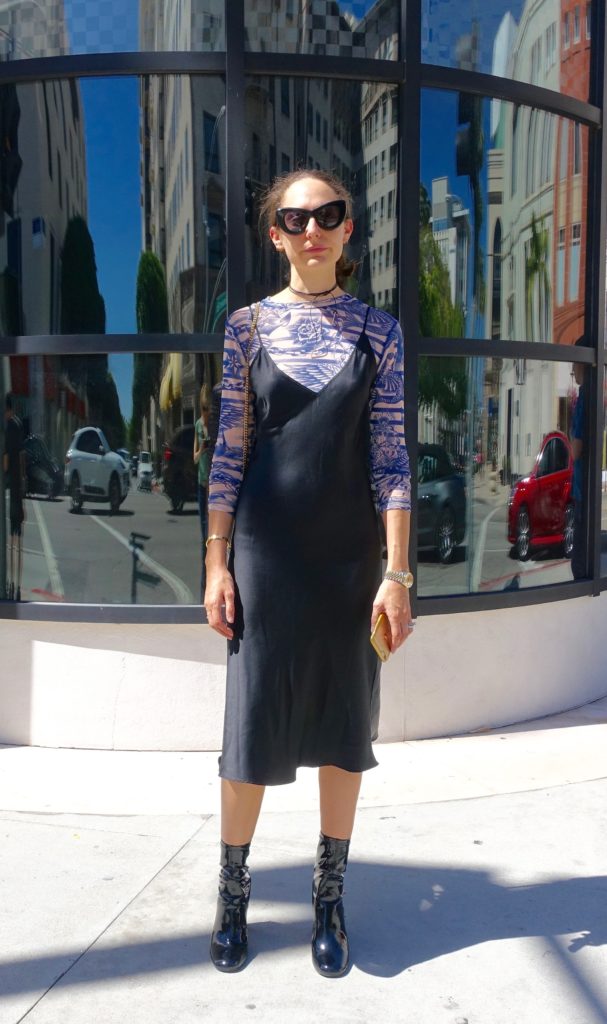 XO, Janea
---
????