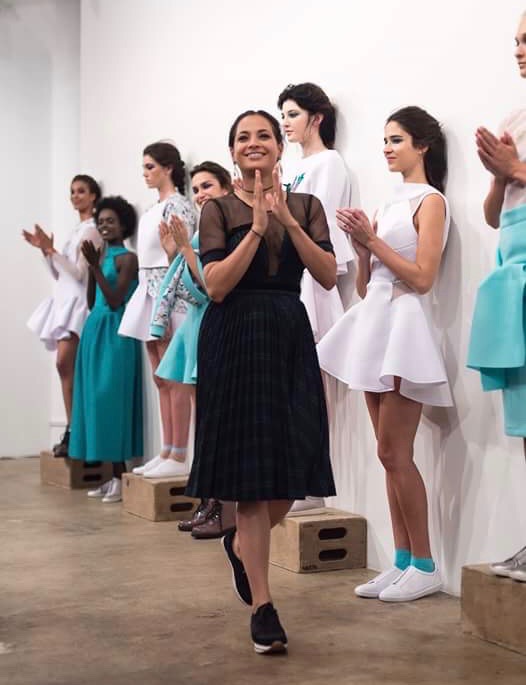 Do you or have you watched Project Runway? Even if you aren't an aspiring fashion designer, I think that it is amazing to see what emerging designers do with limited time and resources. One such designer – and one of my favorites from the show – is Layana Aguilar. I was thrilled to learn that our Liliya and Layana are friends, and that I could actually interview her. (Perhaps you recall this dress designed by Layana that Liliya got to wear for NYE.)
I can't tell you how excited I am to be able to share with you some exciting news about Layana's S/S 2017 collection, her inspiration, and a super cool TV project she has underway …
Here are excerpts from our recent interview.
Layana, I really enjoyed seeing what you would create on Project Runway. I'd love to know about the direction in which your designs are going and well, let's start with…
What inspires you these days?
After becoming a mom, everything changed for me. At one time, I would wear six-inch heels, and now I wonder, "How did I do that?" Now the main thing that matters to me is comfort.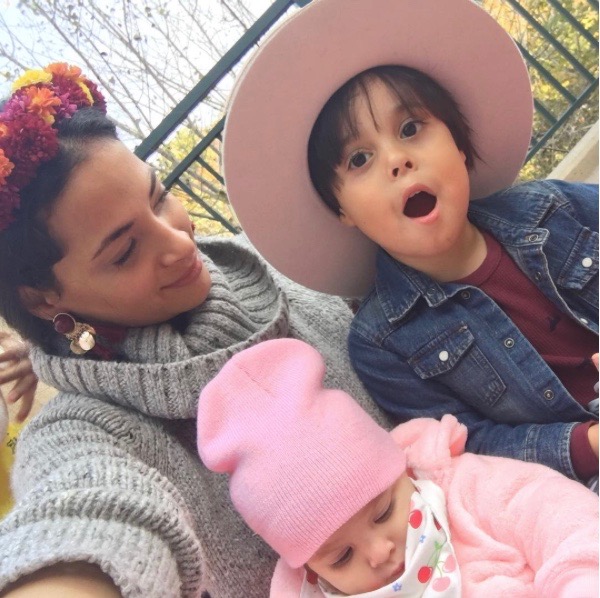 I design now for women who also have busy lives – those who are mothers, wives, business women – my designs celebrate the strong woman who has goals and goes after them. And they are for the woman who likes to express herself through fashion. I feel that your clothing allows you to tell your story without you having to say anything.
I also think that it's important to have balance. My pieces have an element of comfort while being feminine with a cool factor. And they have sex appeal. I'm Brazilian, and so, that's part of my D.N.A.
Please tell me about your last (S/S 2017) collection.
My 2017 collection was inspired by the hummingbird. In fact, it's called Miss Happy Hummingbird. I love the hummingbird! I see it as a symbol of women's strength. It appears to be a fragile bird but is so strong and resilient. It represents to me the power of pushing through and never giving up on your dreams even though we there are often so many obstacles in life. (She smiles.) In the world of fashion, you need a lot of resilience!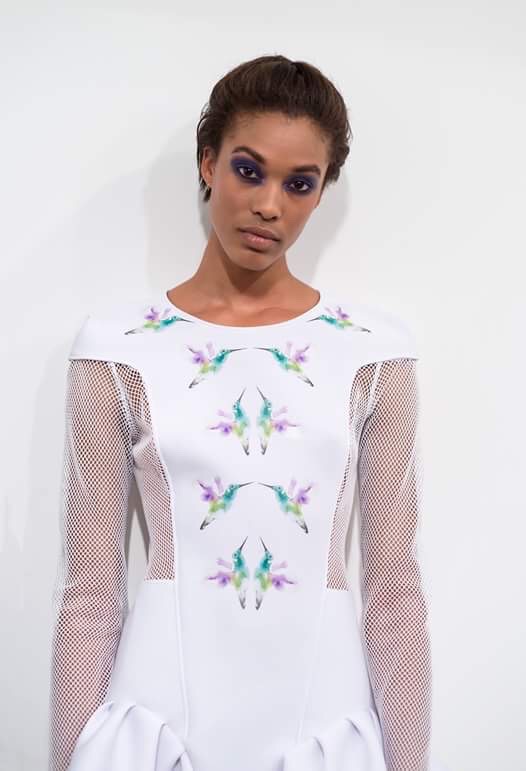 So how do your designs reflect that image of the hummingbird?
If you look at my fabrics, there is some interplay between mesh and neoprene. One of my signature fabrics is neoprene, because it's a strong fabric. It holds a shape just the way I want it, which allows me to make a piece different and unique; I can translate exactly the feeling that I am going for. I also manipulate the neoprene in a soft way so that I can actually make it look very delicate.
In the silhouettes of my collection, there are a lot of flares to keep that aspect of femininity and beauty. I designed all the hummingbird patterns.
Another thing I thought about while creating this line was flowers. And so, a lot of the pieces look like blooming flowers upside-down, there are some hoop-like, big skirts. The mesh, to me, kind of symbolizes a trap that a hummingbird might have to break out of.
I chose white as the main color of the collection, because white is very pure and peaceful. And I added splashes of teal and a little bit of lavender. And so, it came together…I wanted it to look like a fresh collection, like a breath of fresh air.
Liliya wrote a little

about the store

where you are selling your pieces. Can you tell me more about it?
Flying Solo opened in June. It's a (fashion designer) collective, and we had no idea what we were doing at first. But we all came together and accomplished something really great. When you talk with emerging designers, they are all going through the same problems. The biggest one is sales. It's very costly to invest in production, and so we don't really have inventory. Most of us just do made-to-order. On my website, we wait for about 5 orders, and then fulfill them all ourselves. So with this store, we are able to eliminate the middleman, of having to go to a showroom or wholesaler.
We sell directly to our consumers. And even though I have accounts – I sell to boutiques – it's so much more helpful to be at the store; I get to test which styles are selling more there and then I can get those styles invested in production. And it's great to be able to interact with customers. We don't have to pay for PR anymore, because the store itself gets a lot of press.
Our next step is to grow more into a showroom. And we are thinking about getting a manager. The idea of the store is that all the designers work there at least twice a week. And so, each time you go to the store, you get to meet the actual designers. But it's sometimes hard for us to be at the store for a full shift. Each of us is wearing all the hats (from designing to patterning to production.)
Will you show at NYFW this February?
Yes, I'm going to have my biggest show so far. I've been showing now for 4 seasons, and I usually just have a small presentation. It gets really costly. And you don't get instant gratification from it, of course, because you don't get the money right back. But I feel that people are expecting me to go bigger, and I want to do something bigger.
Also, there's been a lot of buzz around my name because of my deal with Disney to design a gown for 'Elena of Avalor.' And so, I have to grow as my collection grows. Instead of a presentation, I'm planning a full runway show with lights and everything at the Affinia Hotel Grand Ballroom. We will have 350 guests, and I believe that I'll have a live band playing.
I've been able to be smart about it. I have a lot of friends who can help me pull this off with as little money as possible. Being nice to people goes a long way!
Was there anything else you wanted to mention about your recent work?
Actually, I have some very good news. I am producing my own show. It's literally about empowering women through fashion. Something that I've always wanted to do is to give back through my work. It's funny, because you can get caught up in thinking, 'Oh, my voice is so small. I'm not super rich. And so how can I actually help people?" And then I realized that it doesn't matter. Everyone can do as much or little as they can to help others. And so I started reaching out.
I believe that beautiful memories can help people to be happier. And so, I want to help create some happy memories for women. Also, I believe that when your outward appearance does not reflect what you want to feel about yourself on the inside, it's harder to be strong and overcome difficulties in life.
Women are sending me stories about how they would like help to overcome difficulties in their lives. They tell me how they feel and all that they are struggling with: self-love, some have overcame cancer…there are all kinds of stories. From teenagers too. I've already started casting. And I've been fortunate to have been on TV with Project Runway, and so, a lot of people believe in me and also want to do this.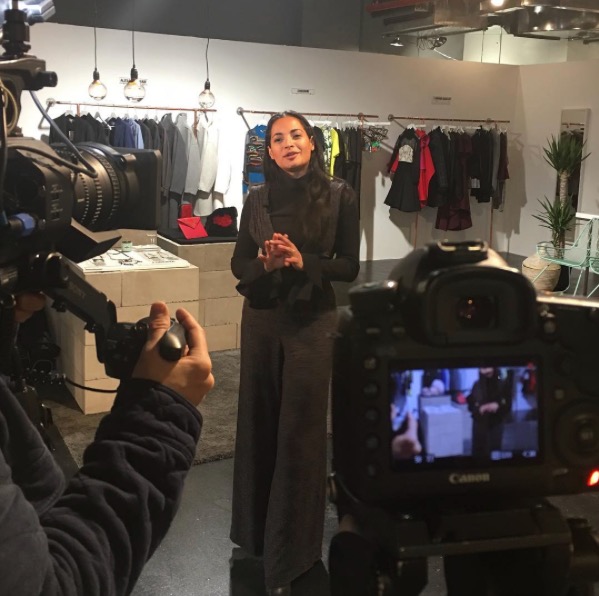 I pick the stories that are super inspiring that can help other women who are going through the same thing. Because sometimes all you need is to hear somebody else's story that's like yours and to hear that that person is overcoming what it is you are struggling with.
I want to start by giving these women a makeover. Some of them say that they have specific events that they are going to, like a high school reunion, and I'll make the outfit of their dreams for that night. I'll also help out as an image consultant. And depending on the resources, I want to even go beyond that and really help. Fortunately, I am working with a Brazilian production company that has major connections with channels in Brazil. And that will definitely help us spread the message.
If you know of any stories (and this applies to you, dear reader!), I am specifically looking for teenage girls right now. But I am going to try to accommodate everybody. We will shoot 5 pilots, in English and in Portugese.
We just came across a story that I want to feature. A friend that works for MTV said, "Layana, guess what? There's a lady who goes to my church. She is homeless. She was evicted from her home, because she has cancer and she has been in and out of the hospital, and she can't work. Her landlord evicted her and threw all her stuff out. Now she has two holiday events, and she has nothing." I thought, "That's perfect for the show. I will make her day very beautiful!" And she wants to film!
If you know of anyone whose story could be inspiring and make people feel better, please let me know. Spread the word. We want to have people from all over the world. I always think super big. The sky is the limit!
Of course, I had to congratulate Layana for the incredible use of her creativity and this new adventure. She answered:
I am very passionate. I love what I do.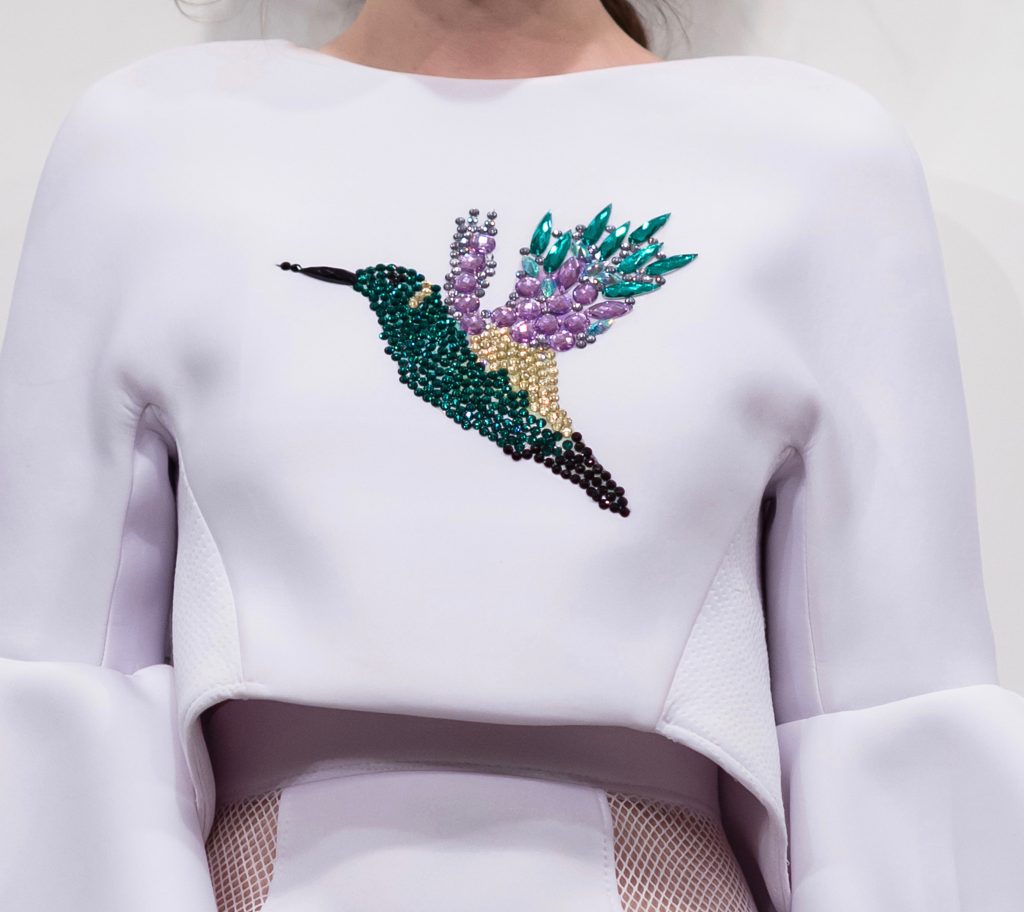 Stay tuned for Layana's Fall/Winter 2017 line coming up. Liliya and I will be sharing it with you from the NYFW show in February!
XO, Janea
---