Karl Lagerfeld is known to have said, "Trendy is the last stage before tacky." While many of us like to be current when it comes to fashion trends, we also realize that we are not all suited to every one of them, nor do we want to forfeit the opportunity to express our personal style in order to simply follow the masses.
Now with that preamble out of the way, I have to say I am totally loving this trend of showing off your socks! 
Do you remember what a fashion faux pas it used to be to let your socks show with certain outfits? It was considered so much more chic to slip our bare feet into flats or heels, even with the prospect of having to walk a mile or two in them. ???? Oh, the elbow grease my poor pedicurist had to use, working on those callouses!
I love the change – and the myriad ways that socks can up-style an outfit.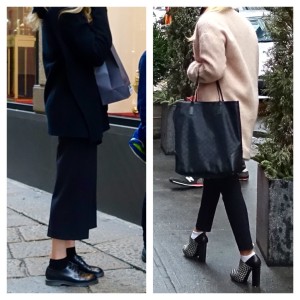 ANKLE SOCKS
For me, the inspiration started with ankle socks. They've been pushed since last year by fashion authorities such as Vogue magazine (see article here). And since then, I have been delighted to see them in the streets – especially with mary janes. They are definitely on my wish list. 
Whether you wear them with pumps, oxfords, or booties, ankle socks are virtually no-fail. And those with patterns further allow you to reveal your fun-loving, whimsical side.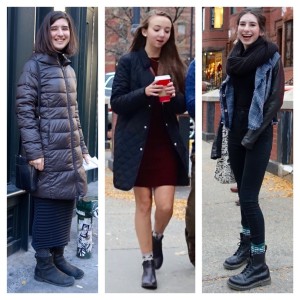 Pictured below is another super cute outfit featuring little white socks (with red hearts – not so visible). I love the flash of brightness at the ankle, which totally elevates the chicness of this ensemble of mostly basics: white graphic tee, long black cardigan, black leggings, and black ankle boots. 
Warning:
Ankle socks don't always work. Combined with a sweater, short A -line skirt, and white sneakers, they can bring one dangerously close to resembling a baton twirler.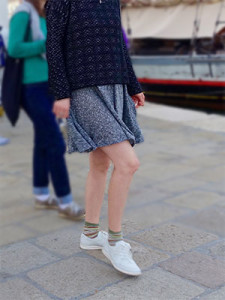 KNEE SOCKS
I'm a bit more hesitant to try out knee socks, since they require quite a bit of discretion. They can, however, be super cute and edgy.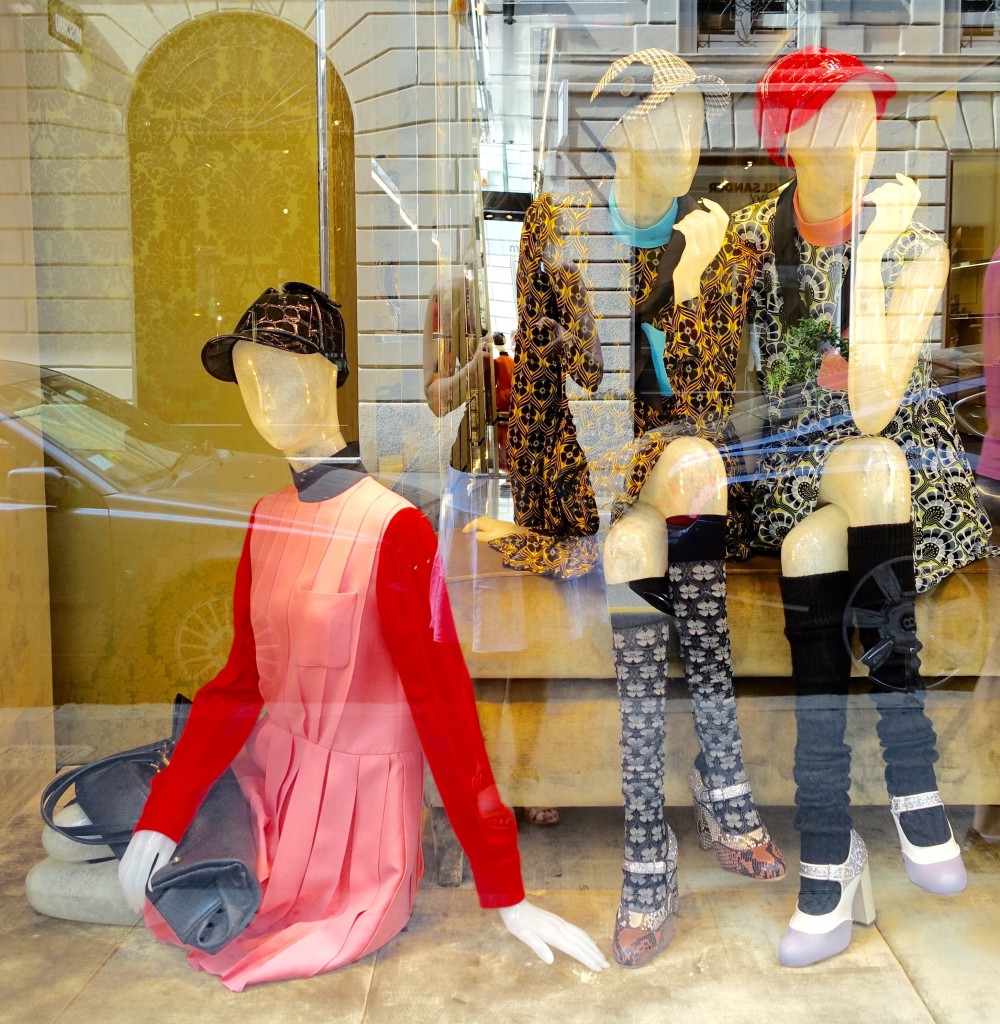 Although the stylists for the Miu Miu window above have a definite knack for making knee socks look super cool – I love them with the mary janes! – you must take special care not to take on a purely schoolgirl-uniform look.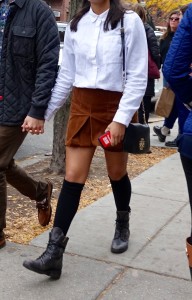 One way to avoid this is to wear a more grown up dress (no button-down shirts, please!) and pair the knee socks with tights.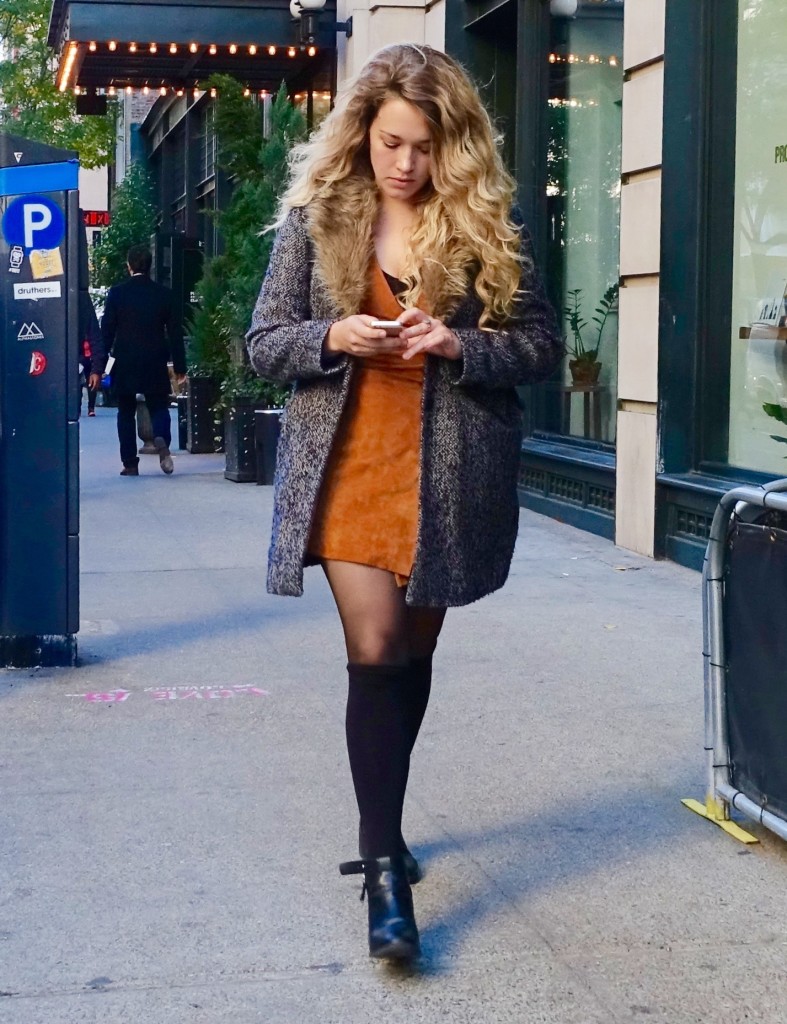 You can go more with a chic monotone black knee high/black tights combination or be a little more daring like the muse below, combining legwear of multiple colors and patterns. Wearing knee highs with tights is also more comfortable for chilly fall/winter days.
THIGH HIGH SOCKS
Another look which has caught my eye – most often worn by younger women – includes thigh highs. They're not the sheer, feminine type which has been around for eons, but rather chunky cotton ones.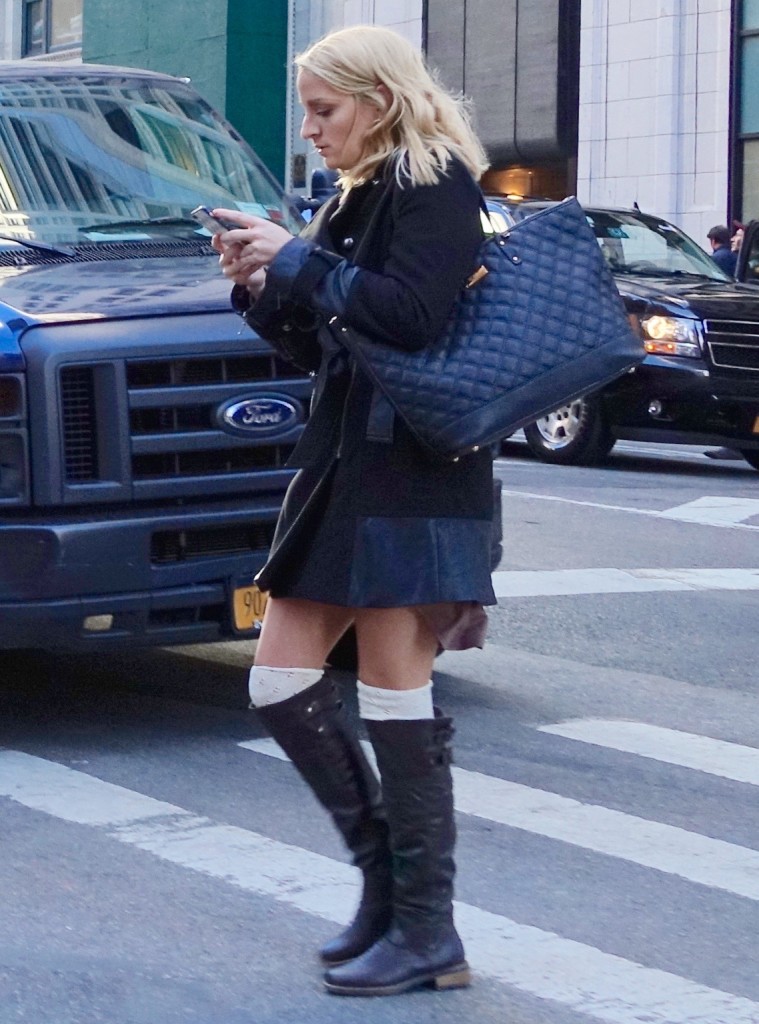 They are still super sexy and warm, which is why they were on my wish-list until last weekend…  
…when I bought some at a lovely hosiery shop in Penn Station in New York. (I am not constrained, by the way, by what people believe should or should not be worn by women of a certain age but only go by what I think looks "good" or "bad" on me.) I also like the fact that they are toasty!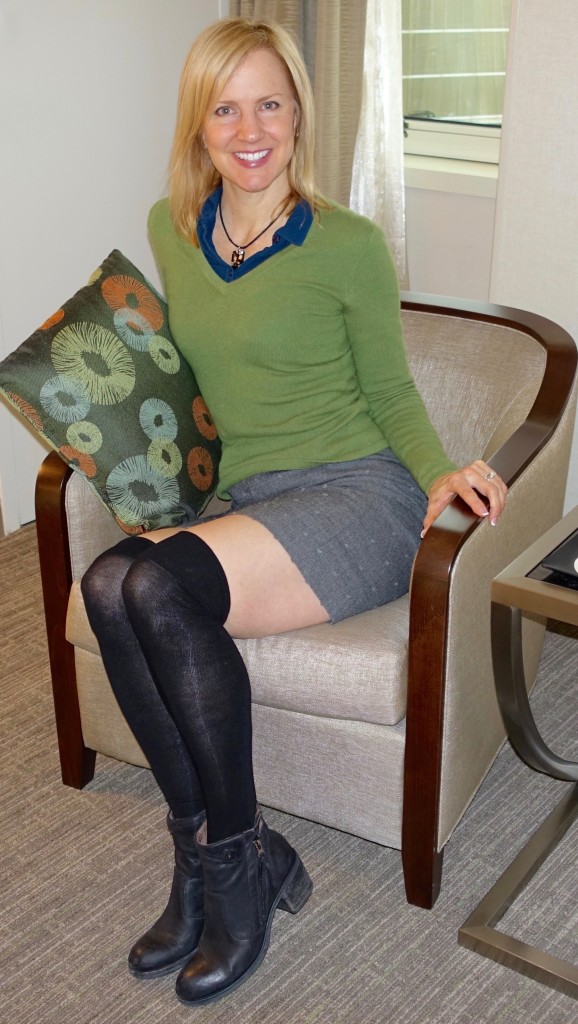 Which is your favorite sock trend? I think that we can definitely wear them and avoid looking tacky, Karl Lagerfeld!
XO, Janea