We are extremely pleased to feature a guest post by Italian fashion blogger Ilaria Icardi of My Way To Be Myself. Ilaria graciously offered to share with us a wonderful dose of the spirit, trends, and excitement of Milan Fashion Week. Enjoy!
WHAT'S NEW ABOUT SS16 TRENDS? MILAN FASHION WEEK 2015
Doors have just closed on Fashion Week in Milan (MFW) to reopen in Paris. So what can we say about this Italian "Settimana della Moda" and the latest trends for SS16 (Spring/Summer 2016)?
Elegance, colors and whimsy on the catwalk: Armani, Dolce & Gabbana, and Moschino
The collections were feminine, colorful, and polished from a technical point of view. That's the Spring/Summer 2016 woman: always chic in her simplicity. She walks around the streets with natural self-confidence.
Of course, Giorgio Armani is the King ("Re Giorgio", as we Italians call him). He closed MFW 2015 portraying a sexy, eccentric woman with embroidered clothes; the key color was red.
Dolce & Gabbana joined him the day before, with a celebration of two eras, or we could say, two elements which might seem diametrically opposed but in reality, blend perfectly: the tradition (an important key word for the brand) of Italy and its beautiful places on one hand and on the other, modern selfies. Beautiful models wearing mini dresses represented a celebration of the Italian landscape as they did their turns on the catwalk holding smartphones and positioning themselves to take souvenir pictures.
Moving on to the theme of whimsy, we must not forget Moschino, who brought in fashion from the street – for real! Road signs and car washes become material for clothing and accessories. Even the famous Chanel "tailleur" (woman's tailor-made suit) model was modified via this eccentric mood.
#integraTi: Kristina Ti's SS16 fashion show at Milan Fashion Week 2015
As blogger, I was invited to the SS16 fashion show of Italian designer Kristina Ti. Her collection is called #integraTi, and its themes are cultural contamination, internationalism, and integration. In her show, she presented a mix of cultures, shapes, and colors, and it was evident that her designs are not for just one type of woman, but for many: those with a strong determination, those who are not afraid to do a little soul-searching, and those who believe that cultural contamination is a key phase of growth. Kristina Ti celebrates the value in concepts born of different experiences and traditions.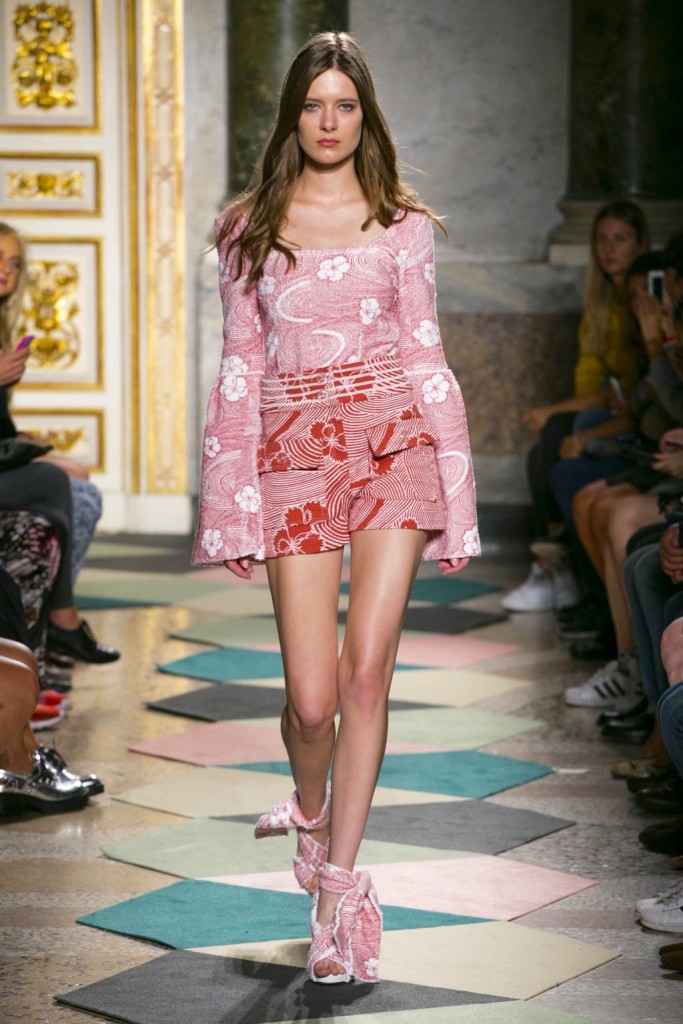 Personally, I love this collection: the colors, the research done on materials,… It fits in perfectly with my mood, and I feel myself fully in line with this way of thinking! I also have to mention that Kristina Ti's was my first real fashion show – very exciting! It was very short (maybe about…10 minutes long), but it was a great experience!
Milan Fashion Week SS16: final trend alerts gathered from press days and street style
As you know, Fashion Week is not only about catwalks and exclusive events (like the fantastic launch of SS16 eyewear by Italia Independent and Pinko!), but it is also a great opportunity to check out press days and of course, fanciful street style.
The last day of MFW, I checked out WHITE, the trade show of new collections on the street Via Tortona. I saw so many colors, shapes, and fancy prints on different materials – especially on shoes. It was great to see how the brands work in depth on technical details, such as materials and design, and it is also important that fashion today is evolving not only from creativity but also (why not?) technology.
Finally, in a respectable Fashion Week, one cannot miss street style. Well, here it seems people say to themselves: "Let's see who can dress the most extravagantly (or sometimes, I might inject the word 'weirdly' or 'crazily')?" During Fashion Week, fancy outfits are "the new normal": you see every possible combination of colors, shapes, volumes, prints, clothes, and accessories. There is no "elegant", "chic", "sporty", or "casual" anymore, but it's the birth of a new style: relaxed but cool at the same time. Street style doesn't follow any rules, and so, it's totally unique.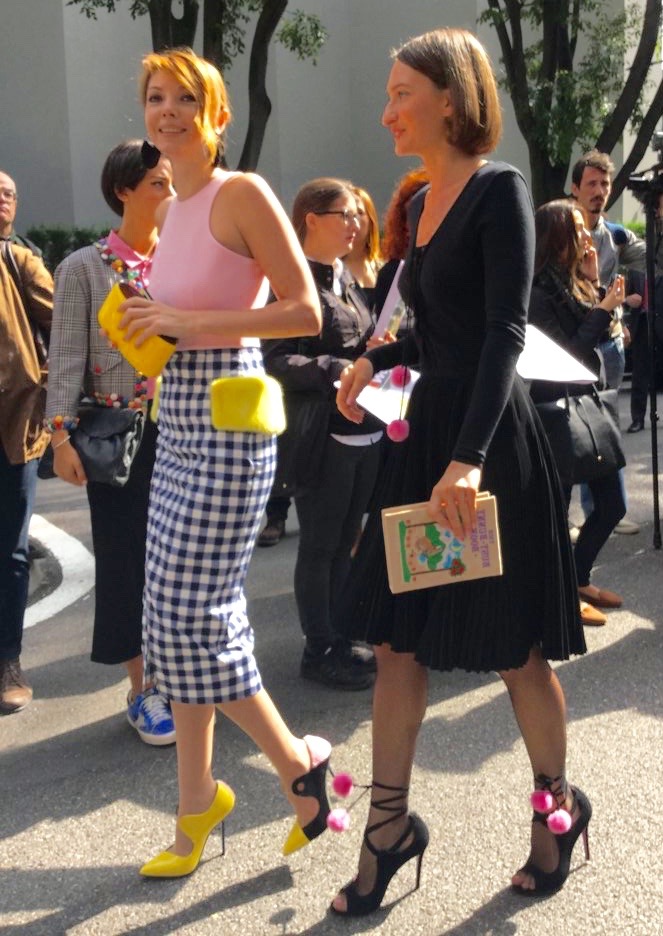 For more updates by Ilaria on fashion, beauty, food, home and design, show business, travels, and Torino, Italy (her home), visit My Way To Be Myself!