I'd never been one to covet designer handbags. During the summer of my first year in college, I sold handbags for Nordstrom. I learned about their materials and construction and could easily explain why one was more costly than another. If a customer returned a Gucci, I seem to recall being able to buy it at a huge discount. I didn't, however. My mother bought me a fake Coach – yes, a Coach knockoff! – with which I was quite content.
Flash forward to the present – in 2015, I decided to search for a handbag designed by a major fashion house. A simple black or ivory crossbody bag was no longer all I wanted in a bag. Why the switch?
I had actually owned a couple designer bags before this – a Mardi Gras purple patent leather crossbody by Burberry which I picked up at the Nordstrom Rack – for some reason (color, I'm guessing), it didn't fly off shelves – and a hippy/beatnick vibing 3-tone (black, ivory, and merlot) Marc by Marc Jacobs crossbody also purchased because of its low low price at the Rack. Neither deviated much from my usual (crossbody) bag.
I wanted a statement bag!
This time, however, I was ready to search out the bag I truly wanted to sport, something which wouldn't just fade into the background but instead, stand proudly by my side and stand for something about me.
Yes, I wanted an "It" bag, a bag that makes a statement. And so while honeymooning in Italy last fall, I window shopped all the major designers: Fendi, Gucci, Chanel, Dolce & Gabanna, etc.
I wanted something colorful.
I decided I would go for something in a lively color. I wanted my bag to talk! No more safe black or ivory.
As soon as I saw a color I liked, however, I would think of something I wear which would clash – violently. Bright orange was out, fuchsia was out, yellow…out! Then I thought, METALLIC! I saw an exquisite one by Chanel!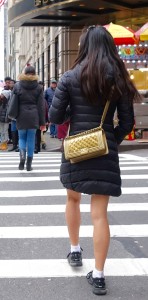 To me, there is nothing more classic nor elegant than a quilted Chanel bag, and in gold or silver, it is the jewel that up-styles any outfit. Unfortunately, it is priced as a jewel. Even vintage, it sells for thousands, and so, the search went on.
I wanted something with structure.
I decided that like the quilted Chanel bag, I would look for another sculptural bag, something that retains its original shape no matter what you put in it. One which caught my eye was the trapeze bag. The trapeze is more artful than practical, reflecting my own leanings.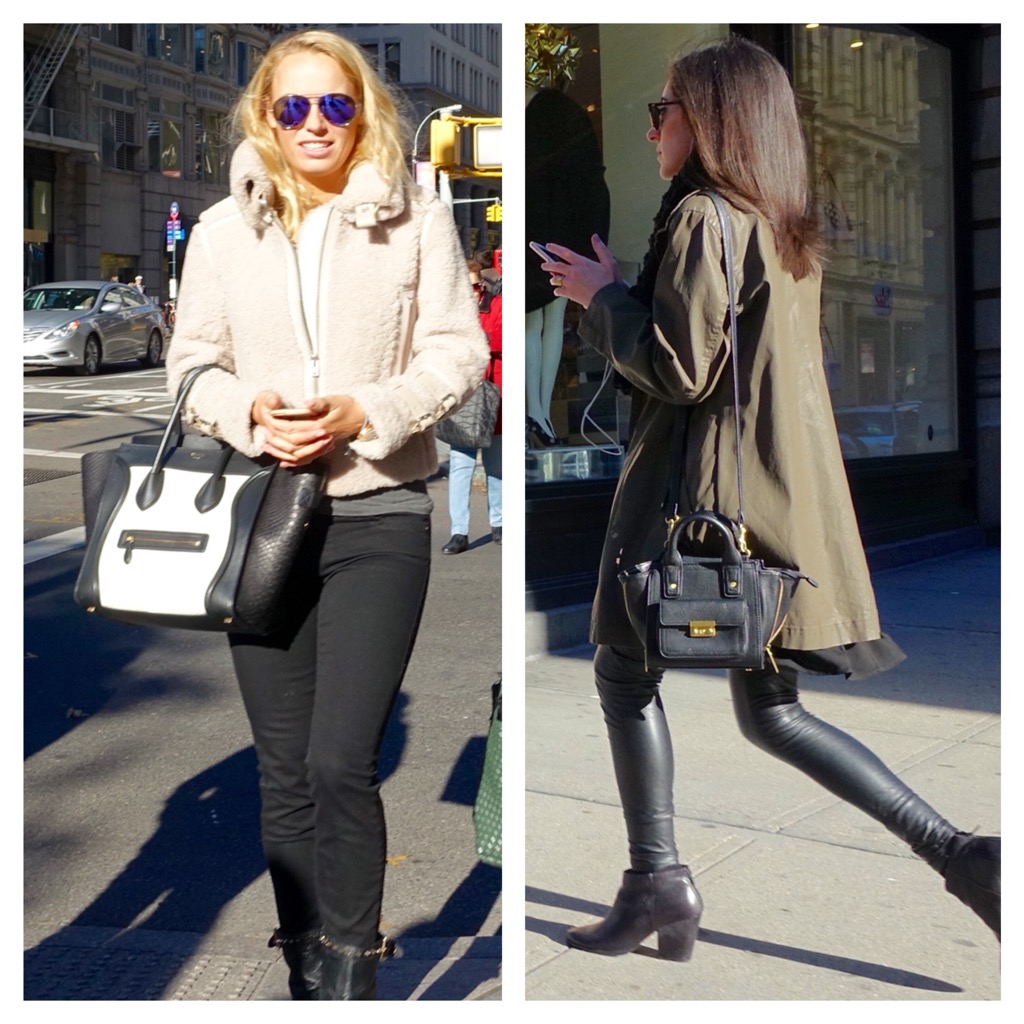 I looked in stores, online, and then in stores again.
So, I poured over designer bags online, and only looked at sites with good reputations (Barneys, Bluefly, theRealReal, Farfetch,…) to avoid getting a fake.
I wasn't going to get sucked in by a huge discount this time nor the fact that there was only one left in stock. I looked for a bag that simply made me smile. While my husband and I were on our computers at a cafe in Boston's Prudential Center one morning, I found it. It was on Bluefly and still wasn't cheap, but it was perfect!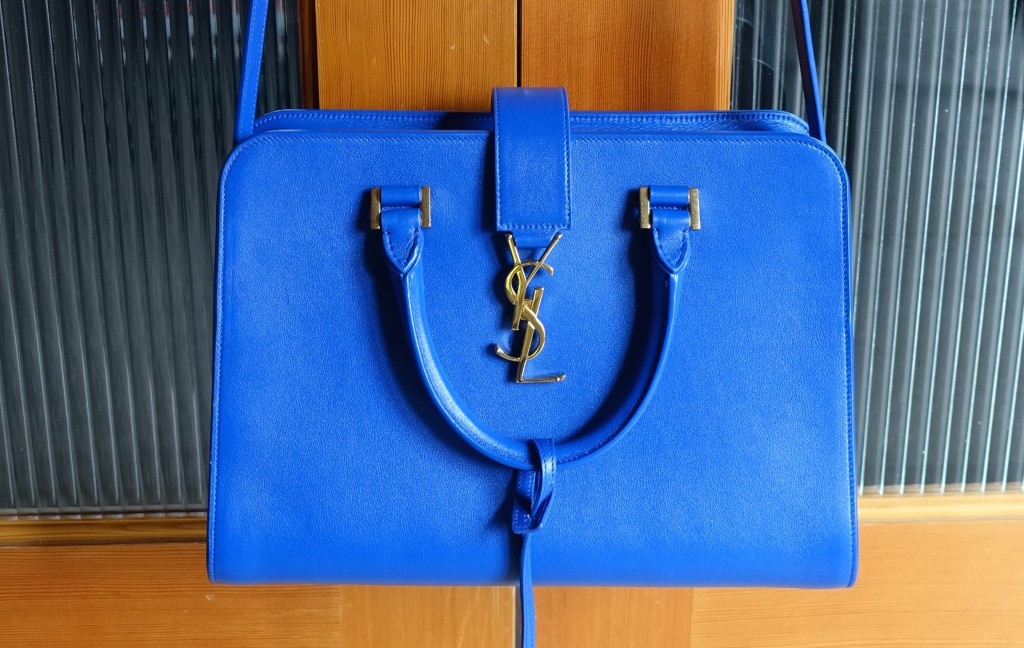 Size mattered.
Before hitting "Submit order," I raced to Saks to try on similarly sized bags and make sure the proportions of this one suited me. On my way, I observed women with smaller handbags…
and larger ones.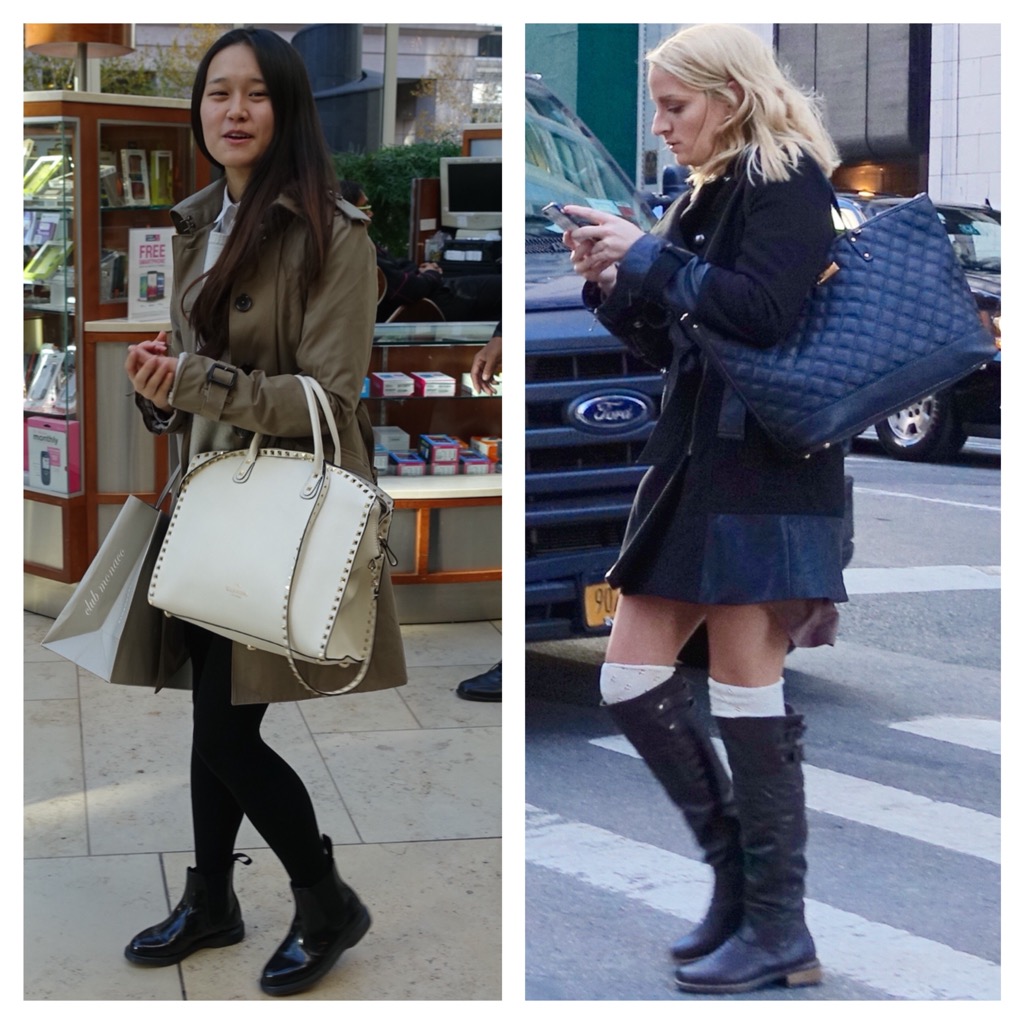 When I saw those with medium-sized bags, I felt that this was the posse to which I belonged.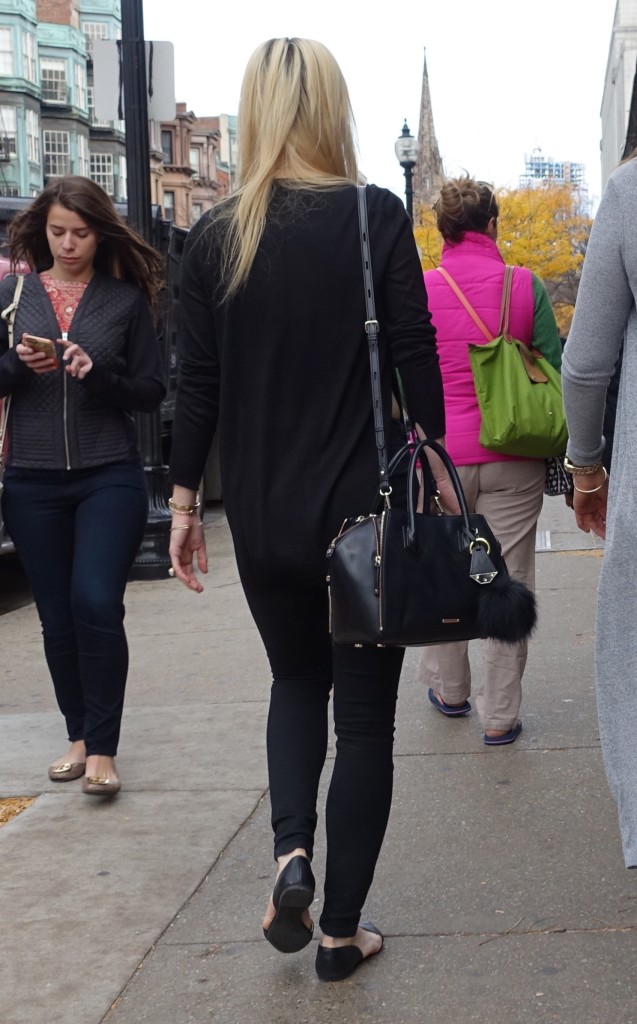 And after trying on a few medium-sized structured bags at Saks, I was sure that this was my bag.
One last selling point was the hardware. Never before had I owned a bag with its own little feet!
 Why the designer bag?
I figure that since I have to carry a bag around anyway, why not carry something I really like? Why not invest in a piece that will last a long time and still be valuable if I ever wanted to sell it? Granted, it is not wearable art in the truest sense, but it is one of those accessories (like a beautiful pair of shoes or elegant watch) which can be so expressive of one's style. A finely designed bag is also something to behold, like a handsome sports car, and is capable of instantly elevating an otherwise boring look. Need I say more?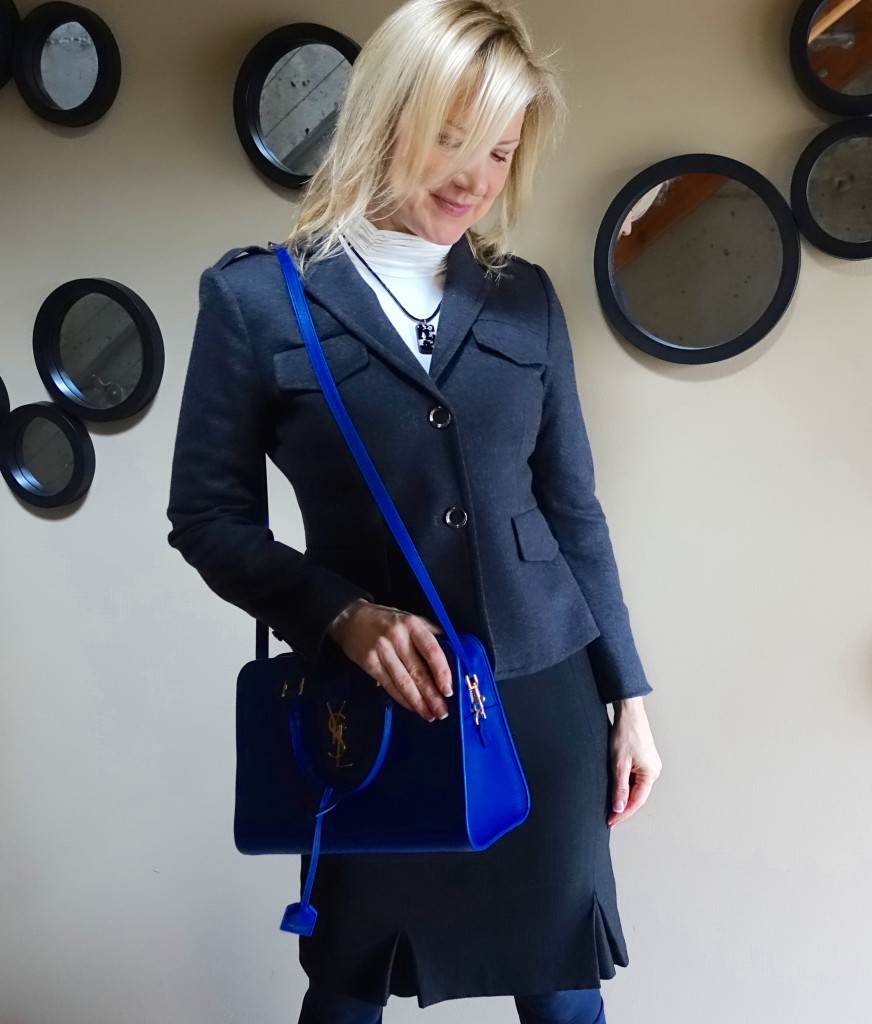 XO, Janea
---