Have you noticed how a necklace can bring an outfit up several notches, from cool to hot? Have you wondered how to get that effect? I have to confess that I frequently wear staple necklaces (gold chain with a gemstone pendant or single strand of pearls) to avoid a plain neckline. This is all good and well, but there are necklaces which do so much more. Check out the muses below for great ideas on boosting a look with this awesome accessory.
The outfit pictured below shows the perfect topper for this casual butterfly dress: a silver necklace with enamel-like butterfly pendant in blues and greys. With this interesting pendant, I would say that aside from smallish stud earrings and maybe a watch or low key bracelet, no other jewelry is required. In fact, it is preferable that additional accessories be kept to a minimum.
The woman pictured here (above) did, in fact, wear lovely large abalone shell drop earrings which in my opinion, made it look a little too busy; a smaller abalone stud would not have detracted as much from the play between dress and pendant.
My colleague Alyssa designs and creates her own jewelry. This dark orange double strand of glass beads featured below adds the perfect flair to attire in the black to white spectrum. The accent draws your eye upward to her face and adds just the right amount of spice. Since Alyssa is petite, shorter and/or more delicate necklaces (this one is a choker length) are more proportionate to her small frame.
Pictured below is another necklace by Alyssa which once again adds a pop of color to her otherwise subdued grey and black outfit. The V shape of the statement necklace creates more of a flattering, slimming effect than the rounded neckline of her top. It also echoes the shape of her jawline. As you could see with the previous necklace, this one draws attention to her stunning smile.
Janet wore this amazing citrine necklace (pictured below) with gold dragonfly pendant to a season opening concert of the symphony. It was purchased on Hvar Island (Croatia) where all the necklaces by this designer show the signature dragonfly icon.
Similarly to Alyssa, Janet is petite in stature, and so, a longer necklace might be out of proportion for her. The length of this one seems to be somewhere between "princess" (18″) and "matinee" (20″), which allow it to rest on the black background of her LBD (little black dress) for added contrast.
Brilliant citrine beads draw attention to her beautiful golden locks. And she tastefully avoids loading on other accessories. The gold zippers on her dress and thin belt with metallic buckle are just enough detail for a well coordinated look without competing with her splendid neckwear.
The muse below is wearing another stunning necklace. The neckwear perfectly compliments her exotic satiny dress with gold colored embroidery and lace detail. The dress almost looks like a cross between a La Perla slip and out-to-dinner dress, but she cleverly makes it day-worthy by adding a white blazer. The necklace of black stones set in the center of hammered gold plates causes a dimmer effect than polished gold and matches the non-shiny gold colored details in her dress. The shape of the necklace also echoes the shape of the embroidery at the neckline of the dress.
This muse demonstrates successful layering of necklaces, which is not an easy feat. Just above the aforementioned piece is a more delicate, shorter necklace of black and muted gold beads. (It generally works better to have the larger/chunkier necklace on the bottom.) The shorter necklace is very helpful here, as it – along with the large shiny gold stud earrings – draws the eye from all the gorgeous detail in the lower necklace and dress upward to her face.
A rich ensemble such as the one featured above, by the way, calls for a shoe with some detail; in this case, the peep toe sandal is matte with a shinier outline and shiny interlacing t-straps. I love the play on opposites: shiny (satiny/silky dress, polished gold earrings and shiny shoe details) versus matte (dulled gold jewelry). There is also an interesting balance between day and evening wear.
The photo above illustrates how one can get overloaded with accessories. A general rule of thumb is to limit oneself to three accessories, although when they are big and showy such as this belt, large two-toned tote bag, dangly butterfly earrings or oversized watch, I would say that just one or two are sufficient (maybe with another one or two smaller pieces of jewelry). Otherwise we tread dangerously close to garish.
The layering of necklaces was also less than successful here, especially considering the one which slipped into her cleavage – oops! Seriously, less can be better.
A longer necklace pictured above was pieced together and worn by my colleague Ester, who combines the opposite colors, blue and orange for a visually appealing palette. Complimentary dark red beads are made of young (not yet crystallized) amber she purchased in Madura, Indonesia. The silver beads were handmade in Bali, and the blue and orange flower pendant, representing a Buddhist symbol, was made by Tibetan monks.
The piece has personal meaning for the wearer, and from the outside, it can be appreciated as a necklace of great beauty, especially against the dark navy background here. I can imagine the necklace, navy top, denim jacket and gold/orange scarf looking great with an elegant skirt and boots or something as dressed down as faded jeans with ballerina flats.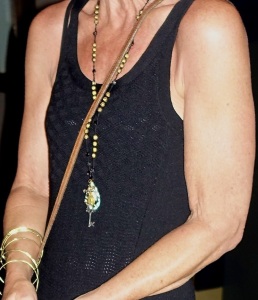 In the photo above, we see another LBD with a spectacular necklace. This time, we see one at the rope/lariat length. Unfortunately, the strap of the cross body bag causes a slight bit of visual interference. This was another wonderful outfit for the symphony. The black dress is of a gorgeous knit fabric, and the necklace combines round black and gold colored beads with a very interesting tear drop/key pendant in silver and gold. These are smartly accompanied by a set of gold bangles. We have an exquisite equilibrium between minimalism and adornment.
This last muse seen last weekend at Davies Hall in San Francisco wears what looks like a necklace on her head. I found it so unusual and experimental that I had to include it here: quite the statement! Notice that she wears no other jewelry. The tiara look is sufficient decor with a long black dress and jacket. You could almost consider the very red lips as an accessory. They are certainly a nice addition to any brightly colored or shiny necklace.
I hope you have enjoyed this eye candy as much as I have. There are so many ways that a necklace can serve as the perfect accent to an already great outfit. The necklace has the potential as being as fun and transformative to a woman's outfit as can be a man's tie (especially the bow tie!)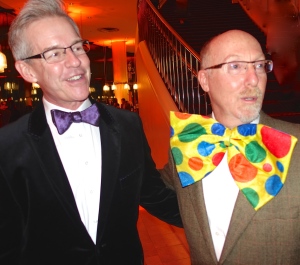 With all the muses above (minus the one with a penchant for accessories), I think we can agree that without the necklace, the oufit would not have worked nearly as well. The necklace is just about a necessity with the LBD, unless you are wearing a tiara or giant dangly earrings as is the muse pictured below.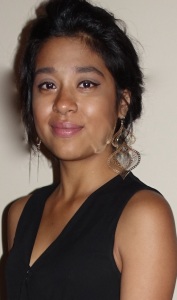 Another great necklace-attire combination is a brightly colored party dress with larger necklace in a color (or colors) found in the dress.
As for casual wear, a statement necklace of big, brightly colored beads is a fun way to dress up a t-shirt with jeans – perhaps with color-coordinated ballerina flats or sandals – or to add interest to a button down or chambray shirt.
I would be interested in hearing about any fun you have with necklaces. Have you tried layering? What are some of your favorite looks?