I recently spent the day people watching and musing about San Francisco street style. In my last post, I shared photos of San Franciscans I saw in skinny pants and observed that there is no single cookie-cutter look in this city – even when it comes to taking advantage of a popular clothing trend.
With the following muses I spotted that same day, I have to say that the same principle applies: while there do exist some commonalities in style, San Franciscans in general reflect a culture of diversity. Shall we take a few more glimpses?
Neon Sneakers
San Francisco is often rated one of the "fittest cities", and it is no wonder, with gorgeous areas to explore and the kind of climate which encourages a physically active lifestyle. As in most cities with hectic, expensive parking arrangements, people also tend to get around a fair amount on foot. And so, comfortable footwear is big.
I couldn't help but muse upon sneakers in San Francisco this fall, and I see that that type of footwear is as ubiquitous as ever, especially in neon.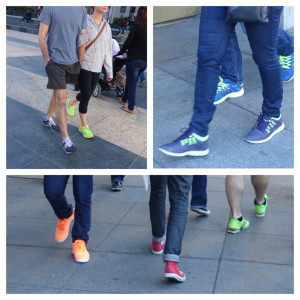 Isn't it ironic that footwear designed for working out seems to be worn as an accessory to an otherwise less eye-catching (non athletic) ensemble? Yes, neon sneakers worn with muted and darker colored clothing stand out almost as a gleaming jewel on the feet.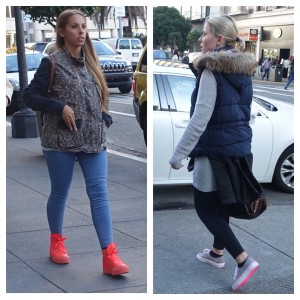 Seeing neon sneakers with even dressier casual attire (as pictured above and below), I have to say they have definitely moved up in the world – I mean, San Francisco. 
Summer attire!
While I observed San Francisco street style that glorious day in yes, February! it was impossible to overlook some people who seemed dressed for spring and summer. As I mentioned in my last post, temperatures in the mid- to high sixties made it quite understandable, but there is also something marvelously non-conformist in the refusal to observe fashion protocol of at least wearing "winter colors".
I mused this past fall season upon the colors of our natural environment in the San Francisco Bay Area as a more suitable palette for our wardrobe, and I would go on to state that to be the case in any season. Don't you love how the muses pictured above and below seem to reflect blue skies, golden hillsides (although they are green now!) and generally lighter, brighter (more summery) hues?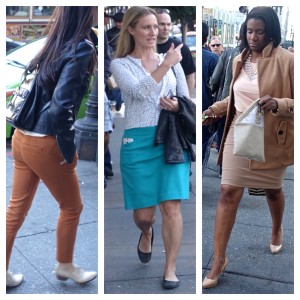 The light fabric of garments worn by the next few muses seemed so perfect for the day and for this season in San Francisco: great for easy layering yet airy and light enough to bring back the sweet, familiar sensations of summer.
As shown below, even just a pop of brilliant, so-not-winter color was a festive sight. Yes, California is experiencing a horrendous drought, and we ought to be doing rain dances or at least wishing out loud that we would prefer dark clouds and buckets of precipitation. At the same time, it would be inhuman to not relish the extra shots of vitamin D and opportunities to don something like the gorgeous hot pink pencil skirt shown here.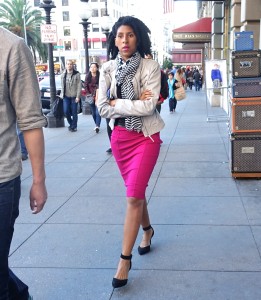 If you had a chance to read my previous post about skinny pants in San Francisco, I suspect you will agree that what stands out most about San Francisco street style is that it has so many different faces. With the muses featured here, I am intrigued with the way neon sports shoes seem to serve as a bright accessory for casual dress. I also delight in the way many San Franciscans have unabashedly put back on their (out-of-season) summer garb and – (to be on the safe side) simply wear it with boots or an extra layer.
In next week's post, I will be sharing some more San Francisco people watching, and the focus next time with be on conservative/elegant looks, hipsters, individual style and "pushing the envelope". I hope you are enjoying this virtual style browsing and will check back for the next episode!