When I visited Seattle this past winter before moving here, something struck me about the street style. Many of the ensembles I noticed were far from eye-catching and featured nothing to indicate that the wearer labored the slightest to keep up with fashion trends. Yet the look I kept seeing in one individual after another seemed to me to be so finished, so neat, so pure, clean and simple.
A name has been recently coined for an actual style movement which includes the wearing of nondescript, often gender neutral, basic clothing: normcore.  Since I am doubting that regular people – not hardcore fashionistas or sociologists – even know of the term, I'm thinking that there isn't so much a deliberate movement as a common interest in dressing in simpler attire. 
Of course, I have seen it in other cities and towns besides Seattle. Below are a few examples of basic, simple dress in San Francisco – far from flashy…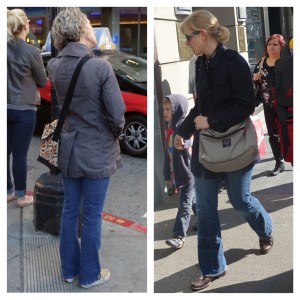 and from New York City this Spring.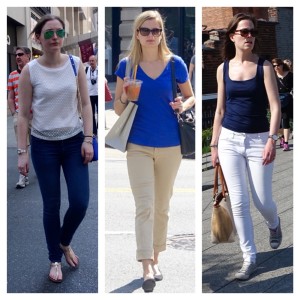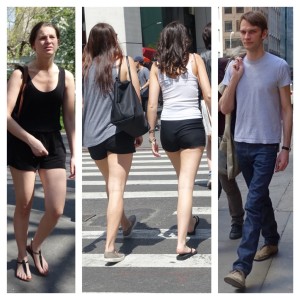 Although I first noticed it in Seattle this past winter,…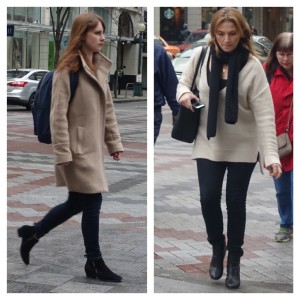 I continue to see examples into Spring, and as I think about it, it is quite becoming on many a Seattleite.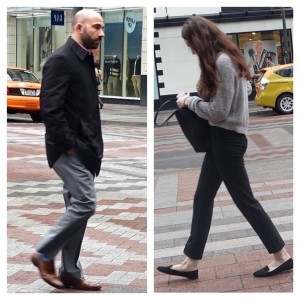 Seattle culture lends itself to this clean, basic look. The culture is exploding with creativity when it comes to interiors, construction design, artwork in public places and private. But on the human figure, there is a tendency toward the subdued and to clean lines.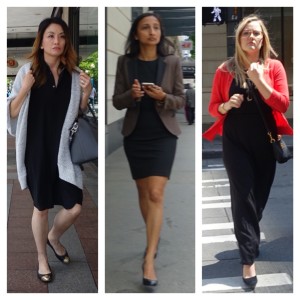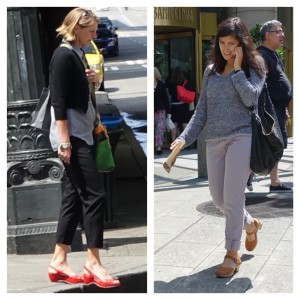 Yes, simple and basic are key ingredients to one face of Seattle street style, and it is very closely aligned with the culture here: a tendency to being low key, not drawing much attention to one's body (although fitness is certainly big) nor to one's pocketbook, and a general attraction to dark/neutral colors. There is a high value placed on frugality, practicality, and the great outdoors.
Although I think peacocking definitely has its place – and enjoy a fair dose of it myself from time to time – there is something to be said for going for the effortless "normal" look. As varied as may be our moods, we can dress accordingly. On some days, we might wear something which screams, and on others, we can blend in with simple, basic normcore.