We at the STYLEtti are thrilled to bring you a guest post by Jayden Aveena about walking the runway as a New York Fashion Week model. If you've ever wondered what it's like from the model's perspective, check out Jayden's first-hand account. And enjoy! Janea
I got to go to NYFW this year as a runway model for designer Latiyah Gholar. The name of her brand is AMERICAN UMMA. If you've always wondered what it's like to walk in NYFW, I'd love to share my experiences with you.
HOW DID I GET THERE?
Latiyah Gholar knows my work well, having seen me walk in several northern California shows. I was excited to walk the show for her because I truly believe in everything her brand stands for: unity, freedom, love, faith, compassion, commitment, beauty, choice, etc.
She herself has sacrificed much and worked hard to get where she is today. And so, it was an honor to be part of her journey in finally making it to NYFW!
MODEL PREP and departure
I scheduled a hair color "refresher" a few days before my departure. I knew I would be doing lots of cleaning and packing up until my flight, and so I ALSO planned to have my nails done the day before leaving.
Due to the severe snow storm, which you may have already READ ABOUT, my friend and fellow model Tatiana Sing and I couldn't fly out until the next morning. At a nearby hotel, while waiting to check in – mind you, we were both in our pajamas with zero makeup – we were approached by this beautiful blonde woman with a beaming smile. She asked if she could take our photo. We looked at each other like, are we on a hidden camera? Lol. We felt exhausted and not very cute at the moment, and so, it was an encouraging sign to us. We quickly got into model mode and posed for the shot. 🙂
It turned out that we were all headed to NYFW! I quickly handed the photographer my business card before we parted ways. And now I am here telling you about my story, on the blog of Janea, the blonde woman with the beaming smile!
NEW YORK
When I finally arrived and got my very late luggage, I was emotionally, physically, and mentally drained. But I was also thrilled to be there and get the party started!!
I was so excited and anxious, that I hardly slept before getting up at 5 a.m. to head to the show. When I arrived, I had no idea where in the venue to go, and neither did anyone else. After being directed all over the place, we finally found another small group of models walking for American Umma. At the time, many models and the designer were on even later flights and still arriving.
Backstage
As soon as the designer arrived we all began trying on outfits and doing fittings. I had to try on three other outfits before finding that one that fit and worked. It consisted of a long, hooded, black, long-sleeved dress, black gloves, black heels, black head cover, and gold face cover made from gold-linked sequins and chains that attached down my chest and around my torso. It was incredibly intricate yet comfortable (and thankfully, warm!)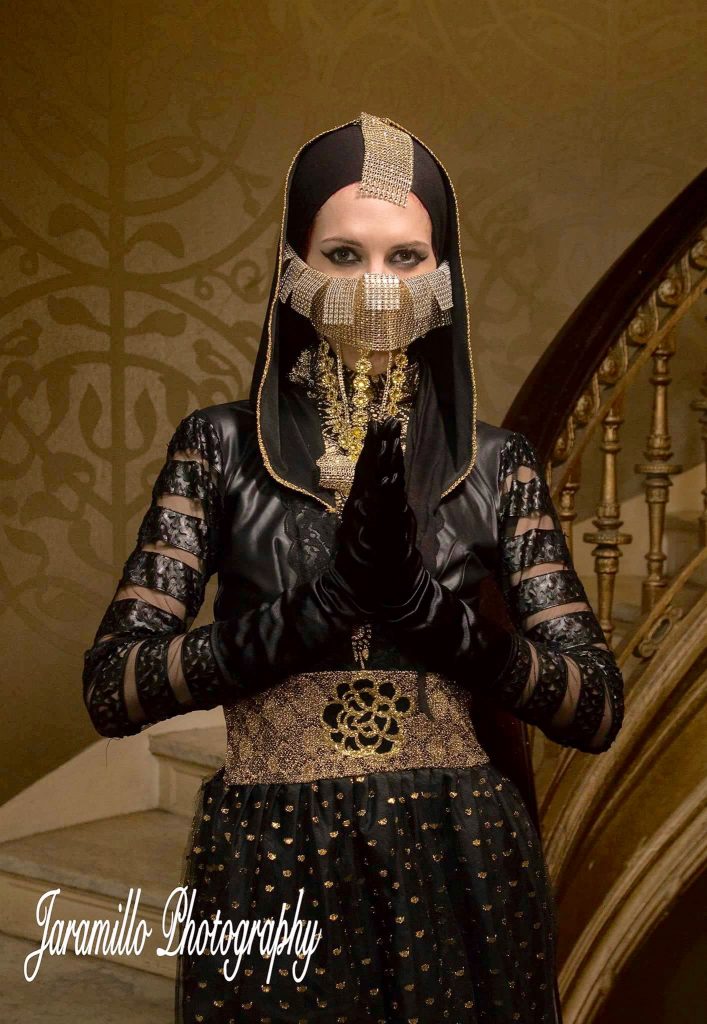 I went to a different room to have my hair and makeup done. I received no instructions on what to have done. But I knew that only my eyes would show, and so, that's where the focus needed to be. I put my own hair in a low bun so that the head cover fit correctly.
The makeup artist I went to gave me a very thick black liner (top and bottom lashes) with a small smoky and gold accent on the upper lid. I applied several coats of mascara myself since we had no time for false lashes.
This is another part of any fashion show that you should know as a model; always, even during NYFW, always be prepared to do your own hair and make-up if need be. Bring your own make-up. No need to be a pro, just learn how to apply it correctly.
After that, all the models lined up for last-minutes fixes to the outfits. Strings had to be cut and my jewelry and gloves had to be lined up, for example.
I hurried backstage, where we practiced our walks in any space we could find. My dress was cinched right below my knee. This allowed me to take only partial or half-steps forward. So I found a small area in the hallway where I could at least take 5-6 consecutive steps and repeat it until I felt comfortable.
WALKING THE SHOW
As I approached the runway to walk, the designer quickly explained that she had decided that I and three other models would walk onto the runway together, then walk individually up and down the runway, and then off as a group of four.
This is another part of NYFW: last-minute changes/decisions. You can't doubt yourself or question it. You have to pay attention, be able to absorb information quickly, and execute it correctly. And all the while, you must make sure to look natural and confident on the runway even if you're feeling confused or rushed, etc.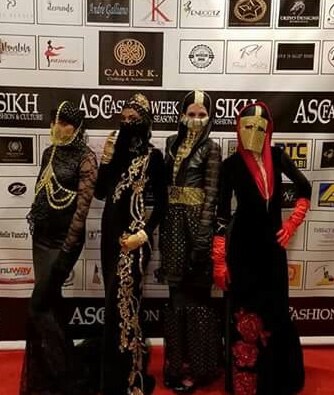 SEEING SHOWS AS A VIP
The next day I met up with my friend and celebrity designer, JASON CHRISTOPHER PETERS (his designs can be seen on the likes of Ruby Rose, Brandy, and Paris Hilton). He gave me and my friends VIP and backstage access to see as many NYFW as we could attend.
I had no idea of what to wear in the snowstorm, and so I just wore a black pants with a white constellation design, white platform shoes, a white House of Devour tee with a pair of black lipstick lips on the front, a black jacket, and black beanie.
BODYPAINT PHOTO SHOOT
Another day later, I had my body-painting photo shoot with TRINA MERRY. She created on my body a fabulous Bob Ross-inspired piece. It featured a small cabin in the woods with electrical lines surrounding it. The work will be part of a series of paintings on display in a New York City museum in May.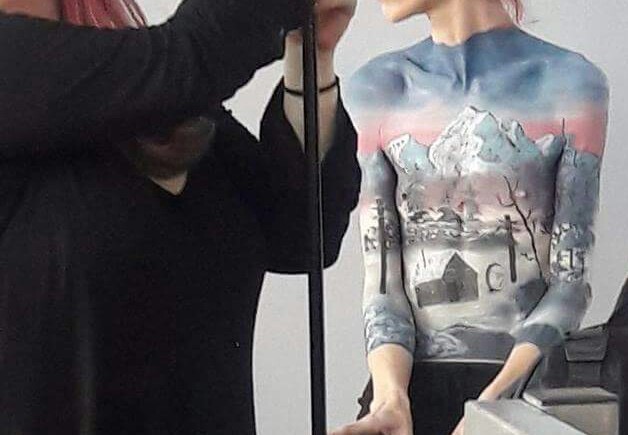 Trina is incredibly talented. It took less than two hours to pain my entire torso and arms. And something she said stuck with me – I think it is so beautiful: "My art has a heartbeat." I was art!
Oftentimes people try to sexualize bodypainting or just simply don't understand it, or aren't able to see the "art" in it. When viewing any of Trina's work, there is NO doubt that it is pure art. And I am truly thankful for such a magical process.
MORE SHOWS
After the bodypainting, I changed into black pants, black thigh-high leather boots, short-sleeved top, and long black cape. You could see the paint covering my exposed arms and a slight blue color coming about 2 inches above the neckline of my shirt. I made a quick and bold fashionista decision to rock the paint as part of my outfit!
Trina was all about it as well and even added a thick painted-on choker to "finish off" the look!! To be honest, it looked awesome, and I received tons of compliments.
Then I watched my friend Jason (the designer) walk for Miranda Kurtishi. Right after he finished modeling, we pulled a traditional New York move and literally ran the street in the snow with all our bags to catch the METRO!
I did a boss move and changed out of 6 inch stiletto boots into high top sneakers while standing on the metro which was moving and holding on with one hand. After running a good 15 blocks and two quick metro rides, we arrived at the next venue.
Although the line stretched around the building, we got to the front of the line and were then informed that no one could enter because the computer was down. Since it was late, and I was flying out early the next morning, I made the difficult decision to leave.
Luckily Miss New York, Nicole Kulovany was there to attend the show with Jason and I got to meet you her – she's absolutely beautiful! She and Jason looked like real-life versions of Barbie and Ken, with kind and humble natures which make them that much more beautiful!
Our trip home was much more relaxing – wonderful first class attention on Virgin America! – although we were again delayed by flooding on the road home (in California)!
HOW EASY IS MODELING?
For anyone who may think modeling is just glamorous or easy, it is not. You have to be fully committed to your goal/ "job" and continue to push through and persevere, despite obstacles or challenges that may arise. The obstacles/trials/struggles are there for a reason and will teach you something if you allow it.
Never miss an opportunity to put yourself out there and at least try. At the very least, with whomever you hand your business card to or exchange information with, be sure and follow up. Remember who they are, where you met them, what they do, etc. Even though it may seem like I had downtime, that was spent marketing ME, and setting up future work.
Jayden Aveena offers modeling classes, in person in the Sacramento, California area or also offers phone consultations. You can email her HERE if you are interested or contact her via INSTAGRAM. We hope to have a future post on modeling basics – I would certainly like to learn a few tricks for the fun of it!
---