Wearing all black. Although it has been a New York City staple forever, the look is increasingly popular in other U.S. cities and Europe. You might recall a post about its ubiquity in the San Francisco Bay area this past summer, and I saw a ton of it in Milan this fall. During New York Fashion Week for fall/winter 2015, it was definitely the rage. Liliya's all-black layering is an example of how the look can be used for multiple purposes. You are sure to be inspired!- Janea
I wore all black for a day in Cambridge. I literally went there for just one day and had a very tricky fashion task. I was to attend a meeting with the legendary Michael Shinagel, longest serving dean in Harvard's history (38 years!) It was our first personal meeting to discuss a documentary project on which I am working in association with Harvard. And so, my look had to be classy.
However right after the meeting, I needed to run to catch a bus back to New York City (5 hours away!), which meant the outfit had to be comfortable. And last but not least, the reason why I was rushing back to the city was to celebrate my good friend Kostya's birthday party at a French restaurant, and so, the outfit also needed a hint of "ready to go out."
I chose all-black layering: always stylish and sophisticated, always good for nighttime. And during the day, a long vest kept me warm during an hour-long walk to the location of the meeting. I also enjoyed some book and board game store shopping along the way. 🙂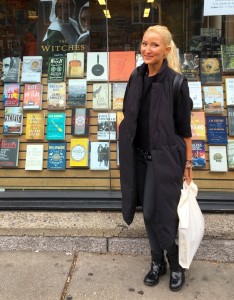 Here are the components of my look:
I'm wearing a silk tee with a print of little hearts by Equipment underneath a merino wool oversized sweater by Eileen Fisher, and Willow and Clay leggings. And I combine it all with my all-time favorite All Saints moto booties. 🙂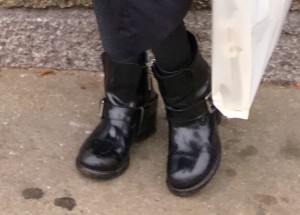 Psst! From Janea: After seeing Liliya's #OOTD, I may have to retract an earlier statement about not being able to stand "leggings as pants." Liliya demonstrates an ensemble which does not at all bring up flashbacks of the 1980's long sweater-over-leggings look (with big hair!) Key to making it fantastically modern are the long vest – super hot item this season – and adorable All Saints Jules Biker boots.
---