Last weekend, Liliya and I had brunch at Balthazar in Soho. It was so fun to meet up, even though the weather was very different here than at our last reunion in West Hollywood. All the same, I absolutely loved Liliya's outfit once again. And I'm excited to introduce her post about it.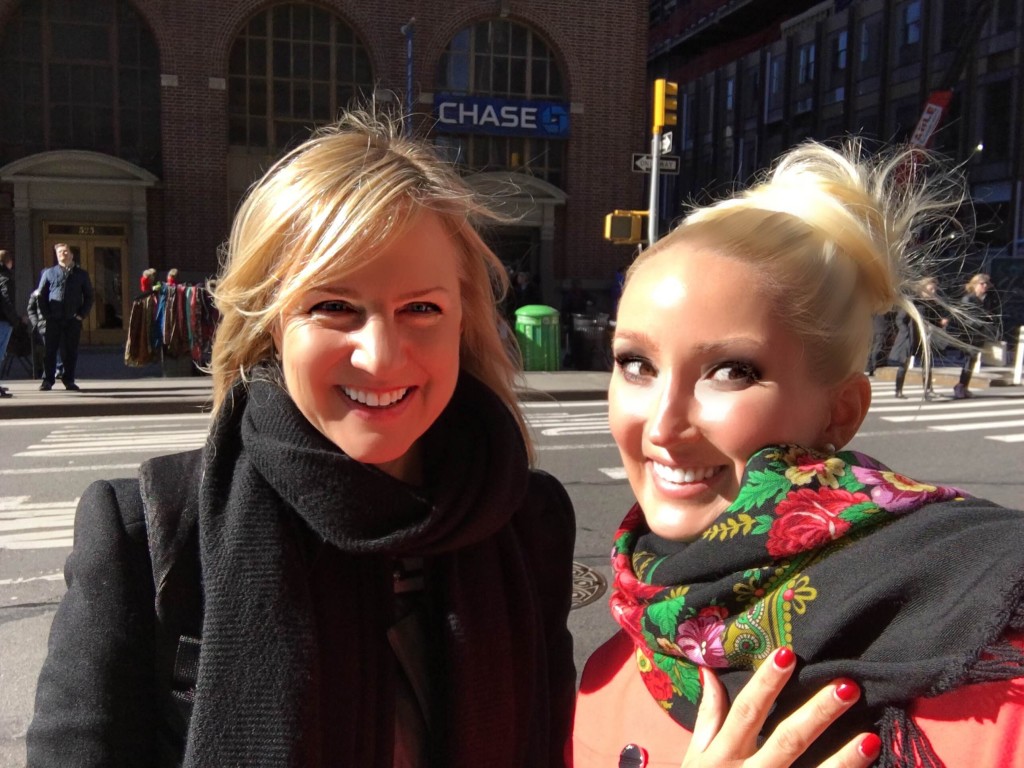 The two things that make this outfit stand out are the scarf and coat; both pieces are very special, and each one has a story.
Absolutely beautiful Ted Baker peach cashmere and wool blend coat.
The story of this coat started on February 13, the day after my birthday and a day before St. Valentine's. My travel route and Janea 's crossed in Los Angeles; I had flown in for a birthday celebration with my friends there, while Janea and her husband Mark flew down for a romantic Valentine's Day. We met for lunch, and Janea surprised me with a birthday gift. It was a Nordstrom gift card – so thoughtful of her, since she knows I shop there a lot. 🙂 I promised to buy something special and include the new garment in my next outfit post.
So last Sunday, my friend Maria and I had brunch in the East Village; afterward we walked around and we of course, could not resist stopping at the Nordstrom Rack on Union Square. I really like that store, because it doesn't just seem like a discounted clothing store. It's well-organized, and you can sometimes find something really cool there; well, that's what happened to me this time.
I found a pink coat that I had already purchased in white at Bloomingdales a couple of years ago. That store had sent me a 10%-off coupon, which was very helpful; the coat was part of a new collection, and so, I avoided having to pay full price.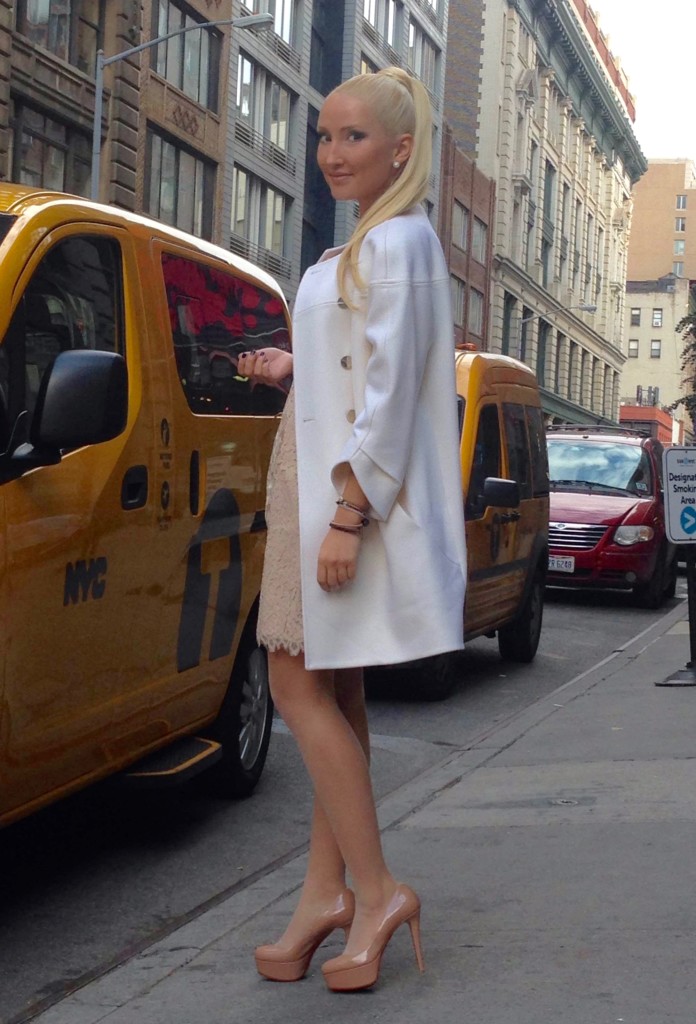 Obviously, it wasn't nearly as great of a deal, however, as the new pink one which cost about half of that. As soon as I saw its gorgeous peachy tone and perfect fit at the Nordstrom Rack – not to mention the much lower price while I had the gift card – I knew I had to buy it.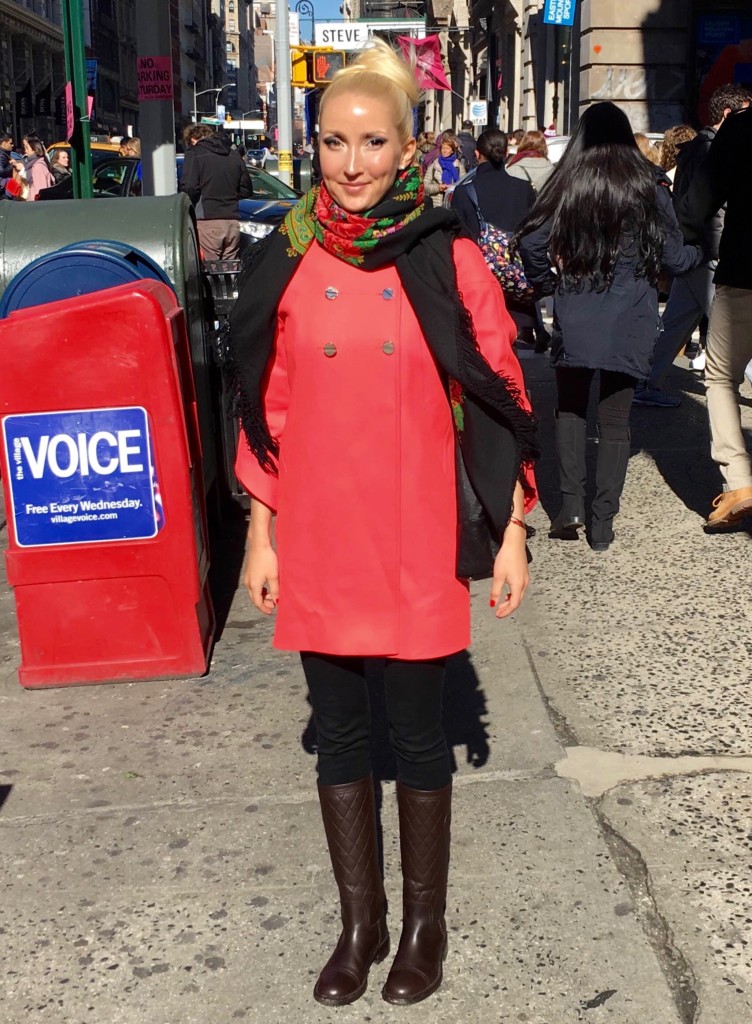 I realize that to some people, it might seem impractical to own two identical coats, but for me, it makes total sense. I like how the coat fits, I love Ted Baker, and it was a great deal. Besides that, the coat looks completely different in pink than in white, and the two garments can be worn for different occasions.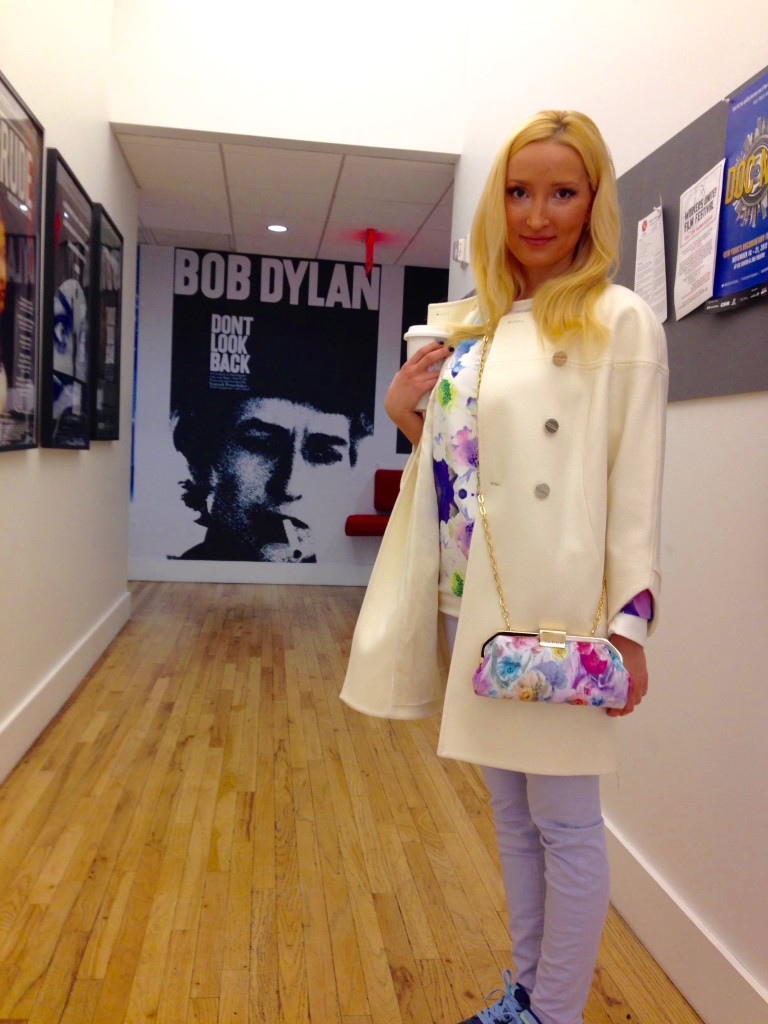 I am also a big believer in owning the same piece in different colors; if you love it, why look for something else? I own more than 20 of the same silk Equipment shirt in all possible colors and patterns. because I love its fabric and oversized fit. I don't even need to try them on anymore, because I always know they are perfect for me. And I have more than 8 pairs of the exact same Saucony sneakers in almost every color available. 🙂
The scarf
Another important piece of this ensemble is my traditional Russian ornamental scarf. I just love the scarf and as usual, have it in other colors: white, blue, and green. But this one is my absolute favorite! It can transform any all-black look into something colorful, and it's unbelievably warm and cozy.
It's the kind of scarf that our grandmas (or "babushka's") would wrap you in during the cold wintertime, and you would hate wearing them. But after growing up and moving to the U.S., I've started to appreciate them much more. I now find them to be very fashionable, and recognize that many famous designers have been inspired by them: Dolce and Gabbana, Galliano for Dior (see a gorgeous example here), Yves Saint Laurent in the 70s, and Christian Lacroix in the 80s.
The boots
The boots are Chanel – always classic, simple, and iconic. Always beautiful.

After pairing my new coat with a favorite scarf, I am now positive that I made the right decision to buy a classic garment in another color. Wouldn't you do the same?
Jeans – Juicy Couture / Boots – Chanel / Cashmere sweater / Coat – Ted Baker / Scarf -Russian traditional wool shawl
Psst! Want to shop this look? You can find (listed from high-end to lower-priced options):
---
?