Spring weather in Italy is quite unpredictable. And there can be a very significant difference between daytime and evening temperatures. You can wear a top with no jacket or sweater in the afternoon and feel really cold by eveningtime. That's why a lightweight puffer jacket is perfect for this time of year.
Puffer Jacket
In fact, as soon as I moved to this country, I started noticing that lightweight jackets are sold everywhere. (That's something I'd never seen in Moscow.) It seems that every Italian woman owns at least one. Some use it to wear underneath a winter coat when it's really cold. Or they'll wear it in the late evening while up in the mountains.
I got this particular jacket as a gift from my dearest friend before coming here. And I love it so much. I wear it often. That's because you can wear it with UGGs, sneakers, flat boots and if you want to be elegant, you can add a belt and wear it with dressier shoes and other accessories.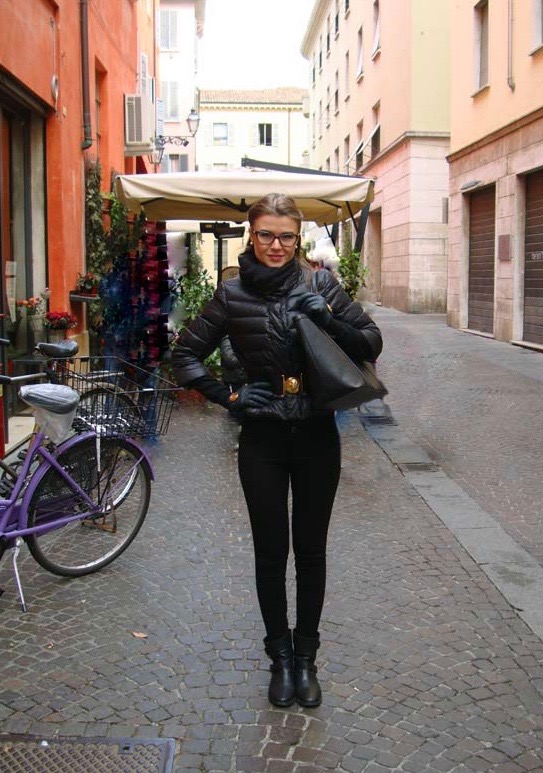 Gucci Belt
I personally like to style my lightweight puffer with either a very thin belt or wider one as I'm doing here. It doesn't let in the wind. And so, you can stay really toasty this way. This is also a great way, by the way, to wear oversized clothes.
I happened to buy this belt at a Gucci boutique in Milan years ago. But it looks brand new! This style of belt was very on point at the time. But I notice a lot of Italian women wearing it again now.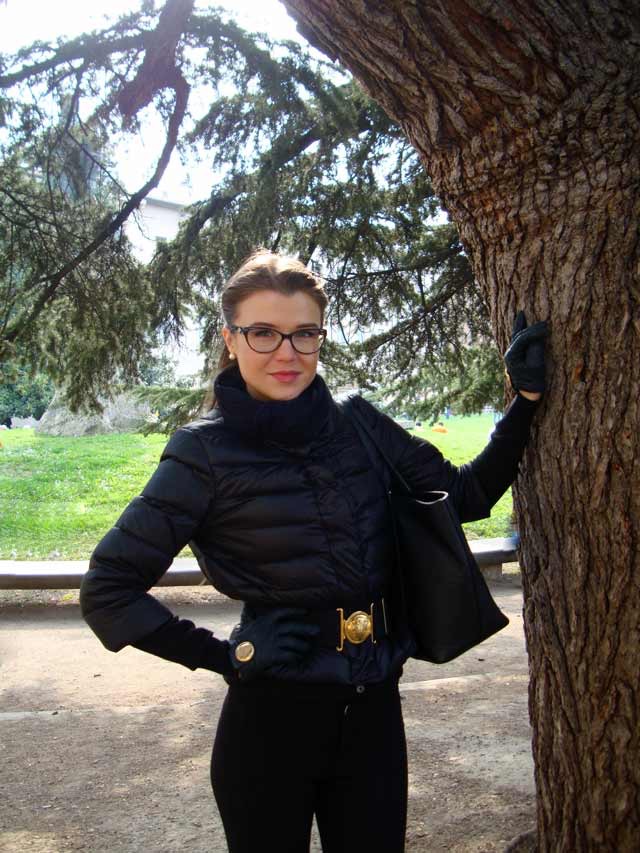 Other accessories
As for other ways to style the jacket, I absolutely adore wearing long gloves with it. However, I decided to take a warmer pair. That is, since I was going to walk around Parma with a friend, and it was supposed to rain. I also bought these at the Gucci boutique. Gloves, by the way, are important for keeping your hands in their best condition (check out my HANDCARE ROUTINE POST).
I usually don't like matching my accessories. But I do like this totally black outfit with stand-out gold details. I feel that it's both elegant and feminine.
At the same time, I wanted to create a more casual look. And so, I carried a Dolce & Gabbana tote instead of a more elegant bag. I also wore these pretty flat Zara ankle boots. They were so comfortable for walking around the beautiful city of Parma.

Gucci glasses / Flo & Jo puffer jacket – SIMILAR / Gucci belt / Gucci gloves – SIMILAR / Zara pants – SIMILAR / Zara boots / OVS scarf / Dolce & Gabbana tote – SIMILAR
---