My friend Alona came from Boston to renew her passport at the Russian embassy. She was only planning on spending one night and the next day, and so, we decided to make that a girls' day. Of course, we had so much fun that she had to stay another night.
When we met up after her appointment at the embassy, we burst out laughing. Unintentionally we had dressed in matching outfits – not to mention, the same Saucony sneakers!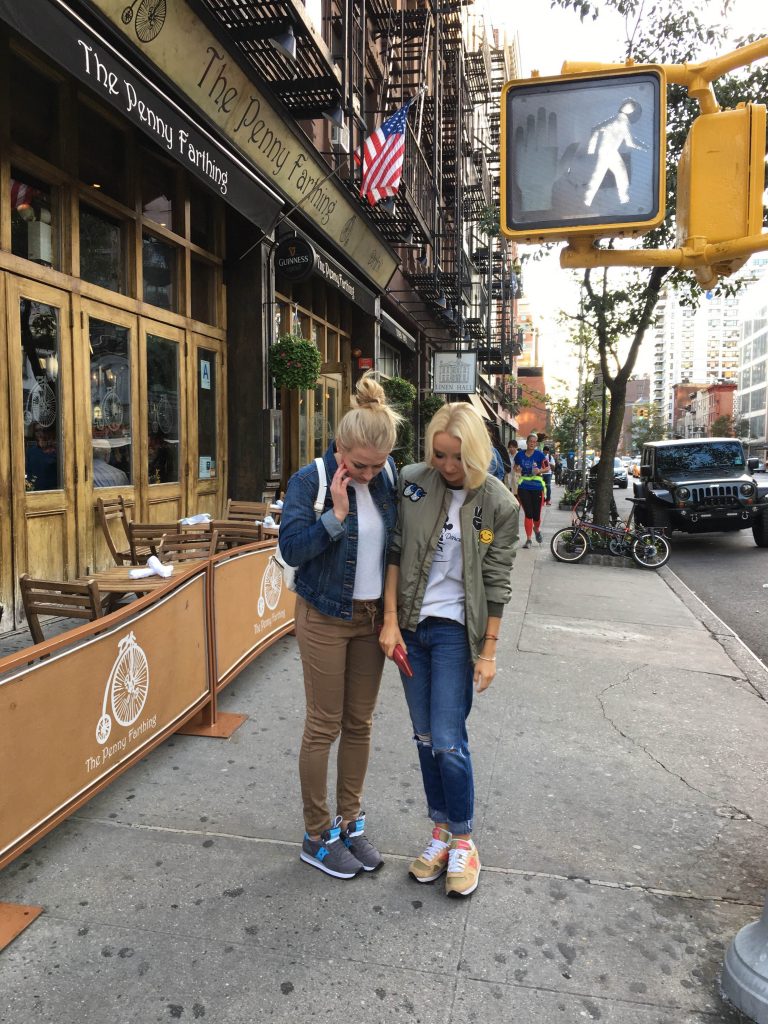 We got our nails done, and headed to a happy hour $1 oyster place, since we both love oysters. Alona was my best friend in kindergarten, and we reunited a couple of years ago, god bless facebook. She had been already living in Maine for around 7 years while I had been living in New York for about 2.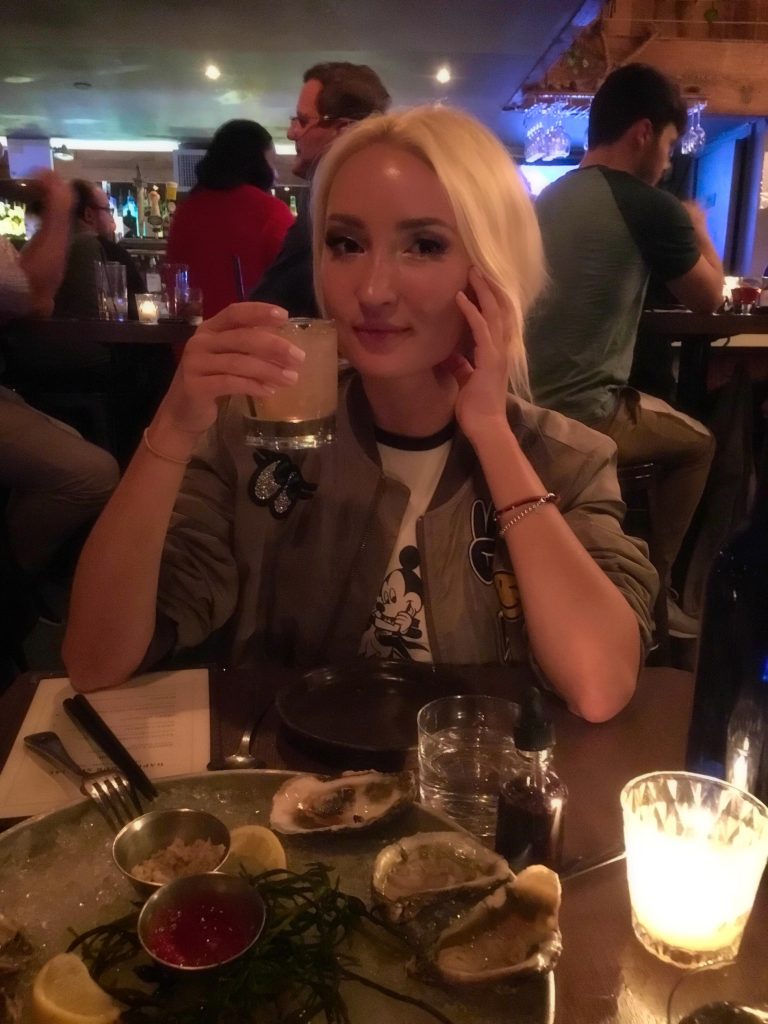 Funny enough, I saw her in a list of Facebook friends of my best friend from middle and high school, and I discovered that those two were besties in the university in Volgograd after I had left there and moved to Moscow.
I guess that since early childhood, I've picked the same kind of people to be my friends. That year when we first reconnected, I travelled to Maine. I was so excited to see a friend who I hadn't seen (scary to admit) for more than 20 years. I was also worried about whether we would have anything to talk about, etc., but once I got there, all my hesitations disappeared and the weekend flew by; we laughed so much, talking about our childhood days and all of our shared adventures.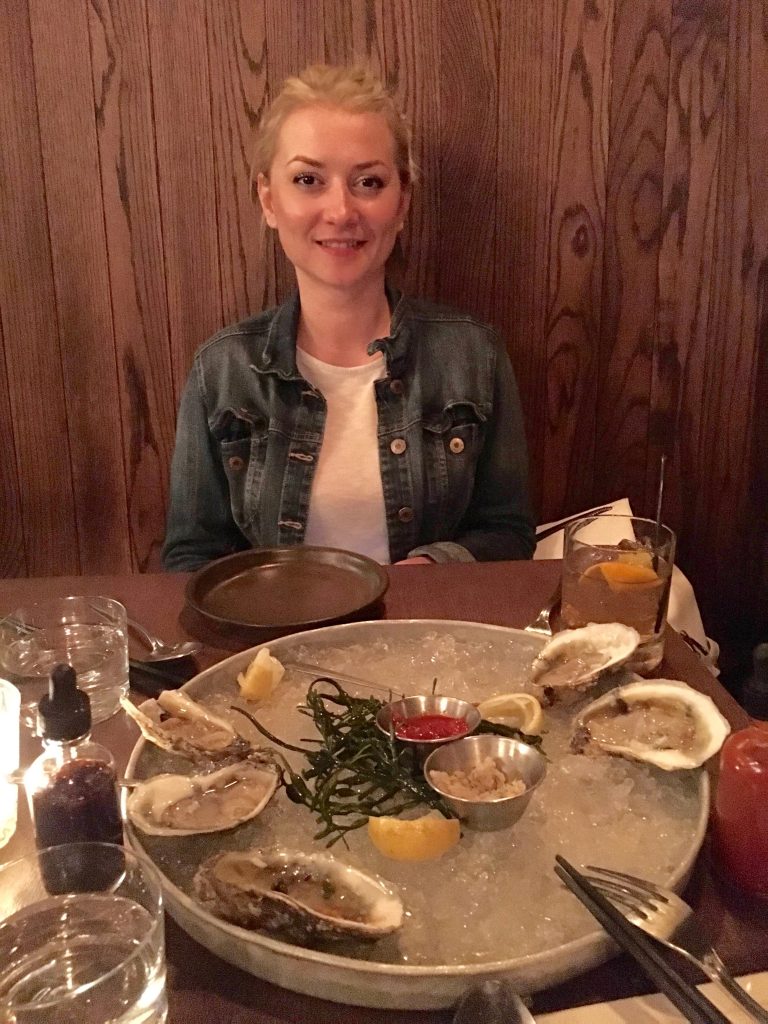 We talked about Christmas carols we sang in exchange for candies, for example  – it's a Russian tradition a little similar to trick-or-treat here. You go from one neighbor's house to another singing a song or reciting a poem about Christmas, and people give you candies afterward.
Alona recalled to me how I gave half of my candies to a poor, old man because after our carols, he said that he had no treats to give us. I don't recall that episode at all, but Alona said that it was an especially touching and memorable moment in her life.
I remember other things like how our beds in kindergarten were close to each other and how it wasn't cool to sleep during the day rest – wish I could go back and get that sleep now! – and so we would tell ridiculous stories to each other and giggle non-stop. Not much has changed.
On the way to the oyster place, we stopped at the Fishs Eddy store. I got some cute things and we discovered some hilarious stuff with Donald Trump on it. 😂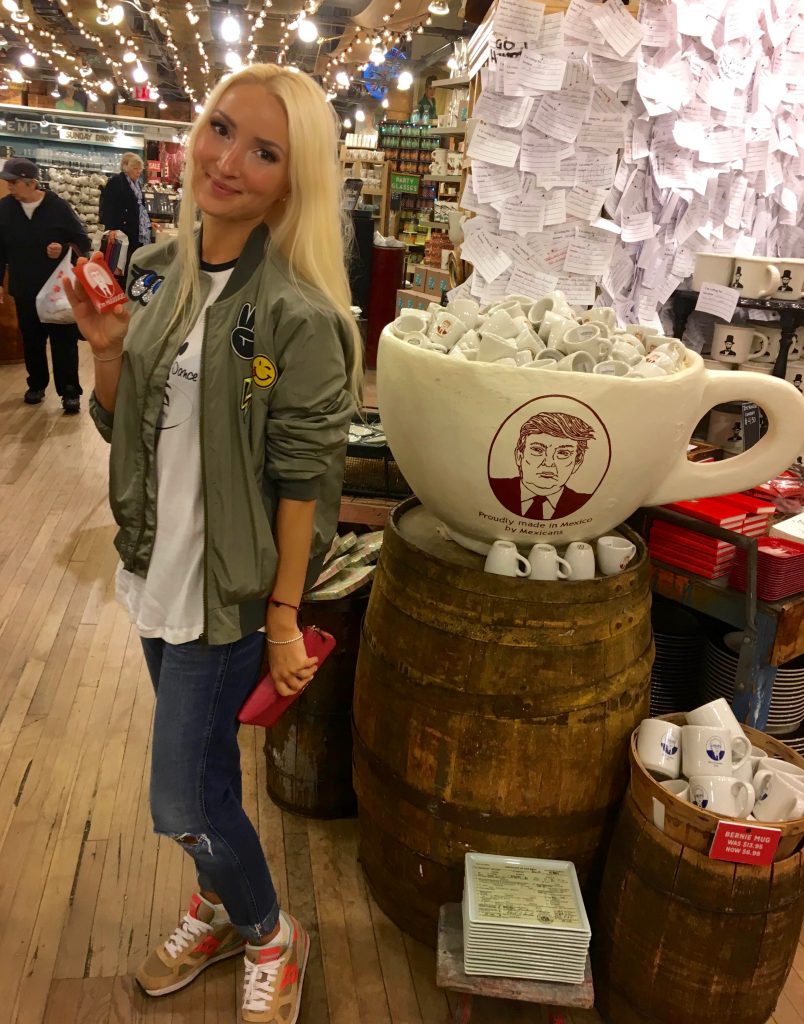 Then we saw this cool angel graffiti on Broadway which was inspired I guess, by Burning Man and took some pictures. I was wearing my fave Abercrombie and Fitch boyfriend jeans, Dolce and Gabanna Mickey Mouse t-shirt, and Aqua bomber jacket which I got from Bloomingdales as a present.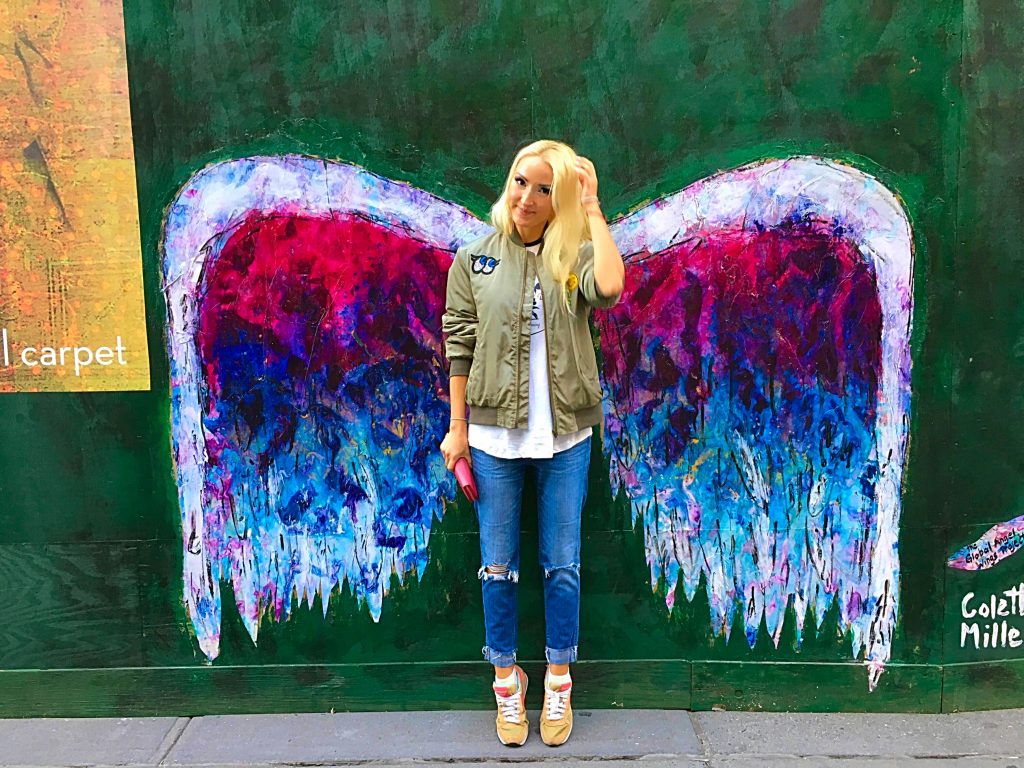 A month or so ago, the store sent me two gift cards for $25 and $75. I couldn't believe it, since I don't even remember doing any big shopping at Bloomingdales lately, and so I have no idea how I got those cards. At first, I was pretty sure that it was one of those tricky promotions in which you have to spend much more in order to redeem the "gift." Surprisingly enough, that was not the case, and I literally got the jacket for $98 (but of course, spent a little more getting Hermes shower gel and some hair oil so that I could qualify for free delivery.) 😉
In that oyster place we had a little surprise. I've been going to that place for ages but… there is a speakeasy bar downstairs there that I'd never known about. In order to get in, you have to call. That night we enjoyed listening to some nice jazz there by a live band.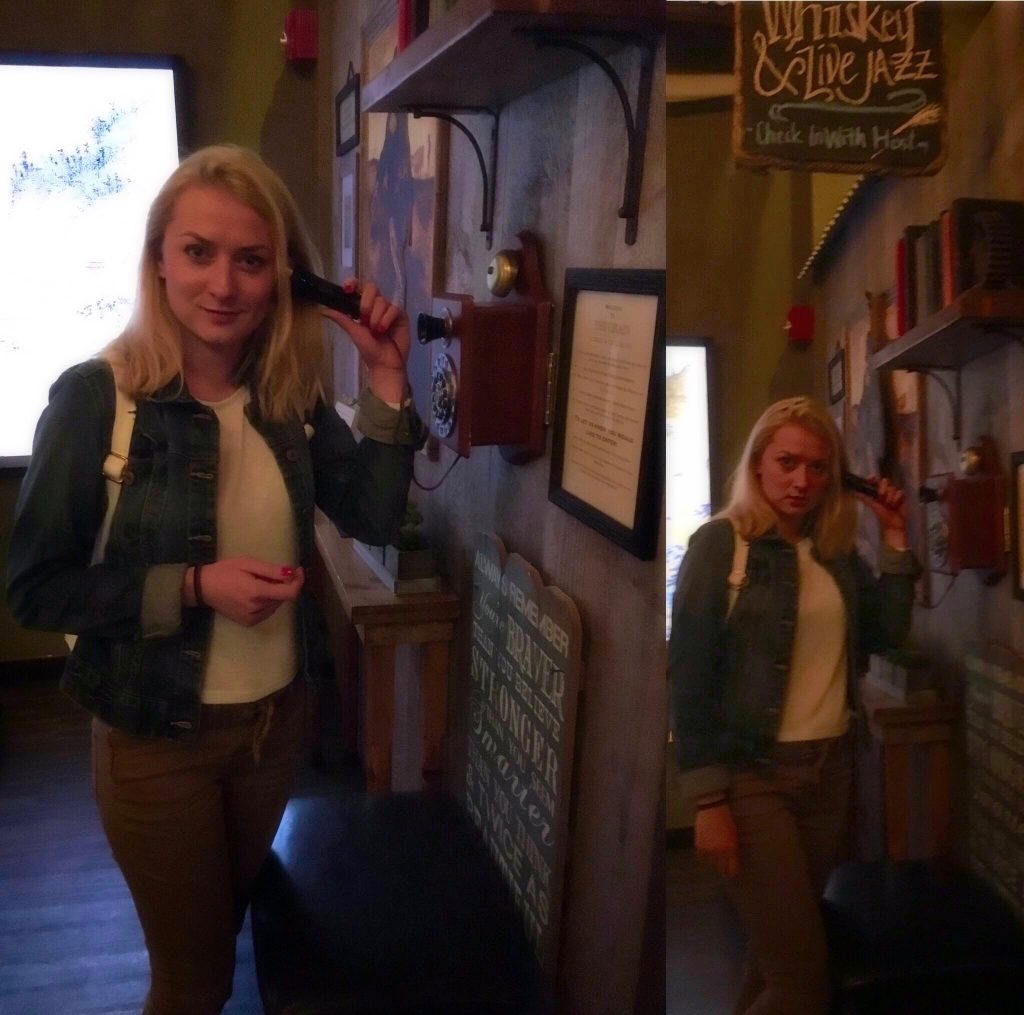 And afterwards, we went to a hookah place.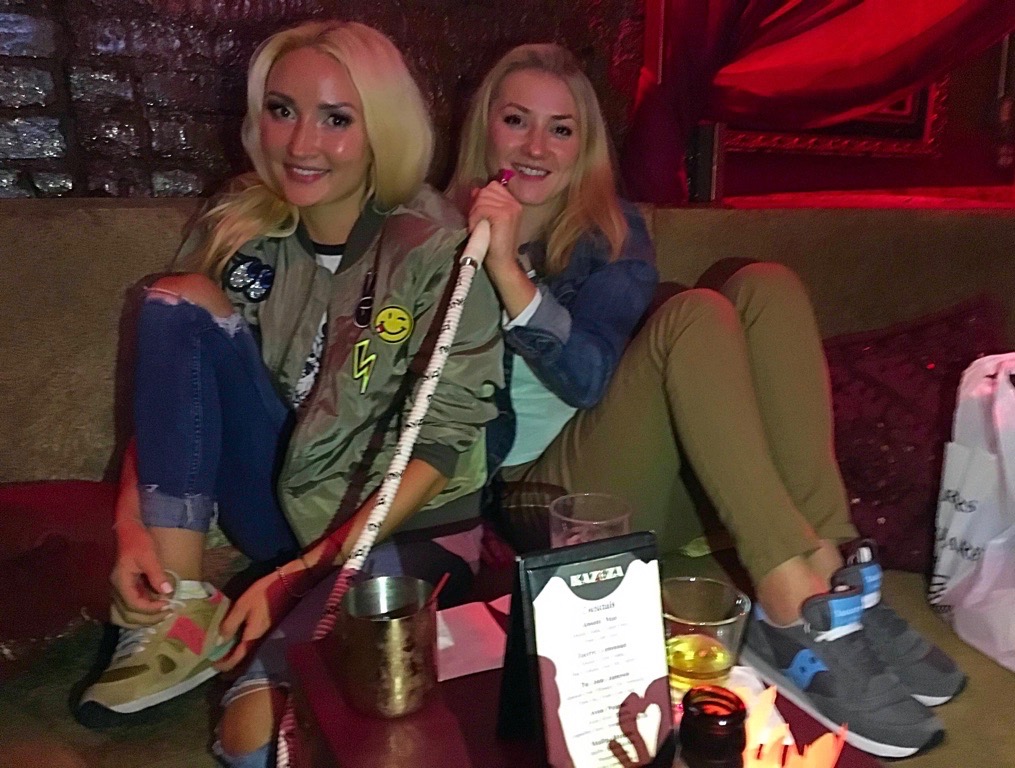 My outfit of the day was pretty stylish to continue going out at night without changing, while comfortable enough to walk around the city the whole day. That's the thing with a bomber jacket; it's casual and warm, but it can also be worn with platform or high heels for a totally different look. I love this jacket and its playful patches. It's the perfect piece for any occasion and works with just about any look.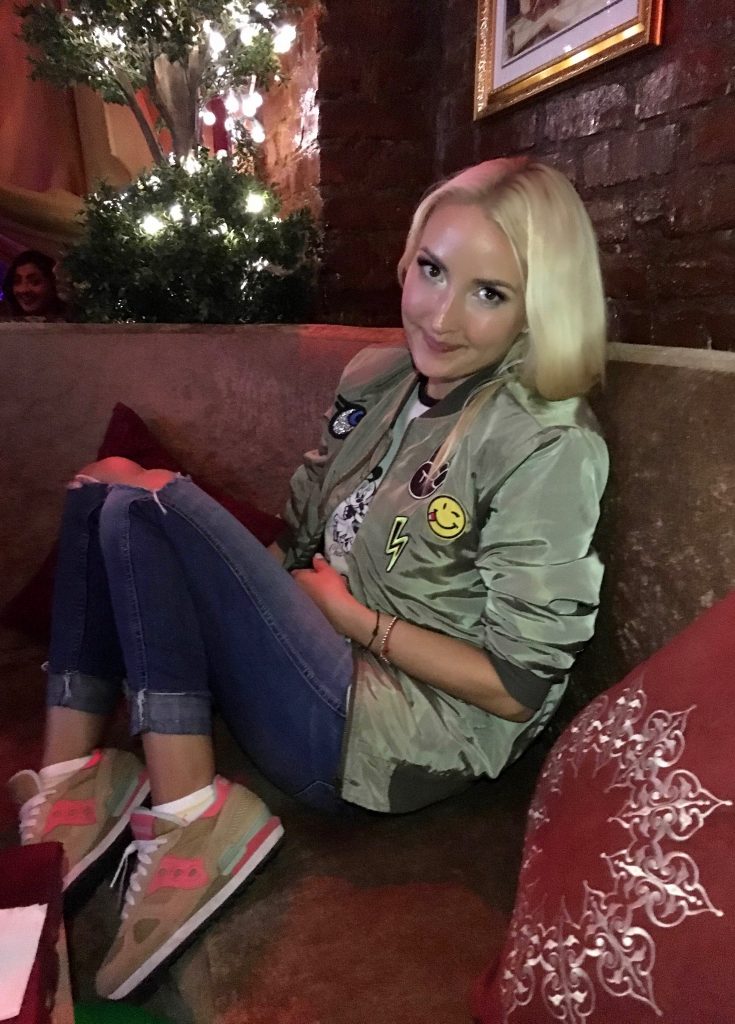 ---