What does a girl wear to pick up out-of-town visitors from the train station?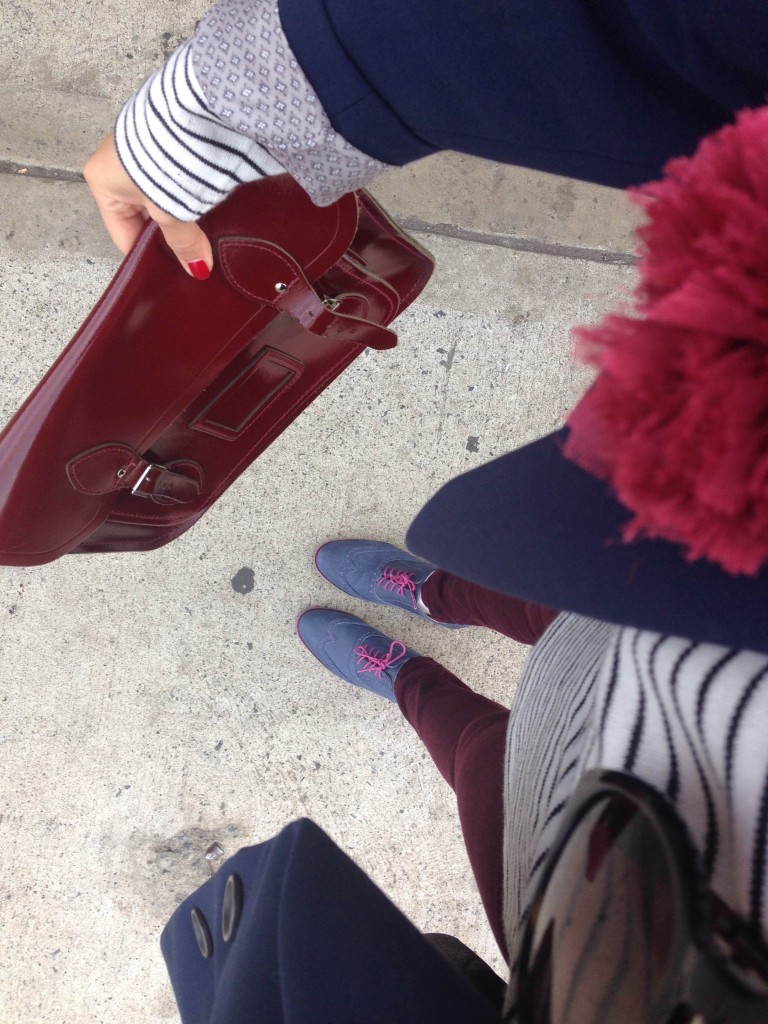 You're looking at it!
As a New Yorker, Liliya often meets visiting friends at Penn Station. This last Friday, she went there to pick up her best friend, Yana, who arrived with her friend Eric; they came to the City to celebrate Yana's upcoming graduation from Harvard. 
The outfit:
Liliya met Yana and Eric at the station in an oversized jacket, skinny jeans, and men's style shoes. According to Liliya, her #OOTD was "the perfect outfit: comfortable enough to help friends with their luggage but also stylish enough for taking a stroll and have lunch in the City." 
The shades:
Even with a chill in the air, it was a lovely day to sport these David Yurman (New York native) sunglasses – so chic and sophisticated in design. The rounded rims add a nice touch of femininity to a more androgynous look. And without a showy emblem on the side, they are wonderfully understated.
The top and jacket:
A boyfriend blazer could not be more apt for wearing with menswear-inspired oxfords. This one is by an artful Italian brand Ottod'ame. The patterned lining looks great with a navy and white striped top (it's so fun to mix patterns!) by Crossley, another Italian brand – this one with a focus on luxurious urban design.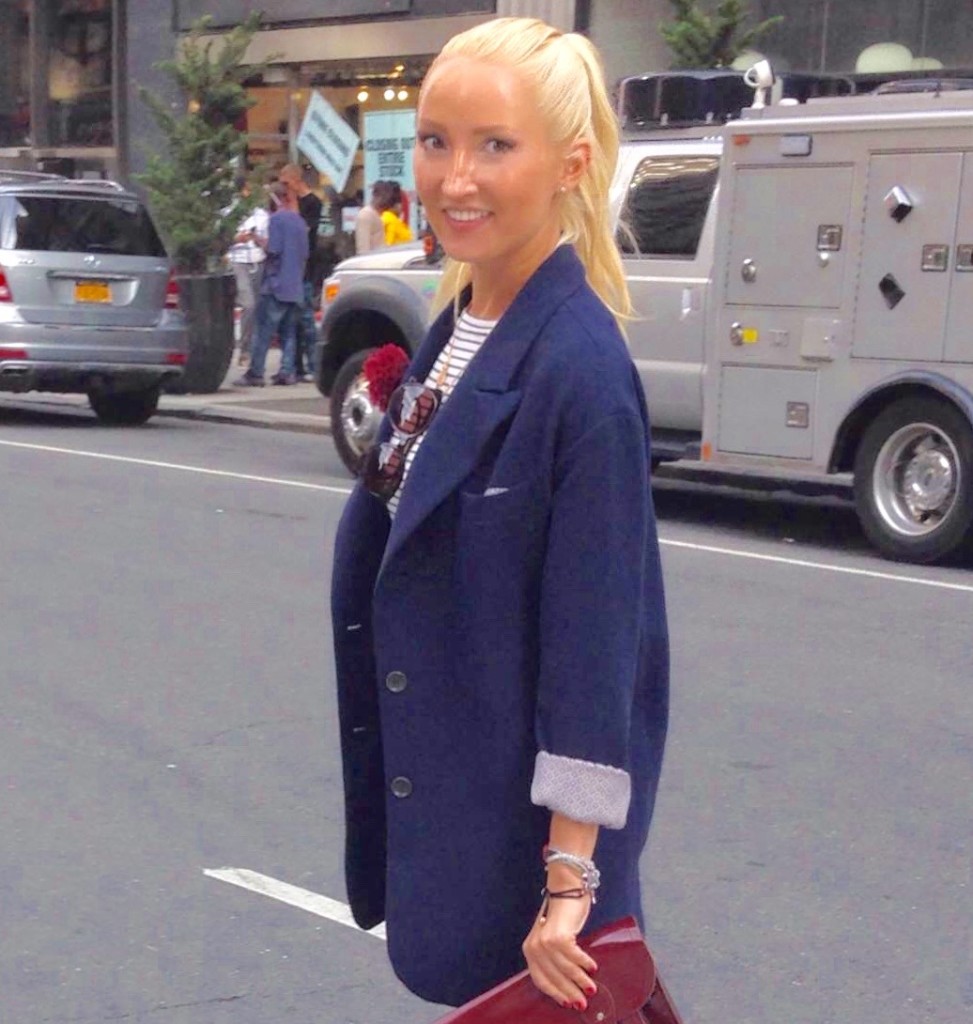 The jeans:
Even though we often tend to go with a more muted palette in fall, there is no reason to not add some pizzazz as does Liliya with these berry-colored Abercrombie & Fitch skinny jeans.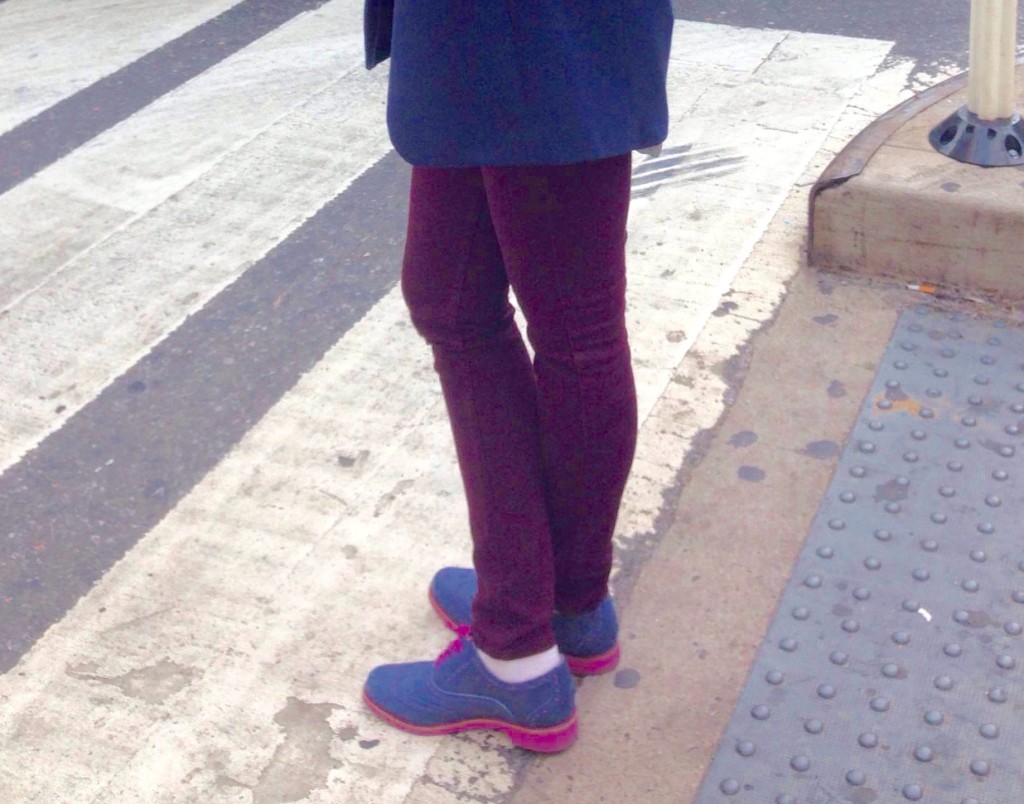 The shoes and bag:
Sartorially experimental men have been having fun these last few years, trading in plain brown or black work-worthy oxfords for a variety with brightly-colored soles, stitching, and shoelaces. It is no wonder that a woman venturing into androgynous wear – as Liliya with these Cole Haan wing tips – would want to join in on the fun.  
When I first spotted this handbag, I thought that if it were brown or black, it could be unisex but that the berry color meant that it was made for women. I later learned that this "batchel" (part briefcase, part satchel) by The Cambridge Satchel Company® is gender-neutral. I still think that the color adds a bit more fem, but it fits in very well with the menswear theme.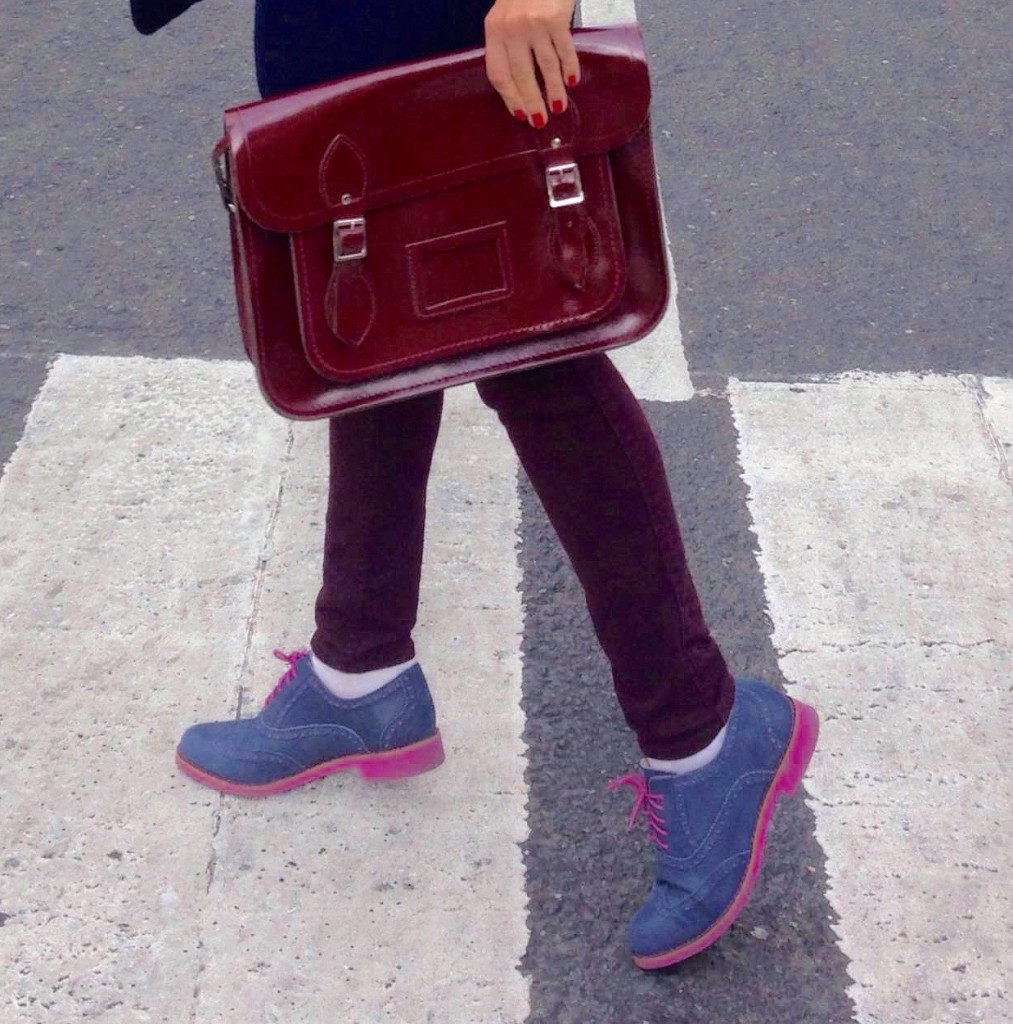 Of course, we mustn't forget one last detail: a fabric flower in the jacket lapel. Liliya loves the idea of accessorizing an oversized jacket with a big brooch – to add "a little feminine note." 
The rest of the day:
Once the three friends met at Penn station, they headed straight to a favorite Chinese restaurant for their tradition of dumplings and chit-chat. They always go to the same Chinese place from the station, and they also always engage in another custom: asking a question out loud, one at a time, and jokingly consulting their fortune cookies for the answers. 🙂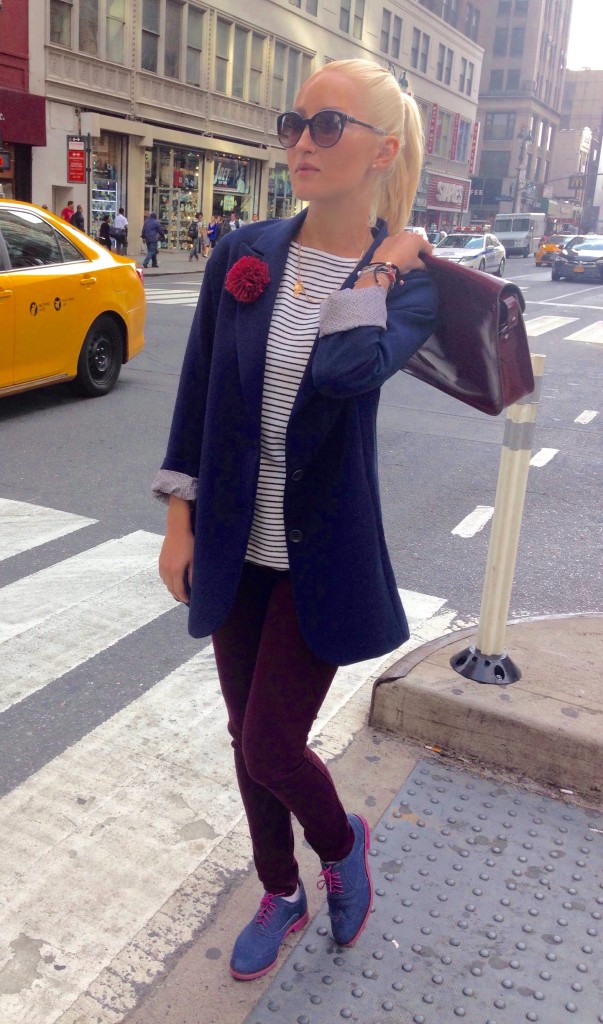 It seems to have been a lovely day all around, and Liliya's #OOTD was certainly part of the fun. Will you be experimenting with some menswear-inspired attire? We hope you are inspired by Liliya's dashing example!
XO, Janea
---
?