I recently went to L.A. with my husband Mark on a long weekend of sun and relaxation. Both of us had been working long hours, and the persistent Seattle rain was beginning to waterlog our spirits.
On our last full day of spring break, we planned to visit Laguna Beach and took the Pacific Coast Highway. This was the perfect outfit of the day (#OOTD) for both planned – and unplanned! – activities, including some consignment shopping and even a little margarita sipping.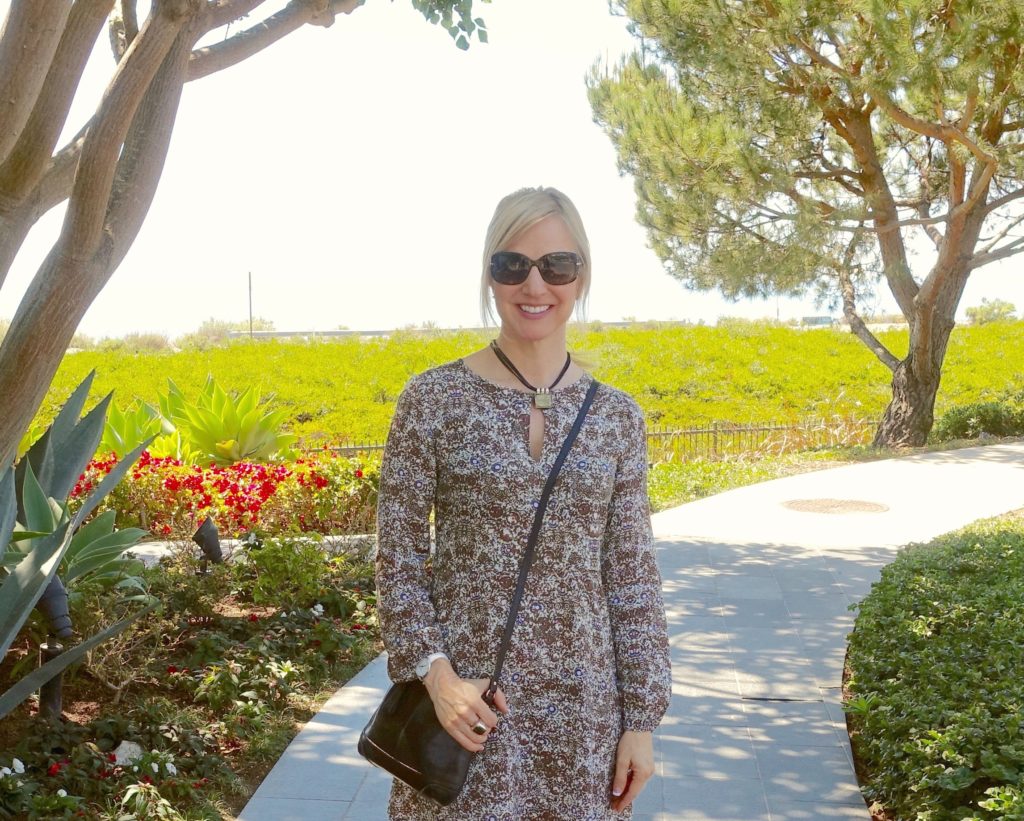 I was thrilled to have a chance to wear this super cute lightweight dress I bought last February. On Valentine's Day. I noticed (okay, coveted) a similarly cut dress in black – long sleeves, high neck, short hem – on a restaurant hostess. I love the idea of covering up more on top while exposing more of one's bottom half and vice versa. And so, you can imagine how delighted I was to find this dress the very next day.
Although I was a little unsure about wearing long sleeves in a hot climate – L.A. temperatures were in the mid to high 80s F (29-31°C) – I was super comfy! The dress fabric is so thin and light that I could feel the ocean breeze right through it. And I was relieved to get a break from smearing tons of sunscreen on my arms.
Also, the floral pattern of ivory, moss green, purple, and chestnut was a perfect match with the moss green Venetian glass jewelry (necklace and ring) Mark bought me on our honeymoon.
My sandals were just as comfortable for walking around, and as I've mentioned before, I think that flip flop sandals are the my favorite style of low-heeled sandal. These ones also remind me of a pair of Giuseppe Zanotti thong sandals in an outfit post of Liliya's, although I admit that mine aren't as sassy.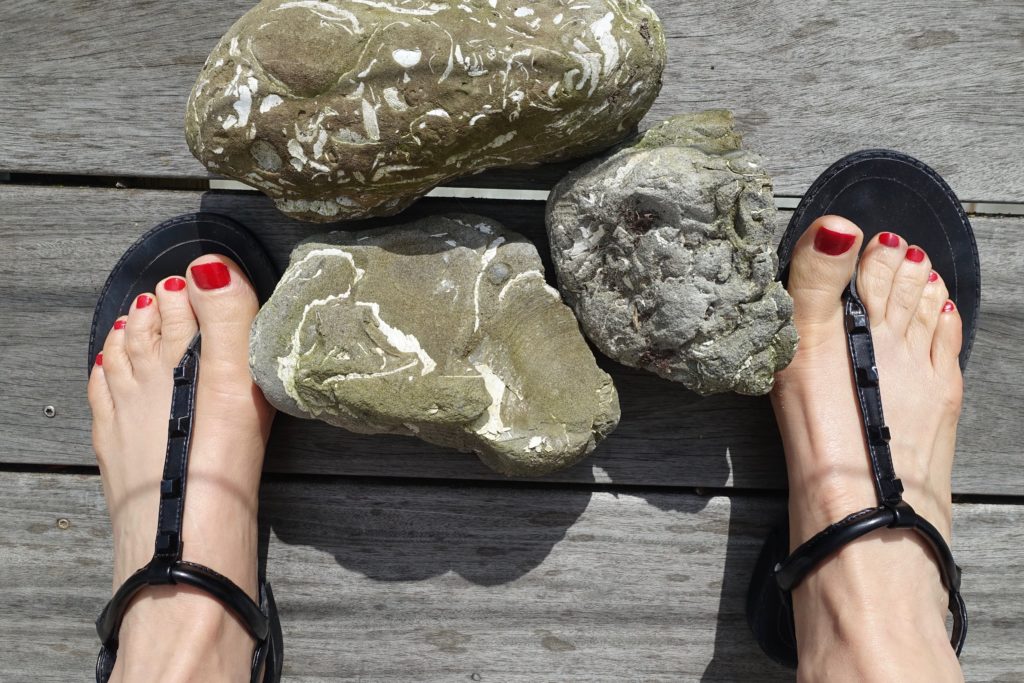 While heading down the coast on this lovely day, I had no idea that we would happen upon the best consignment boutique ever – On Que Style – in Corona del Mar (near Newport Beach). We saw a sign for another consignment shop and ended up parking directly in front of this one.
This slideshow requires JavaScript.
Both the dress and sandals were so easy to slip on and off while trying on a Missoni maxi dress (which I bought!), matching pair of Jimmy Choo peep-toe heels (which I bought!), red Valentino cocktail dress that retailed for $2900 (which I bought for less than $200!), and… Well, can you see why I call it the best ever?!
Fortunately, I purchased a sparkly barrette in Beverly Hills the day before. It made damage control – after trying on all those clothes! – a cinch as well as masking my serious need of a trim.
Our next stop on the itinerary suggested by my girlfriend Melissa was Javier's, a famous Mexican restaurant just north of Laguna Beach. Sitting on the patio with an ocean view was pure relaxation. And the margaritas weren't bad!
I don't quite get why Melissa recommended next a visit to 1,000-Step Beach. 😉 Since we were still feeling those margaritas, we decided to pass on climbing 1,000 steps and instead strolled along Forest Ave., the main drag of Laguna Beach. From there, we effortlessly took in the beauty of the coastline.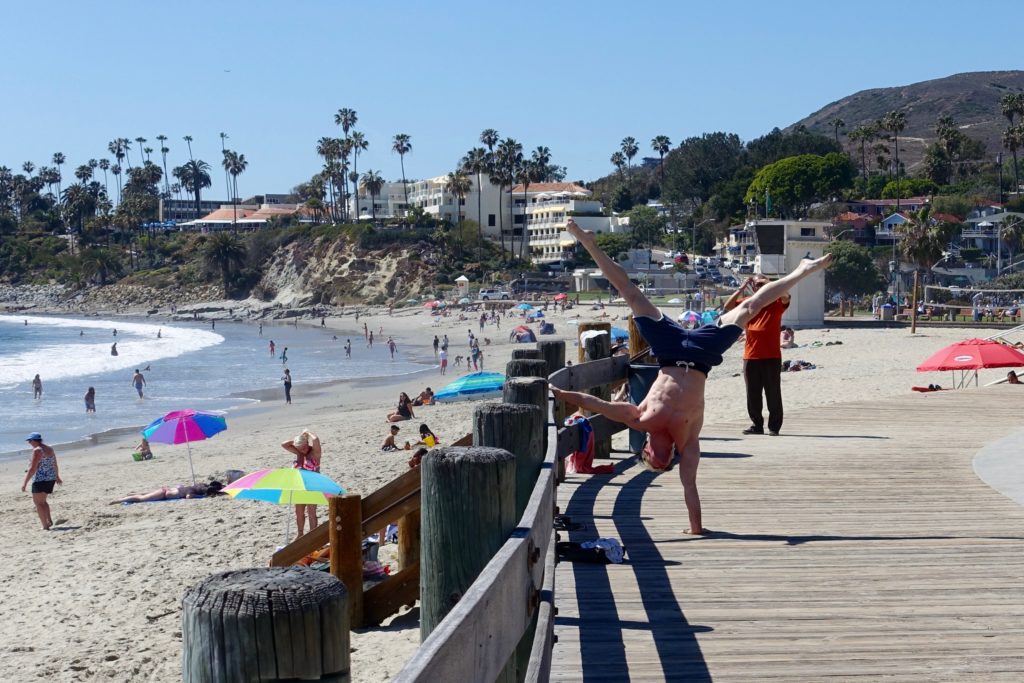 Baseball fanatic Mark was drawn to a cute little shop called Bleachers which sells what look to be very worn t-shirts with old logos of sports teams. They had a t-shirt for the Seattle Pilots baseball team which lasted just one season (1969) – maybe because it kept getting rained out!
All in all, it was a perfect outfit for a perfect day in southern California!
Once back in Seattle, I don't get as much of a chance to wear the dress, although I've tried pairing it with a summer weight cashmere cardigan. Hey, it works – kinda!
Dress – 1.STATE / Jewelry – Schiavon Art Team in Murano, Italy / Bag – old / Sunnies – Prada, Soft Pop collection / Sandals – Rebecca Minkoff
XO, Janea
Psst! Interested in shopping the look? Here are some links to find…
---