Today's #OOTD combines two favorites: a Layana Aguilar sweatshirt I had to have for New York Fashion Week and white wide-legged pants by Rachel Zoe. The pieces are oversized, and I love how they make up almost a retro look: that of a 1940s movie director. And at the same time, the athleisure look is current!
ATHLEISURE AT NEW YORK FASHION WEEK
At one time, I shunned the whole idea of athletic gear for everyday. I wasn't thrilled with the idea of yoga pants to brunch, for example. The athleisure thing finally won me over, however. I think it's because designers and fashionistas have become really creative at incorporating the concept into truly chic looks. It doesn't have to be sloppy!
Here are some I saw on the streets during New York Fashion Week, Spring 2017 (in September of last year).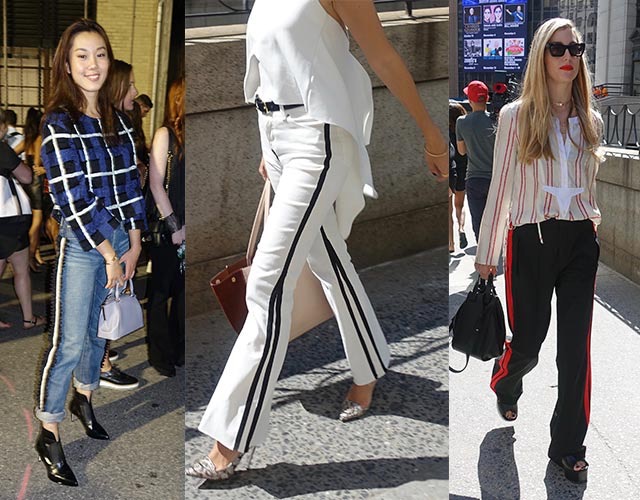 And as you can see in these shots I took last month (NYFW), athleisure is perfect year-round.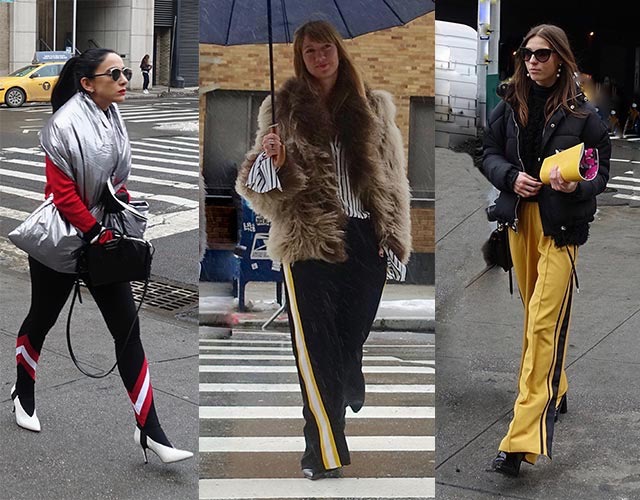 You may remember the pants in my OOTD from THIS POST last October. That was a much simpler look. A solid black top really put the spotlight on the trousers. However, Fashion Week street style proved to me that trousers with stripes down the sides need not be treated so gingerly. They can actually handle a contrasting print!
This is a new favorite way I have of styling my very wide-legged Rachael Zoe pants with racing stripes.
I have generally shied away from oversized anything, but I seriously thing that even two oversized pieces work here. I attribute that to the black, fitted waistline of this top – thank you, Layana! And the cropped fit goes perfectly with high-waisted trousers.
The top is considered a sweater, by the way, but it definitely seems sweatshirt-inspired. I absolutely love its play of textures, including regular sweatshirt material with quilted neoprene sleeves and ribbing at the wrists, waistband, and neck.
Sweatshirts are definitely a thing lately. And they seem to give off a more youthful, on-point vibe than sweaters, for example. And speaking of being on trend, I'm really loving the way designers are currently putting a big focus on sleeves – embellishing them and making them different from the rest of a garment.
I hope you liked this outfit of the day. It's not my usual look. But I immensely enjoy wearing mostly lighter colors and playing with these oversized pieces. After all, there's always room in my closet for evolution!
XO, Janea
Note: If you haven't heard, we are offering some of Layana Aguilar's designs for sale HERE!
---