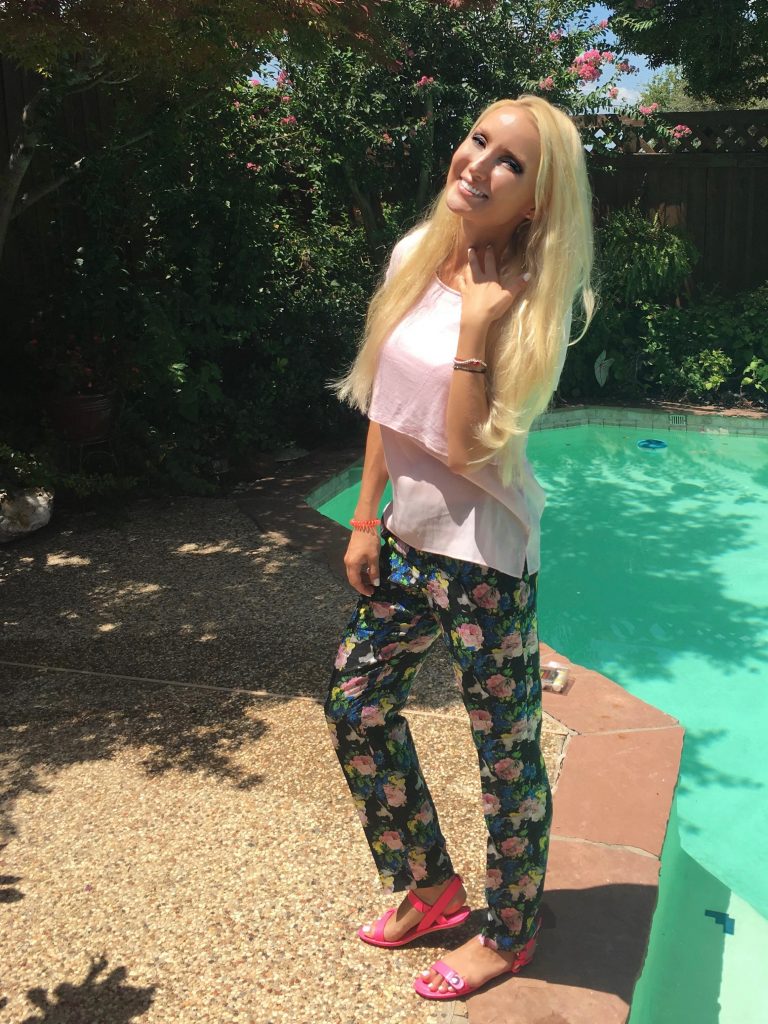 What do you wear in Texas in the middle of summer? Liliya has already given us some great ideas in her last couple of posts (with an adorable pink/yellow tank and "southern belle" look for an evening out).
This time, she shares another awesome #OOTD. Liliya reports that it is "super hot in Texas, but there is usually a big difference between outside and inside temperatures. People use their A/C like crazy, and it seems like Dallas air conditioning has a special 'Russian nuclear winter' setting, since it is freezing anywhere you go."
As a result, "it's hard to be appropriately dressed for both outside and inside, and people spend little time outdoors – just to get in and out of their cars and into air-conditioned buildings."
Fortunately, she spent this day poolside with friends and family at her parent's house, and her outfit was perfect for it. She wore a pair of silk cigarette pants in a floral pattern with a loose-fitting, lightweight tee in pink and bright pink flat sandals.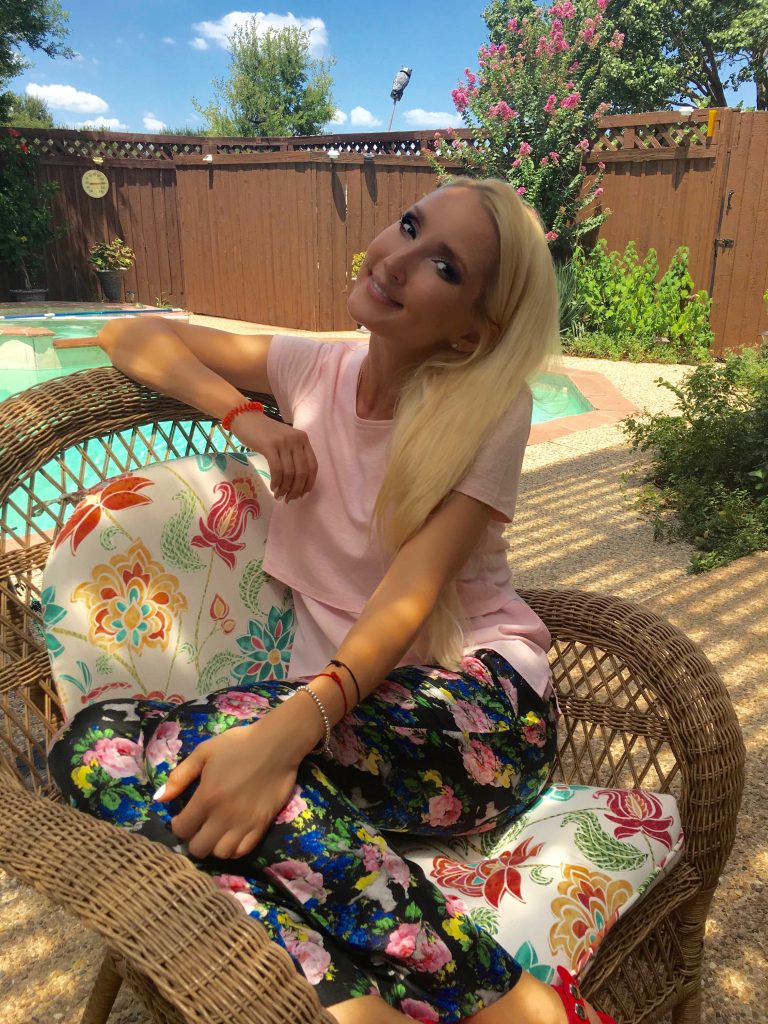 New Yorker Magazine recently published an article about why millennial women tend to love the color pink. Actually, it's "25- to 40-year-olds, say, who live in cities, have disposable income, and are artistically inclined"– Check! Check! Check!
Maybe you've noticed that pink has taken a totally new aura: it's no longer Malibu Barbie, but as the article puts it almost a "non-color," which gives it an aura of sophistication.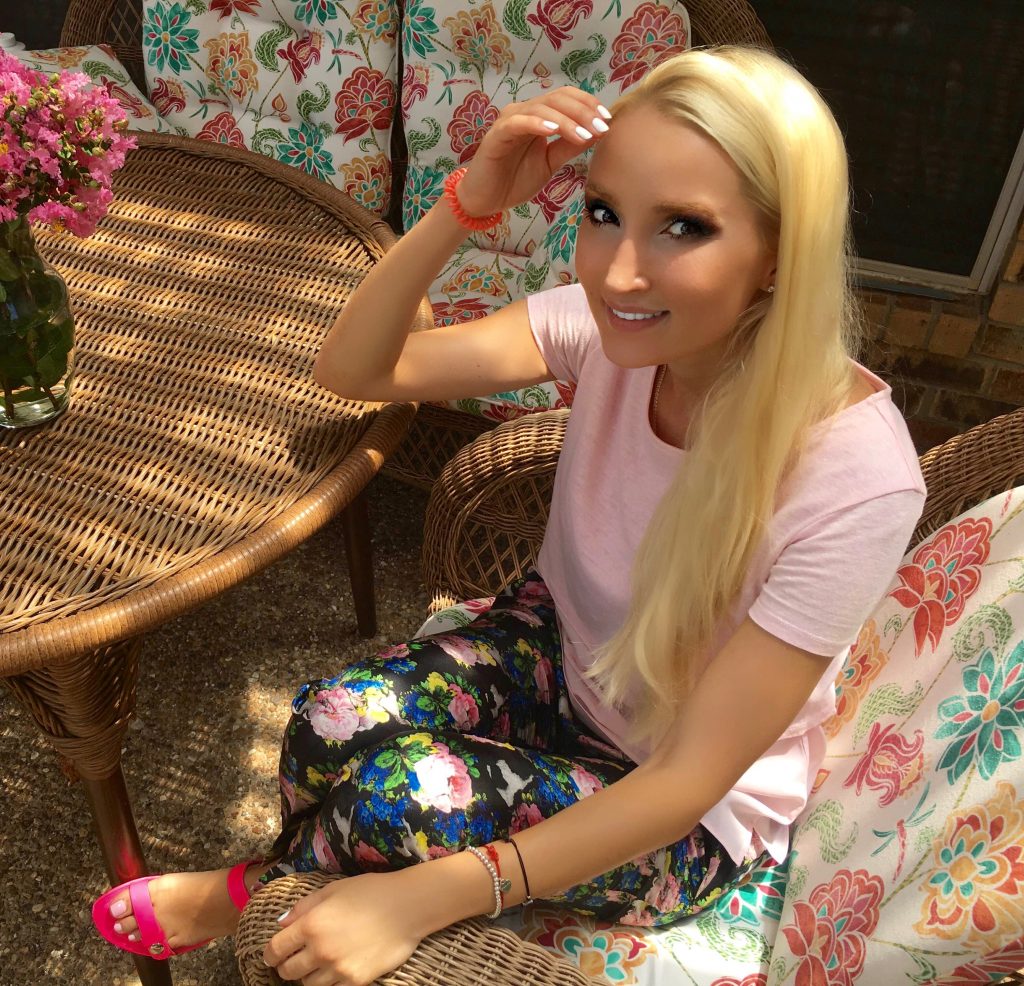 I actually recognize the pants from a get-together with Liliya in New York last summer. That's when I introduced her to Donilee, a photographer and friend who shared amazing photos with us from New York Fashion Week the last time around. Liliya styled the pants adorably, with a long-sleeved denim button-down and matching oxford shoes. This ensemble, however, stands up better to the Texas heat!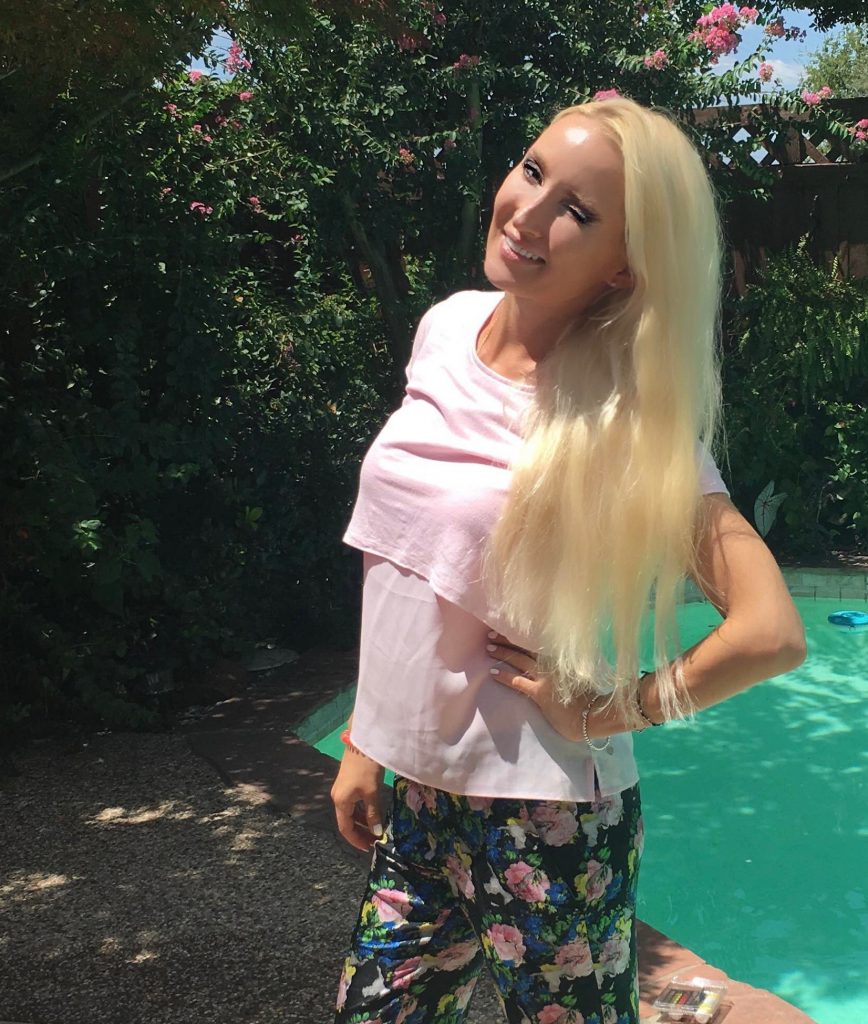 You may have noticed that it's that time of year when online fashion magazines like Harpers Bazaar feature their picks for white tee shopping. It is, after all the piece that never goes out of style.
I much prefer a pink one though, especially in Liliya's case – and even more so with those bright pink Alexander McQueen sandals, don't you?
Sandro Paris double layer t-shirt – MSGS silk pants – Alexander McQueen sandals
---