I've spared you the gory details, but I have to confess that I have been searching for a pair of dress pants for over six months. I've gone to Nordstrom and Barneys in Seattle, trying on every pair they have – sometimes feeling a little squeamish when I saw the price tag – but even disregarding money matters or whether the style was really all that great, I could NOT find a pair to fit. I also tried lower-end stores, and the results were even bleaker.
My small waist and larger thighs, hips, and bottom would simply not allow it. I got to the point of considering hiring a designer to make me a custom pair (more trepidation about the price). Then it happened! I went to Aritzia upon the suggestion of my friend Christina, and I met this pair of mid rise navy trousers. Love at first sight!
Here's how I style them for end of summer. You may have noticed that ruffles are kind of a thing right now. I've had this top for a while, because I've always loved a ruffle here and there, especially on the top half of my pear shape. That and the lighter color help achieve more balance visually.
Another feature I love of this splendid top is the larger ruffle in back – creating more balance from that view too! – and ruching in back to cinch in the waistline and create an illusion that I have more of an hourglass shape.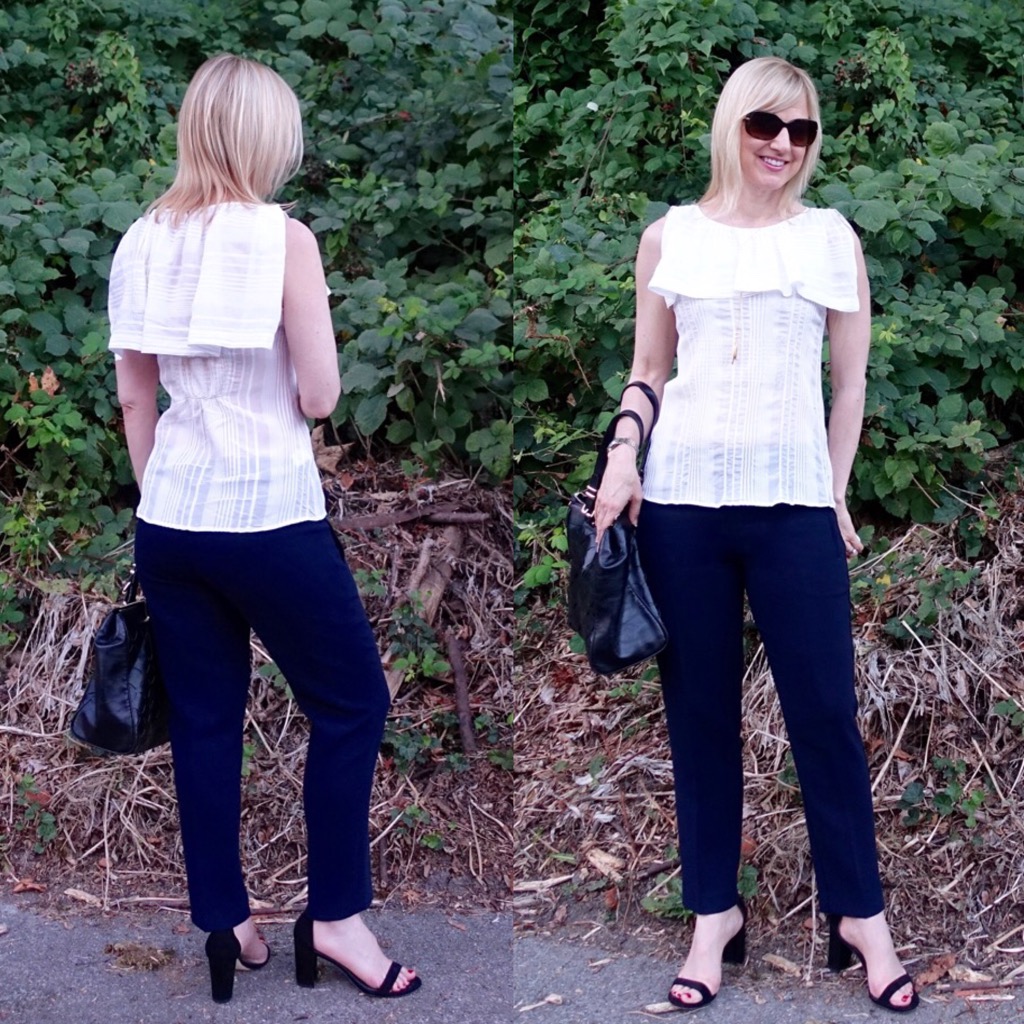 A reader recently requested pointers on dressing for a "top heavy", short-waisted shape. An untucked shirt like this is great for elongating the waist, as is a diagonal hem. Also, dressing in all one color or wearing similar shades of color on your top and bottom halves makes it more difficult to tell where your waist begins and ends. For this and another lovely reader who describes herself as having a small lower half and larger top, I recommend flipping my color scheme here upside down so that the darker color is on top.
The lariat necklace by gorjana I'm wearing was an awesome gift, and I was told that if it ever discolors, Nordstrom offers this complimentary service of having it redipped in gold.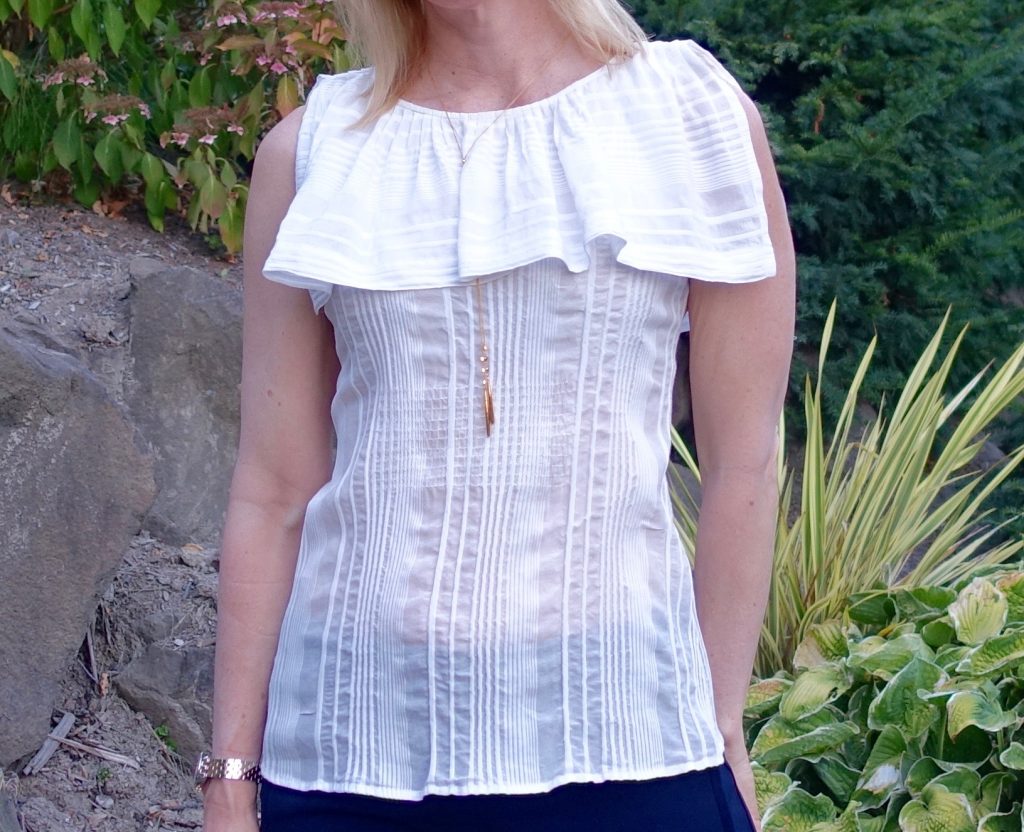 The outfit is so versatile: I can wear it out to dinner or lunch, to work, – with a white cardigan to handle the A/C – or even for visiting a museum and other activities requiring plenty of time on my feet.
I will not hide from you the fact that I got some horrible blisters on the top of my foot while running errands in these sandals on a very hot day. (Smooth move, I know!) Since then, however, these lovely ankle strap sandals by Stuart Weitzman have been totally comfy for walking, especially with the block heel.
I bought them very recently, and so, I'm not sure how much wear I will get out of them in Seattle with the rainy season coming up. But I do plan to spend a lot more time in California this year!
These pants will definitely be carried over into fall. I look forward to styling them with sweaters, maybe even a chunkier cropped sweater (I'm on the lookout!) and ankle boots.
Yes, the shopping gods finally smiled upon me! I didn't have to spend a fortune on the trousers, they fit, and the cut is interesting and chic. Do you ever have difficulties finding a particular garment that fits?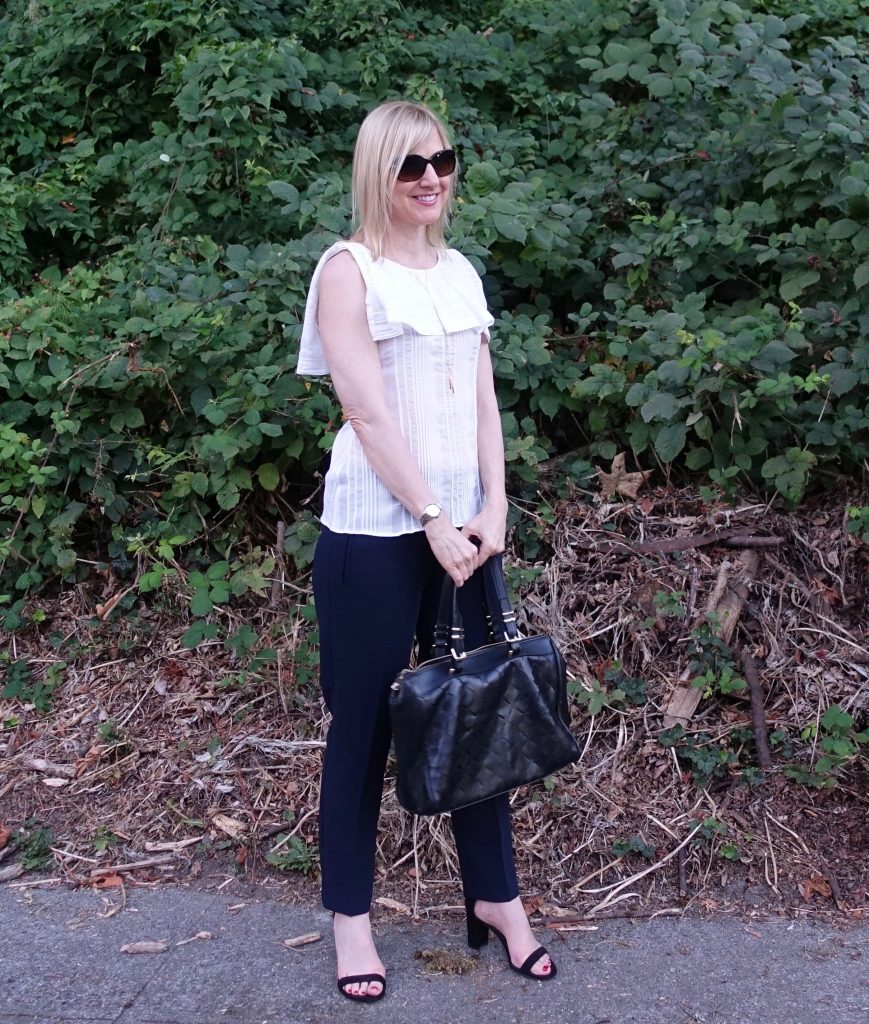 Wilfred Darontal pant at Aritzia / Stuart Weitzman 'NearlyNude' ankle strap sandal / Versace tote (on sale!) / Prada sunglasses (old) / gorjana lariat necklace / Top (old) – similar in the U.S. or in Europe
XO, Janea
---