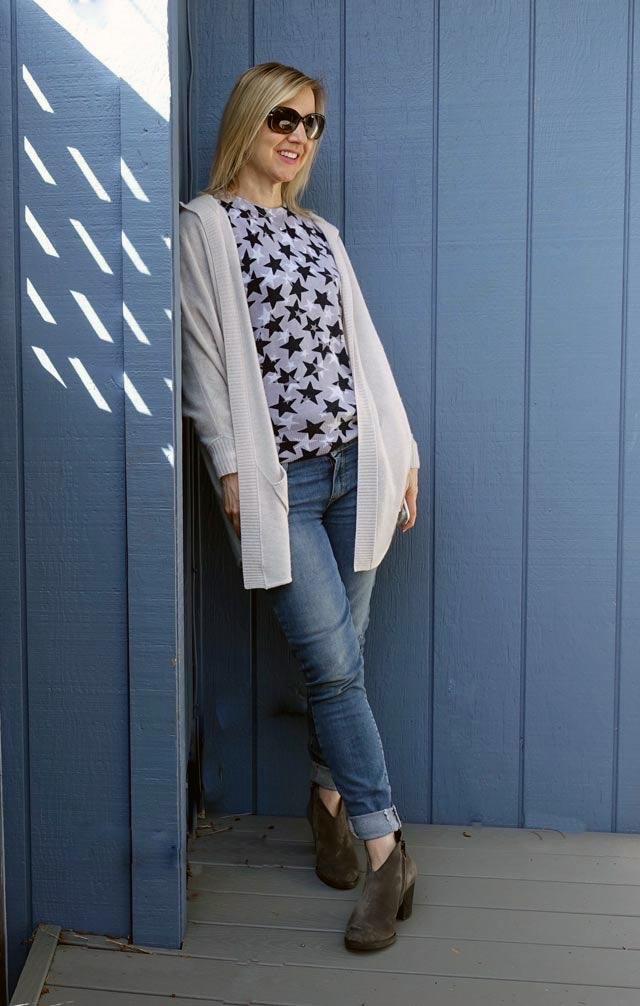 Have you ever seen something on someone and thought, "I have to have that!"? Well, my husband Mark and I were watching The Big Bang Theory the other night. And I instantly fell in love with a sweater on Kaley Cuoco. I mean, I was starry-eyed (pun intended)! I googled the episode and found the sweater – brand new! – on EBay. Here it is: my very own starry sweater!
Equipment Sloane cashmere sweater – SIMILAR / 360 Cashmere cardigan – SIMILAR / PAIGE DISTRESSED JEANS / Paul Green booties – SIMILAR
THE INSPIRATION
I never thought that I would get style inspiration from a sitcom. But I have to admit that I like that casual California vibe of character Penny's outfits. I especially liked this sweater with stars.
Until I became intrigued with the MIXING OF PRINTS trend, I was a solid colors girl. No more! I love stripes, can't get enough of plaids, and am hoping to pick up some more floral prints this spring. But stars…stars are simply fun.
I can just see myself pairing these stars with a black and white striped skirt. They also happen to be ON TREND according to the fashion bible, Women's Wear Daily.
DOUBLE CASHMERE WITH DISTRESSED JEANS
As for the way I've styled my starry sweater here, I can't think of a more comfortable one. Mark and I have traveled round-trip between the east and west coast (of the U.S.) three times this past month. With time changes and daylight savings time, I'm seriously feeling behind on my hours of slumber.
And so, it's an extra treat to wear something warm and soft. Double cashmere is like wearing a fashionable blanket. And what more can you ask for to stave off those colds that seem ready to pounce after you get home from a trip? Even back here in California, by the way, it's been rainy and windy.
These booties by Paul Green are also amazingly easy on the feet. The distressed Paige jeans – previously featured in THIS POST – complete the casual look. I am a recent but loyal convert to the only jeans brand I know of, started by a woman. They fit my curves so well that I bought another pair this weekend.
Everything, down to the colors of this outfit are soothing. And I don't think that I had to sacrifice much style in accomplishing this. I hope that you like the outfit. And maybe the next time you see something in a movie or on TV that you really like, you'll be inspired to start Googling as I did.
XO, Janea
---