Have you tried mixing prints yet? Since I've tended to collect mostly solid-colored clothing, it's taken me a while to try my hand at it. But, I love how it makes an outfit more interesting. This outfit includes some of the easiest prints to mix (successfully): stripes and plaid.
MY INSPIRATION
I've been noticing cool ways of mixing prints for several years now. Some of the best examples, of course, have been of fashion week attendees photographed by SCOTT SCHUMAN.
Last September was my first time attending New York Fashion Week (NYFW). I hit a couple of shows. But the main attraction for me was the street style. You can't imagine how excited I was to see Vogue's editor-in-chief, Anna Winter in person – up close!
Given the fact that Anna is an ultimate fashion authority, I couldn't resist the impulse to scrutinize her look. While doing so, I have to admit that at first, I felt let down. I mean, her dress seemed kind of basic.
After careful observation and some reflection, however, I realized that it was far from ordinary. I mean, how often do you see a combination of tie-dye and plaid? Further, the fabric transitions at the waistband from smooth to micropleats – which, by the way, she wore very well. My adoration for this style icon was restored.
During NYFW last month, I spied more choice examples of mixed prints. Aren't they fabulous?
A FEW TIPS ON MIXING PRINTS
In case you haven't dipped your toe into this pool of fun, mixing prints is not all that difficult. Stripes and animal prints can practically be considered neutrals. And according to Garance Doré in her LATEST POST, plaids also fit into that category.
It's especially safe to mix graphic prints. Just remember to keep your pieces in the same range of tones. And to make it fail-proof, have at least one of the same colors in each piece.
I might be dating myself, but I remember when wearing stripes with plaid was something reserved for the golf course. And still, it was considered tacky. I decided to bring a tasteful combination to the golf course (in Santa Cruz, California) for this shoot. I also think that the green grass beautifully compliments the fuchsia in my dress. 😉
MY OUTFIT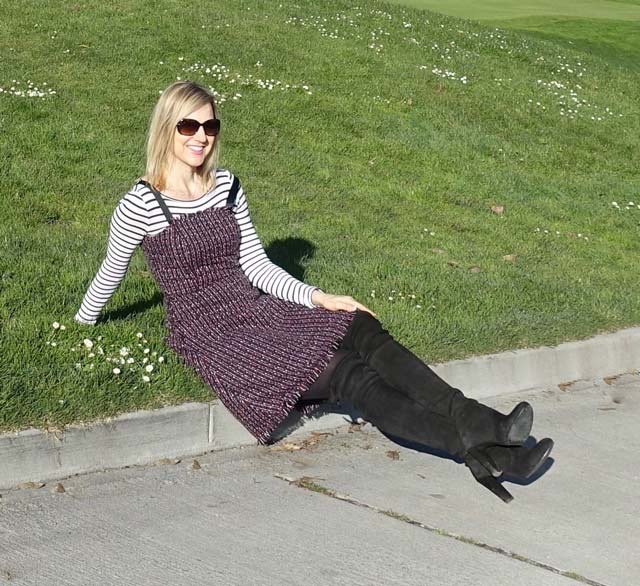 My outfit includes a dress you may remember from THIS POST. The stripes and plaid have both white and black in common. I can imagine, however, this still looking great if the dress had no white in it.
Another contributing factor to it working, I think, is variation in the scales of the prints: the striped print is quite a bit larger than that of the plaid.
Adding the solid black jacket and black OTK boots serves as a way to break up the patterns and make the complete look less busy. It also makes the look more flattering. Lighter-colored footwear, in contrast, would cut up my silhouette and give the appearance of stubbier legs.
When mixing prints, accessories can be more low-key. And so, mine were limited to a simple gold necklace with diamond pendant and a simple white watch I picked up in a Palm Springs design shop.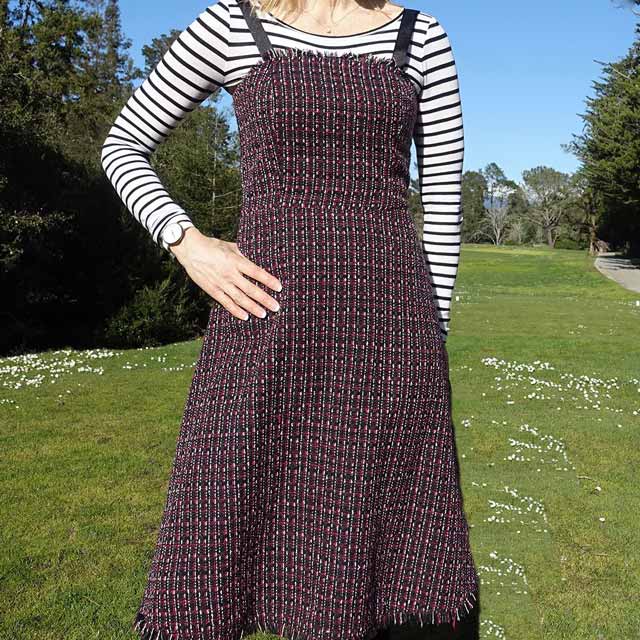 I hope that you like this mix of stripes and plaid. What do you think of mixed prints?
XO, Janea
---