If you follow fashion week street style – truly a sight, if you haven't, then be sure to check it out! – you might remember that during last season's fashion week, loads of fashionistas wore sleeves that extended past their fingertips. While on the way to catch a show at NYFW this year, an Uber driver said to me, "You know, there's only so much you can do with fashion." I don't exactly agree, but those sleeves DID kind of seem like a desperate attempt. Haha! (I actually like them.)
Well, a sleeve trend which still seems to be strong this season is the bell sleeve. I'm thinking that the look will be on point for a while. I have to admit, however, that I'm thinking I might wear this bell-sleeved dress past it's "hot" period.
After attending another amazing fashion show of Emily Payne's designs in San Francisco last weekend – stay tuned for more on it, because it was even better than the last! – I picked up Mark from the San Jose airport. The next night we had to hit our favorite restaurant Pintxo Pote, a (Spanish) family-owned tapas and wine bar in Los Gatos. Since there was practically a heat wave going on, I happily wore this short pink silk shift dress.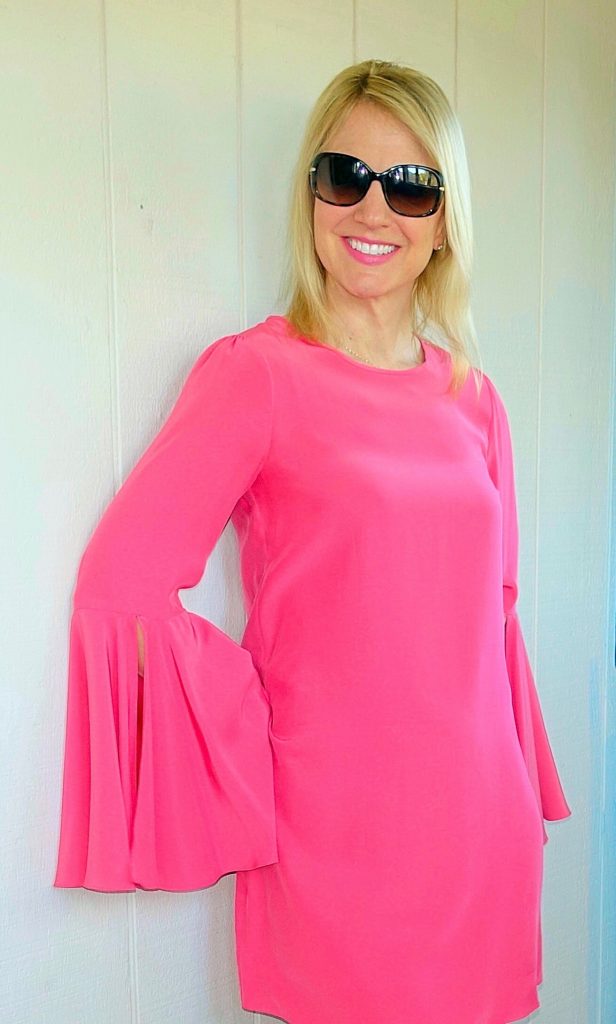 I love a shift dress, because it so nicely flows over my hips, especially when I wear light-control Spanx underneath. And I don't need to worry about alterations for a great fit. If you are a little self-conscious of a tummy, this style of dress drapes forgivingly over that area too.
Bell sleeves are also ideal for a pear-shaped body like mine. I love how they add volume to my forearms and compete with my hips for attention. They are also helpful, by the way, for balancing out a larger upper body.
The only drawback of these sleeves is that they can sometimes look a little too flower-child or Renaissance to me. But the fact that this dress is monotone and made of silk keeps it tasteful, in my opinion. The slits in these sleeves are another modern touch.
Where did I find this gem? I spotted it in a window of On Que Style, a luxury consignment shop near Laguna Beach, and it was…well, you know that lust-at-first-sight feeling?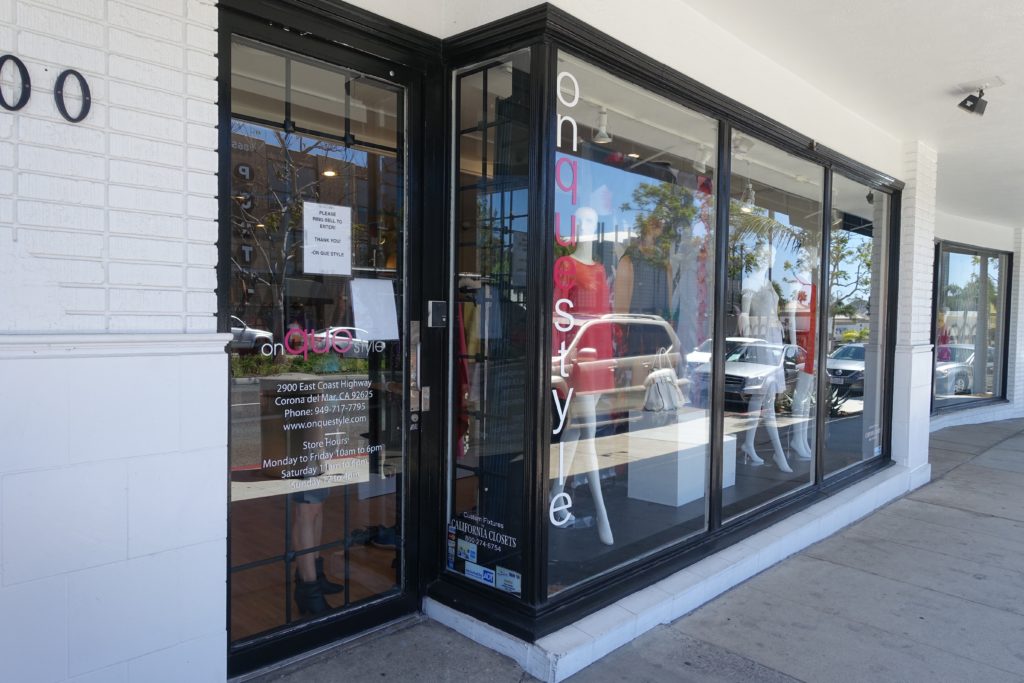 I never dreamed of owning a bright pink dress, by the way – as Liliya has suggested, it can look gaudy on a blonde. But for some reason, I think this works.
I'm now thinking that I'd like a bell-sleeved top for fun layering this fall – maybe to go under a slip dress. What do you think of bell sleeves?
XO, Janea
Psst! Here is a similar dress in black and another with a mock turtleneck (for fall/winter)!
---