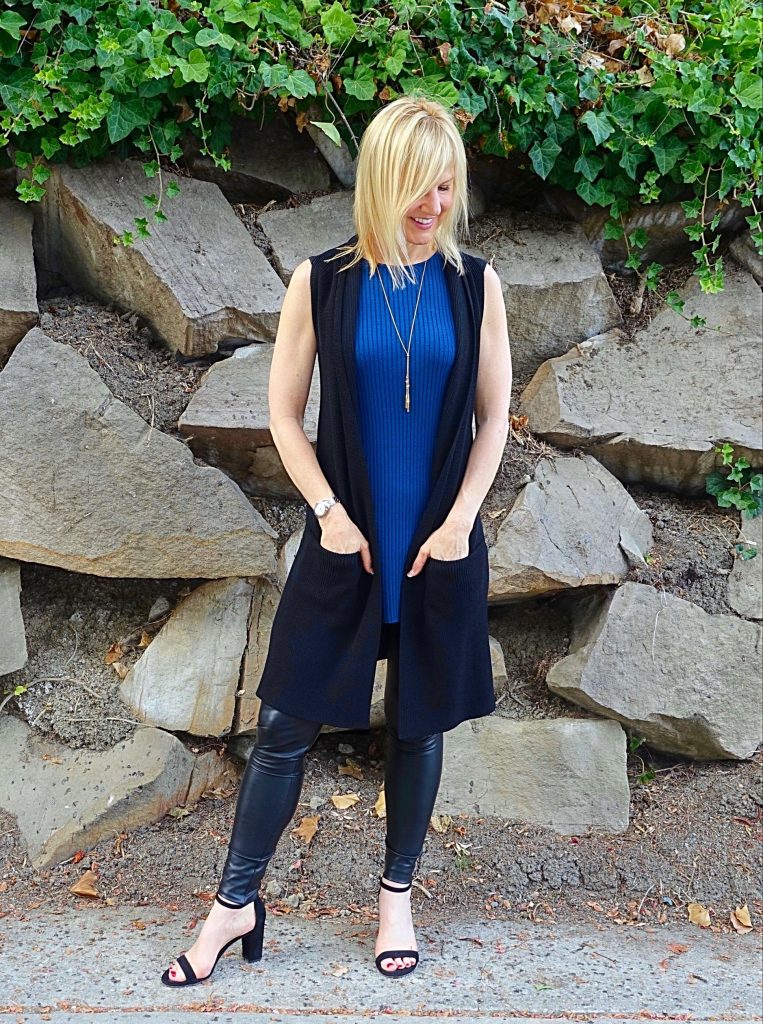 If you're a regular reader, you'll likely recall my mentioning how impossible it is for pear-shaped me to find pants which fit and are flattering. Well, here I am in VEGAN LEATHER LEGGINGS – never did I dream I'd sport a pair! These are, by the way, the exact same ones Christina wore in our Aritizia-Balenciaga outfit post.
Let me tell you: these leggings fit many different shapes and are oh-so-comfortable and I'm not an Aritzia affiliate! For this post, I'd like to share a second way of styling them. As Christina demonstrated, they also look great with moto boots and an oversized blouse.
I took these shots a few days ago when the weather was quite a bit warmer, but I add just one extra layer (the vest pictured above) to make this fall-proof for places like the Pacific Northwest. If you're in California, however, the outfit is still perfect exactly as is!
Have you, like me, gotten the impression that leather leggings only work on women with model-thin legs? Well, I'm here to show you that it can be done even by someone with curvier or more muscular legs. Mine are a combination – maybe more curvy than muscular at present, and so, I opted for a look that lengthens my entire silhouette.
This long sleeveless wool sweater in blue is similar enough in color to the leggings, that it creates the look of one continuous line. The fact that it's sleeveless also makes for a more vertical orientation.
This is a great combination for pear-shaped women. The look can be varied slightly, however, to work for many different shapes. For an apple-shaped figure, I recommend more of a billowy tunic/dress with an empire waistline. If you have a larger upper body, sometimes referred to as an inverted V shape, a more open neckline – maybe a V-shaped one – is a flattering alternative, as well as wearing a top in a darker color than the leggings. What if you have a rectangular or hourglass shape? Belting the top would work really well to highlight shapeliness or create more of it visually.
I later tried layering the sweater over a sheer black long-sleeved top. I think it works, and it's definitely warmer for cooler days.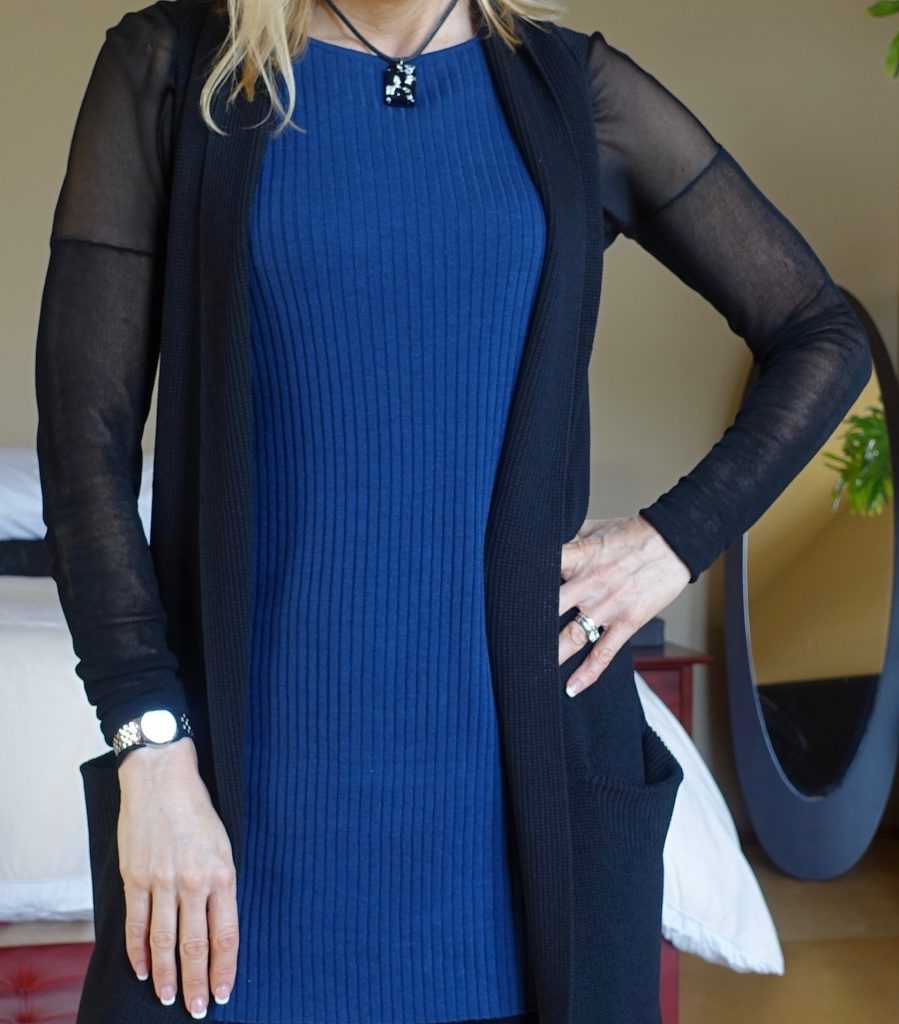 This was my outfit, by the way, to go out to dinner with my silly husband. When we shoot selfies, he likes to make sure that I end up at the last minute being the one with the "big head." 

I was very comfortable with and without my heavy sleeveless long vest on top, although if it got any nippier, another option is to wear it with my favorite blanket scarf. That way, I can take it off in the restaurant and be a little sexier (sleeveless)! 😉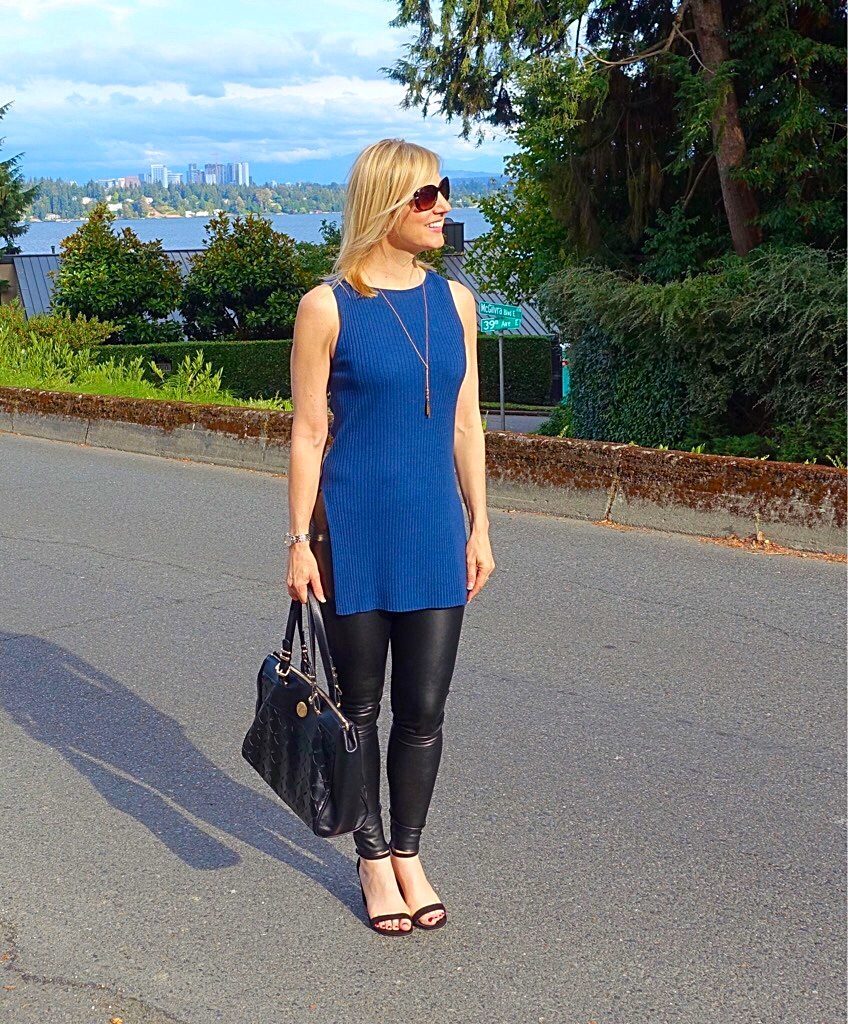 And of course, heels are always my friend when I want a little leg-lengthening! Although I think these "Nearly Nude" sandals are elegant and sexy, a high-heeled booty visually lengthens the silhouette even more!
Do you like leather leggings, and if not, is it because of how they look on you? If the answer is yes to this second question, believe me: I can relate! I hope you'll keep looking for something like this amazingly flattering – and comfortable! – pair at Aritzia.
XO, Janea
---