I believe I've already written about my hesitations when it comes to wearing red. I'm not sure where I got the idea that it's a little vulgar for blonde girls like me. Red is a powerful hue. And so, I do think that it helps to balance it out with brunette or black hair and vivid facial features like darker eyebrows and lashes. But my recent experiences have cast more and more doubt on this theory. In fact, it ended up being the color of my ideal #OOTN to celebrate New Year's Eve this year in a very Russian way.
A traditional Russian NYE
For Russians, New Year's Eve is traditionally the biggest night of the year; it's our most celebrated holiday. There is a belief that we must make as much food as possible. A rich dining table ensures prosperity in the new year. We also believe that the way you receive the new year is how you'll spend it. If you travel, for example, the year will be full of adventure. And if you spend it with family, you'll have lots of family time.
This year like many others, I traveled to see my folks and celebrate with people close to me. I know that here in the U.S., New Years is not such a big deal compared with Christmas. People normally hang out with friends, for instance, and go to parties or bars. But we like it to celebrate it the Russian way.
In Russia on NYE, you can't get into restaurants. They are either closed or completely booked several months prior. Country cabins are booked for NYE the previous summer. And families plan dinner menus weeks in advance.
So, with this mindset, my mom and I took our Russian NYE celebration in Dallas very seriously. My mom shopped for groceries on three separate occasions. And we still made a last-minute run to the store on the 31st. I made these ladybug snacks and mashed potato roses of which I am very proud.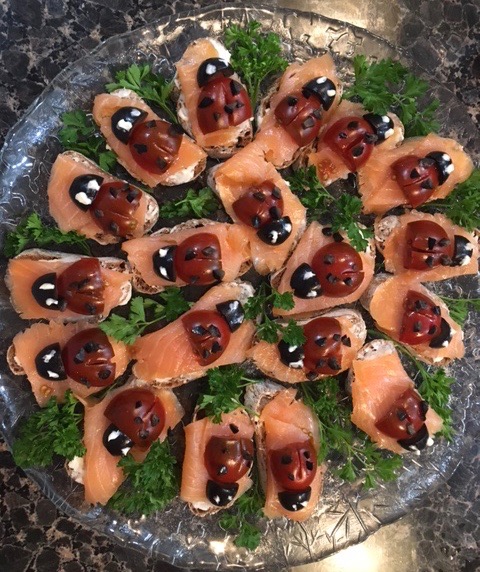 My outfit
Food was the biggest concern for my mom that night. But for me it's always "what to wear." I was glad I didn't need to think about it this year. That is, since a week before NYE when Janea, Layana, and I agreed to put together an ootd (or ootn) with one of Layana's pieces. As soon as I walked into Layana's store in Soho, I was drawn to this gorgeous asymmetrical red dress.
When it comes to New Years in Russia, we have many different traditions and superstitions. Some are hard to explain, and I can only say that you just go with the flow. One of these mysterious "what you do on New Years" rules is to wear the color of the year. You might ask how we decide on the color. Well, we don't; we consult the Chinese calendar (don't ask me why!) Apparently, this is the year of red rooster. Luckily, we didn't have to wear rooster costumes, but we wore something red for good luck in 2017.
Another mysterious tradition
And if you think that's silly, just wait for what comes up at midnight. We Russians each write a written wish on a small piece of paper. After that, we burn the paper, drop the ashes into our champagne glass, and drink the burnt mixture, trying to avoid choking AND finish by the time the Kremlin Tower's main clock strikes 12. Supposedly, this ensures that our wish will come true within the next 12 months.
So, back to red…
I brought this red Layana Aguilar dress (from her 2017 collection – I don't want to have to give it back!) and paired it with my YSL pumps in the same color. I read somewhere that the color you wear can change your behavior. This especially applies to red, a color of dominance and even aggression in the natural world.
According to BBC,
"Mandrill monkeys are perhaps the most famous example, with vivid markings on their face and bottom that signal their position in the group's strict hierarchy; the fitter, and more dominant an individual is, the redder he appears. Reading their competitors' fitness therefore prevents the lower ranking monkeys to take on a fight they are sure to lose. It was only in 2004 that two psychologists – Russell Hill and Robert Barton at the University of Durham – began to wonder whether humans might react in a similar way." – http://www.bbc.com/future/story/20140827-how-the-colour-red-warps-the-mind
It seems that the study didn't come to any definitive conclusions regarding red's influence, but experiments showed this for instance:
"In combat sports like boxing and tae kwon do, the athletes were randomly assigned to either red or blue kits, allowing the scientists to compare the same athletes' performances when they were wearing different colours. Tracking their progress throughout Olympic games, Hill found that those assigned the red kits were about 5% more likely to win their bout than the blues… finding similar results with football penalty shooters, for instance: they are less likely to score if the goalie is wearing red." – http://www.bbc.com/future/story/20140827-how-the-colour-red-warps-the-mind
The dress's effects on me
While preparing my red outfit for the night, I didn't mean to turn into the perfect fighter or become aggressively dominant, but I did indeed feel very confident and beautiful. Also it might've just been this perfect dress with asymmetric sleeves. I loved that its different sides allowed me to take totally different pictures. It almost looked like I was wearing two different outfits.
And that's not to mention that the fabric is so utterly soft, warm, and comfortable. I easily walked outside where it was in the low 60s that night and didn't get cold there nor too warm inside. The curved hem – which echoes the shape of the sleeves! – also makes the dress so unique, feminine, and sexy.
I have to say that I no longer have any doubts as to the influences of the color red. And it was such an honor to wear it in one of Layana's amazing designs! 🙂
Love this dress as much as Liliya and I? You can shop it here!
---