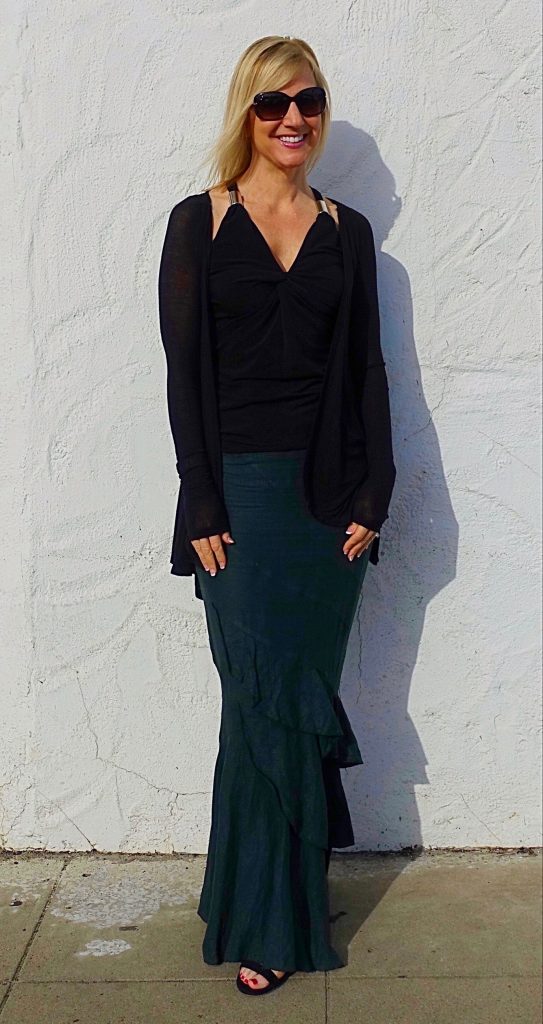 Whenever I head to a sunny destination lately, I feel like I am on vacation. I recently spent several days in California, which you might recall from my oversized pants post with shots of the Santa Cruz Boardwalk. I actually worked in the courts there in order to keep up my California interpreter certification. But that didn't stop me from packing resort-y clothes for going out on the weekend.
The mermaid skirt outfit
This look includes one of my favorite pieces: a green mermaid skirt with ruffles.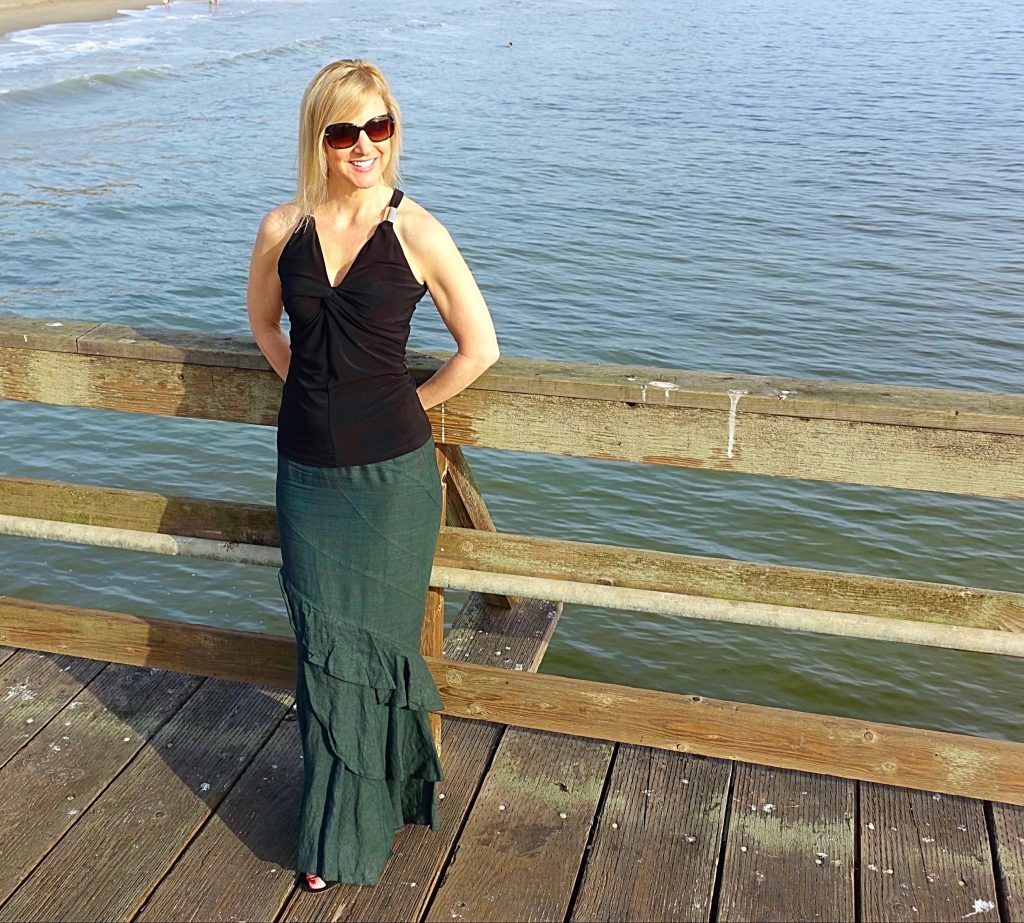 As you can see the skirt has seams that run diagonally, as do the ruffles. The entire look is pear-shaped-friendly: a halter top with metal rings draws attention to the shoulders, an area I don't mind highlighting, while the mermaid shape and ruffles of the skirt counterbalance my hip area, especially with the flattering diagonal stripes.
One tiny disadvantage
The one drawback to a mermaid skirt, I've learned, is that it can sometimes make walking a bit of a challenge. When my husband takes his usual long strides, I can end up looking like a geisha if I try to keep up. My usual tactic, however, is to request that he either slow down or carry me. Works every time!
There are mermaid skirts, which are easier to walk in because the flare begins above the knees – like my wedding dress. A great style for a taller appearance is a mermaid or trumpet skirt which flares (not too much) above the knee.
Perfect for going out to dinner!
I wore this outfit from the beach to Mark's and my favorite wine bar, Soif for dinner. Although the light top – yes, I was inspired by Liliya's cardigan-like top! – was perfect for covering up when it got a bit breezy, I pulled on a short moto jacket for dining out, because the jacket was warmer and I like an edgy-feminine combination.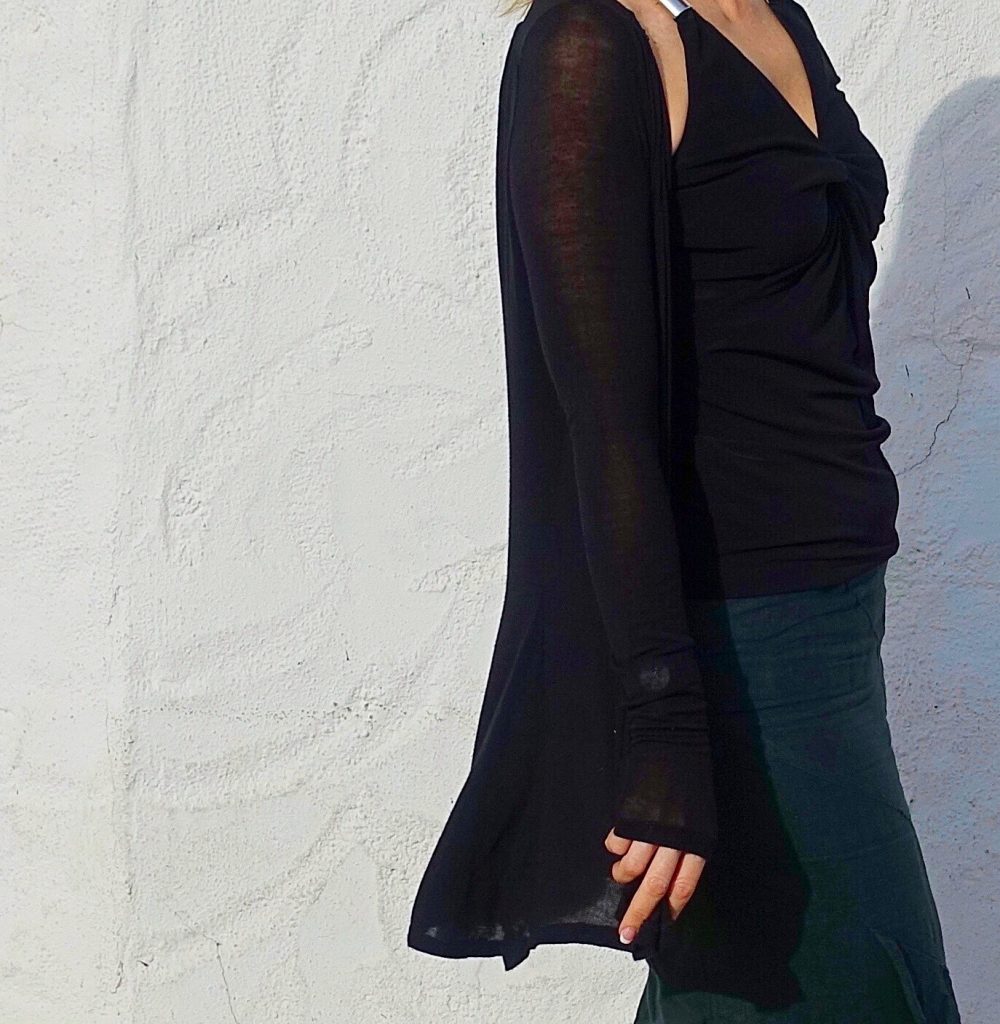 Of course, I uncovered my shoulders once in the restaurant. I also kept the halter top untucked because black makes my waist appear smaller. The fact that there is little contrast between top and skirt, by the way, allows for a long silhouette – especially with high-heeled sandals!
If you're in most other parts of the country or in another not-so-warm climate, you might wonder how this outfit could apply to you. As long as the ground is not wet and slippery, a mermaid skirt can certainly be worn this time of year – yes, mermaids can survive on dry land! And forest green is perfect for autumn.
Overall, aside from having to either take baby steps or pick up my skirt, it was the perfect outfit for an afternoon stroll at the beach and dinner out with my hubby. Have you ever worn a mermaid skirt or do you think you might try one?
XO, Janea
---