We at theSTYLetti believe that fashion is art and style is personal creative expression. And so, I am very excited to share this blog by Liliya. It's about an outfit of the night (#ootn) to preview a special exhibit at the Met. The evening in question called for elegance. And as Liliya has shown us before, she likes a classy look…but she doesn't do boring!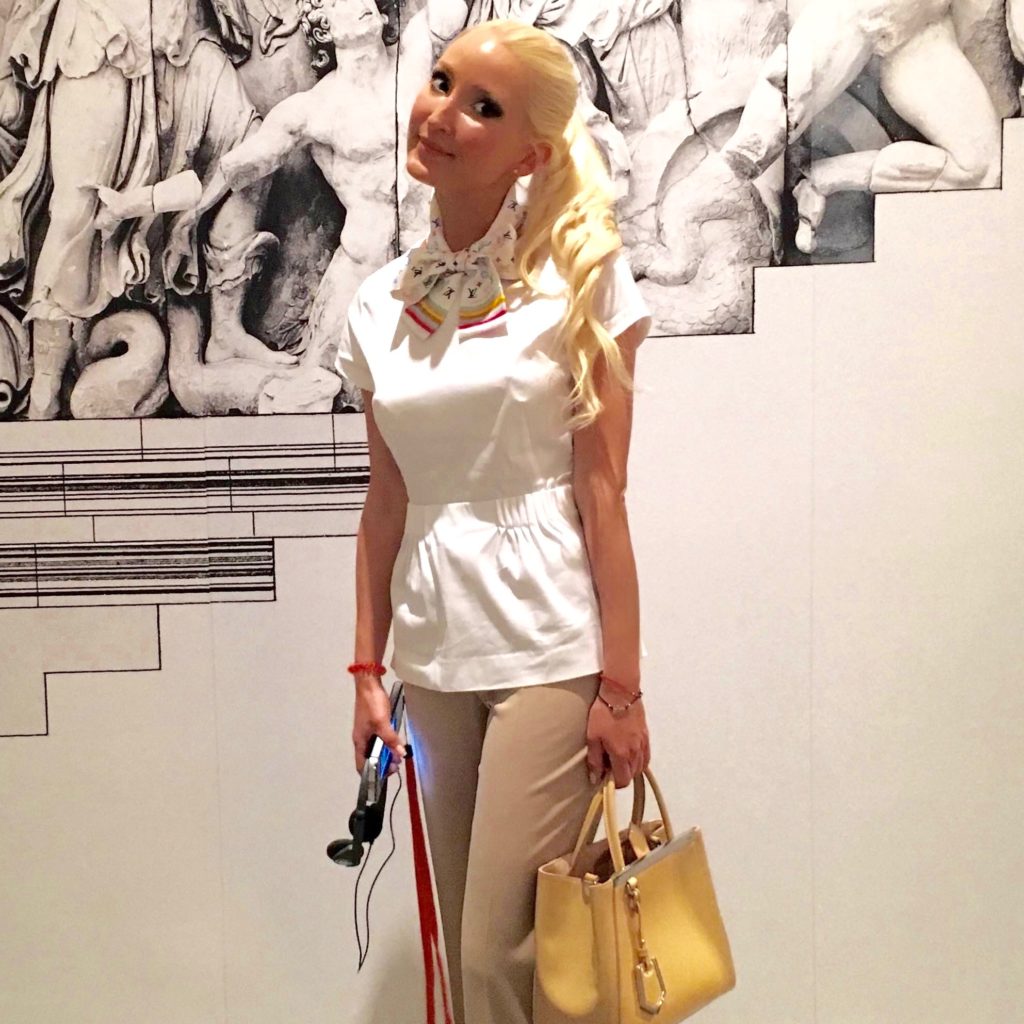 "Sing, O goddess, the anger of Achilles son of Peleus, that brought countless ills upon the Achaeans. Many a brave soul did it send hurrying down to Hades"

Opening line of The Iliad by Homer.
I remember this line by heart in Russian, since I read Homer's book for an ancient literature class at my university in Moscow. I especially remember this period in the history of literature – probably because I studied it during my very first semester of college, that time when you're plowing through an enormous reading list. I never read so much in such a short time, and so sometimes information just pops up from my memory as that line did when I saw Homer's bust.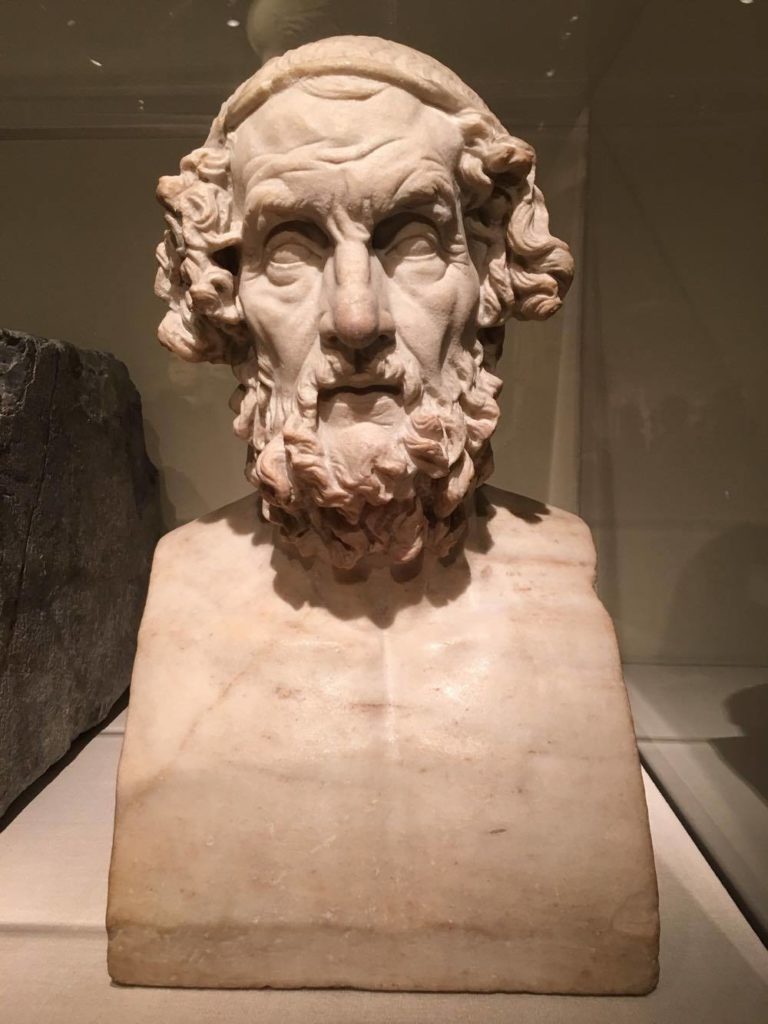 I've always had a soft spot for ancient literature as well as Greek and Roman history, arts, and architecture. And so, I was super excited when I got an invitation in my mailbox to an exhibit called "Pergamon and the Hellenistic Kingdoms of the Ancient World" at the Metropolitan Museum of Art.
The museum holds private after-hours previews of exhibits like this one for members – no big crowds and no tickets necessary!
I adore pretty much all of Ancient Greek and Roman history – the glory, beauty, and drama. When I was little, I liked reading Greek myths and children's stories about Hercules. And I was enchanted by the women's clothing: lightweight long dresses, long hair with fancy golden hair clips and hair bands, and lots of gold in general.
For this evening, I wanted to put my own spin on sophisticated dress. I can't stand boring. So when my look is classy, I like to make it playful and lovely in my own colorful way. 🙂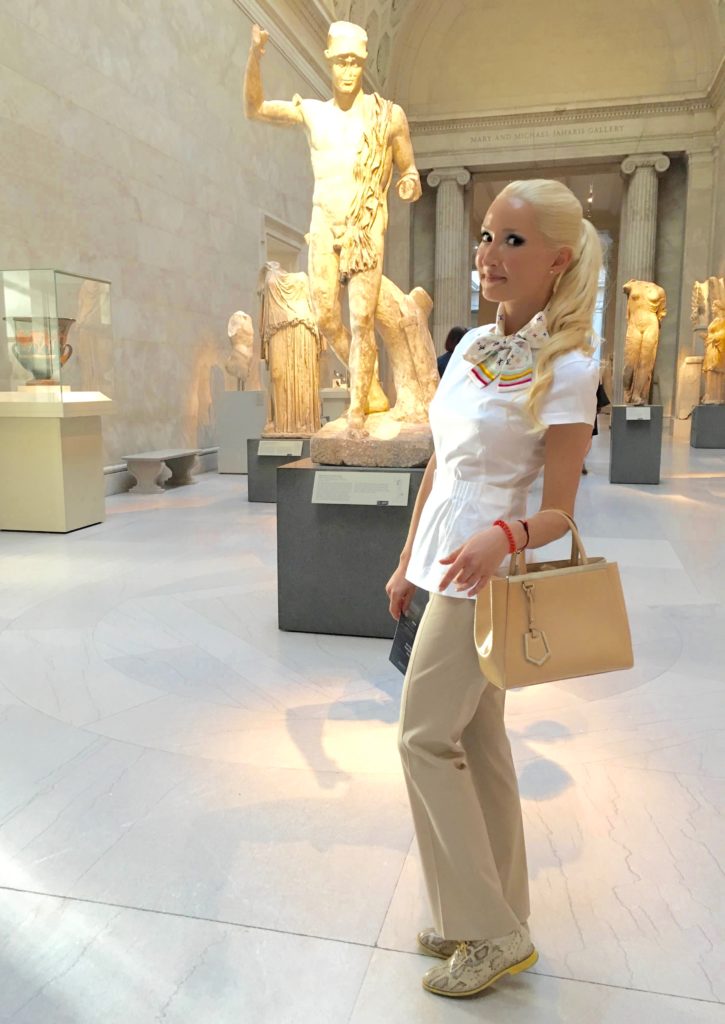 This time a Louis Vuitton scarf with a little bow was my favorite part of the outfit, because the print has so many colors in it.
It brings together the light yellow, nude, pink and white in the rest of my ensemble.
Now that I think of it, the Greeks loved decorations on everything – maybe that's why I especially like this period. It definitely seems that I share the same ethos 🙂 


Theory cotton blend blouse – similar / very fine 100% wool-laine pants by Lafayette 148 – similar / Louis Vuitton scarf – similar / Cole Haan shoes – similar / WHIT coat – similar / Fendi bag
---