While shooting my previous white ruffle top and navy pants #OOTD on a beautiful street in Madison Park (Seattle), I came to meet a woman with a breathtaking garden in that neighborhood. It was a stroke of luck when she graciously welcomed me to use her Alice-in-Wonderland garden as a backdrop for this #OOTN (outfit of the night): a simple ivory silk dress accompanied by green sandals and a bright blue handbag…
I guess you could say that my personal style tends to reflect a minimalist aesthetic. For me, simplicity represents peace, tranquility, and beauty. That is why I swooned upon seeing this dress on a rack at the store.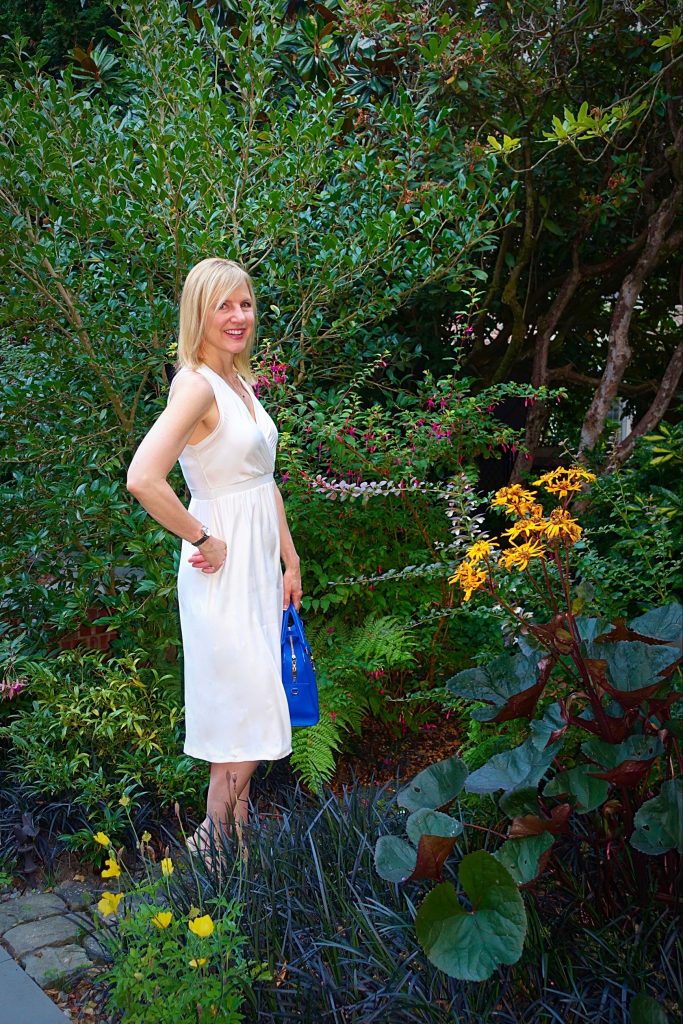 You might recognize this style of dress as being a sort of luxe version of the one I wore for wine tasting in Napa this summer. Like Liliya, I find that when I feel that something really suits me, it makes sense to get more than one.
What makes this dress flattering is an empire waistline which accentuates a slimmer area of mine as well as small gathers which allow the fabric to fall gracefully over the lower-body curves of my pear shape. (This is also a great cut, by the way, if you have a shorter waist.)
Fine sensual fabrics, like the silk of this dress, also rate very high on my list.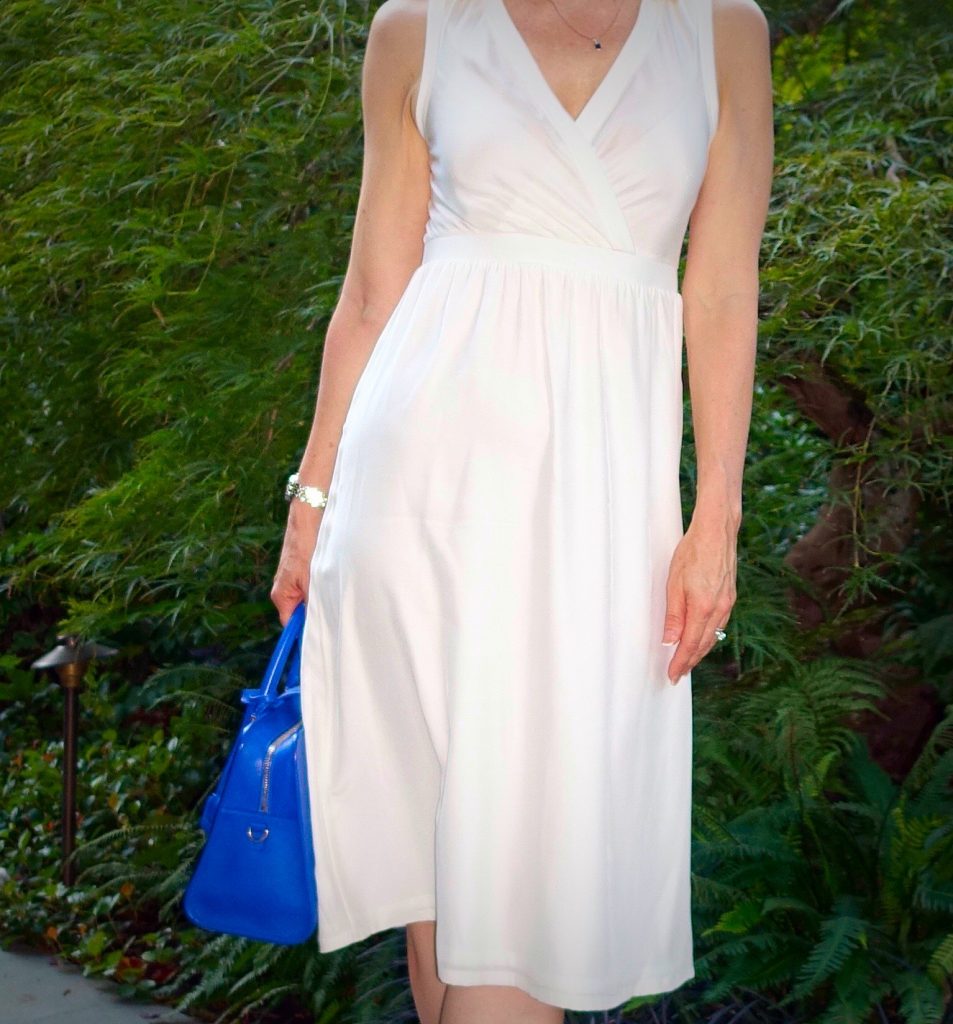 I may be drawn to simple things, but I don't like boring. That's why for dinner out with Mark this evening, I accessorized with bright ocean colors. Bright blue and green represent summer to me, the season of gloriously warm days when you just want to take a dip in the ocean or a lake.
I know, so many of us are gearing up for fall with our eyes on hues like burgundy, mustard, and charcoal in sweaters and coats, but why not stay in the lovely present?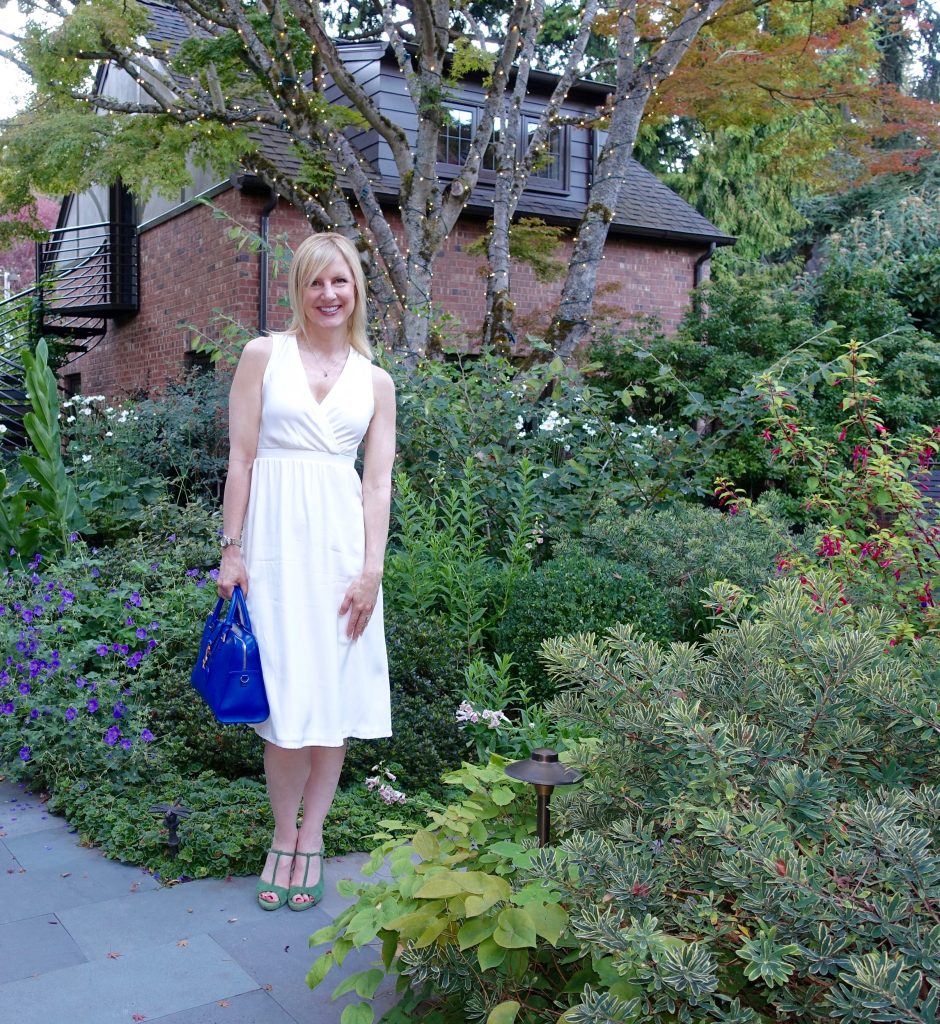 As for my accessories, I've already blogged about scoring this awesome tote…
…but the Pedro Miralles sandals were another great find at the Barcelona airport (Tascón Zapatería) a few years ago – not just pretty, but well made and among the most comfortable shoes in my closet!
I also love (of course) simple jewelry. This Tissot watch is so versatile: with a classic two-toned band, I can wear it with a dress or casual wear.
I have to admit that I not only dressed up this evening for dinner with my wonderful husband but also for this paradisiacal garden. It seems that sometimes the camera lens wanted to focus in on leaves or flowers rather than me, but hey! I can share the spotlight. 😉 After all, there's something to be said about the contrast of a white dress and a garden at dusk.
ATM dress sold out – similar high-end dresses here and (cheeky) here) / YSL tote / Pedro Miralles sandals sold out – similar in bright blue (limited sizes) / Tissot watch – similar
Do you find yourself buying more than one of something you especially like?
XO, Janea
---