Have you noticed that there are looks that seem more appropriate for the runway (on model-types) than "real life"? For some, over-the-knee boots fit into that category. If not styled correctly, they'll create a look that's vulgar and/or unflattering. But with a few tips in mind, they are the perfect way to don your spring wear when it's still too cool out for sandals.
STYLING OTK BOOTS IN GOOD TASTE
OTK boots used to be considered mainly for their sex appeal and looks including them were on the trashy side. The movie, "Pretty Woman" is a perfect example. In recent years, however, they've been re-branded: now they're chic! Designers have given them a more stable heel and even make them into flats.
GOING CASUAL AND OVERSIZED
You can see in the leading photo of this post one way to style OTK boots to look stylish rather than trashy: going casual, fun, and oversized. The oversized starry bomber allows this woman to get by with leather shorts, fishnets, and OTK boots – adorably! Her aviator sunglasses and bright yellow handbag also draw your eyes more to these accessories than to her boots.
A CLASSIC LOOK
Another way to pull off an ultra tasteful look with over-the-knee boots is to accompany them with elegant, sophisticated pieces.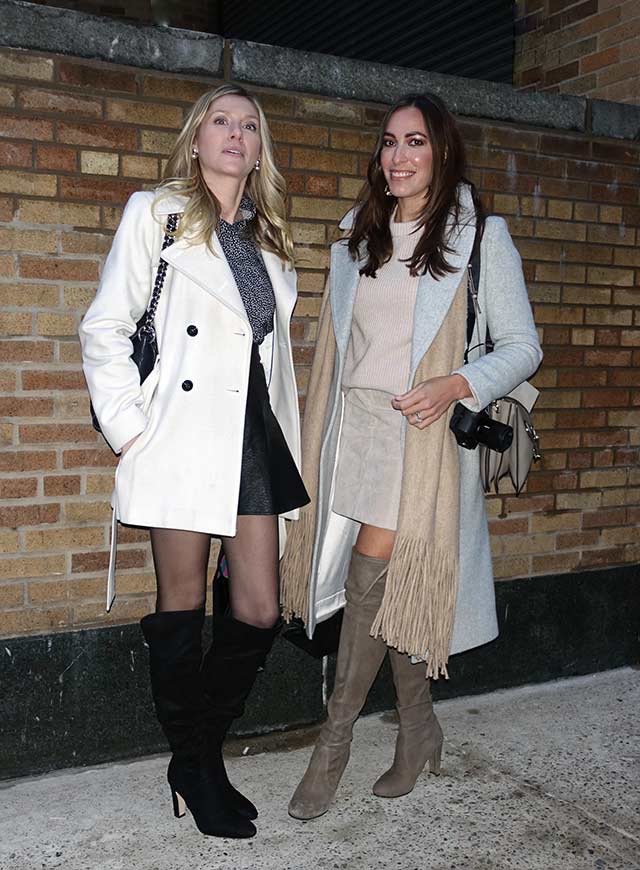 In this look I saw during NYFW (above and to the right), suede boots and suede skirt give off a vibe of luxe, while the neutral colors are beautifully soothing. It's a fabulous way to wear shorter skirts and dresses in cooler weather. And the outfit is perfect for a special occasion  – perhaps a date or girls' night out.
Of course, the look isn't for wearing to the office. That is, unless you work in the fashion industry. Not what you would want to wear to work at a bank!
TUCKED INTO SKINNY JEANS
For another cool idea on how to wear OTK's is to take a page out of the playbook of models who tuck skinny jeans into their boots. OTK boots can also be worn with a longer skirt or dress covering part of the boot, as shown in my LAST POST.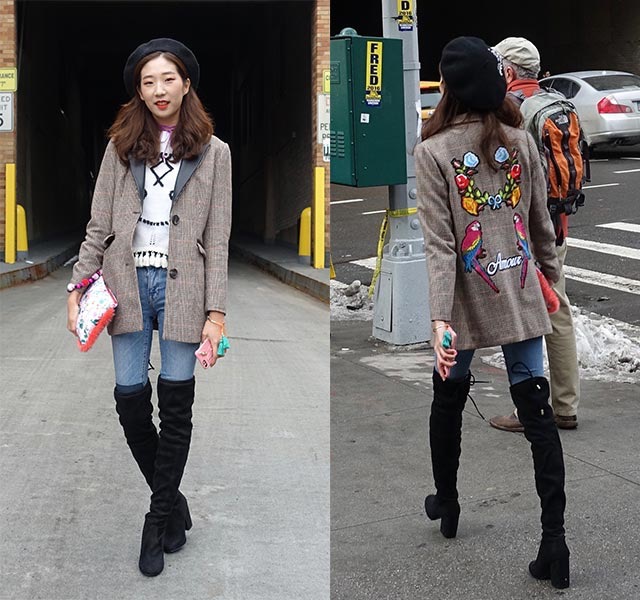 OTK boots tend to attract a lot of attention. And so, it can be helpful to apply a similar principle to that we apply to makeup. Just as we choose between either red lipstick or smoky eyes, we should go with either a short hemline OR a lower-cut top when wearing OTK boots.
HOW TO STYLE OTK BOOTS – FOR DIFFERENT BODY TYPES
In general, common sense might lead us to think that over-the-knee boots look best on longer-legged women. That would include women who aren't super tall.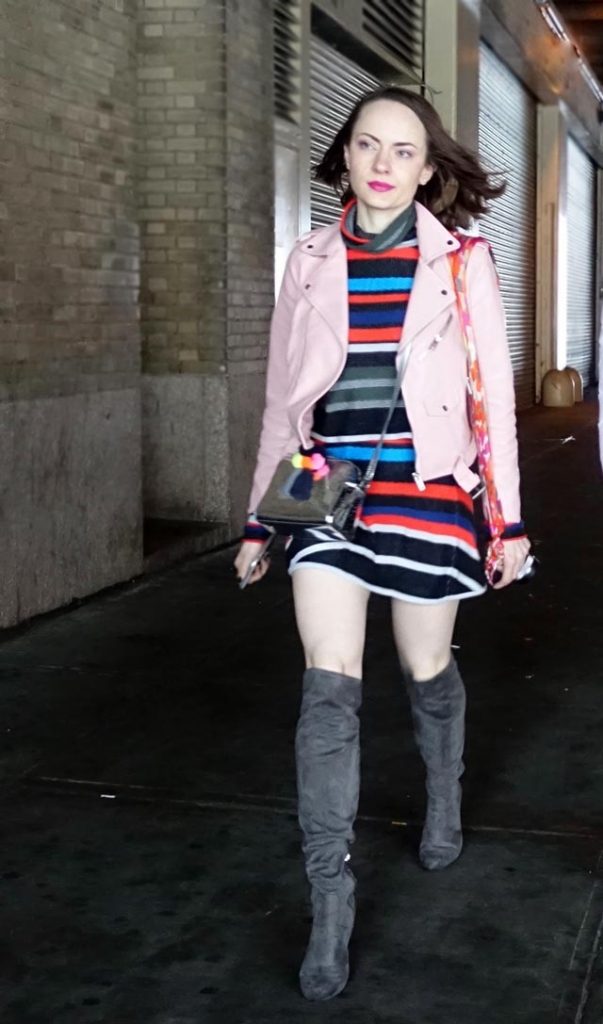 However, there is one no-fail way to wear them even if you feel that OTK boots could engulf rather than flatter your legs. That is, tuck skinny pants or jeans into boots of the same color. If the pants are high-waisted, even better. The same goes for a high-waisted midi skirt which matches the color of your boots, like the one I wore in THIS POST.
For slender and/or athletic types, a cool way to style them for a casual look is with leather leggings and an oversized sweatshirt.
Of course, this won't work for curvier types. In our case, a bit of a heel is great for a slimmer-looking leg. Other techniques are to wear the boots with skinny pants, jeans, or leggings in a matching color or to wear them with a pencil skirt as I did in THIS POST. If you have a pear shape, I suggest wearing lighter colors on top. And if blessed with an hourglass figure, why not show it off with a dress which hugs your curves?
Overall, OTK boots are great for this time of year, and they are also so versatile. You can style them for a special occasion or an ultra casual outfit. You can even create a similar look with tall socks like the ones here to the right.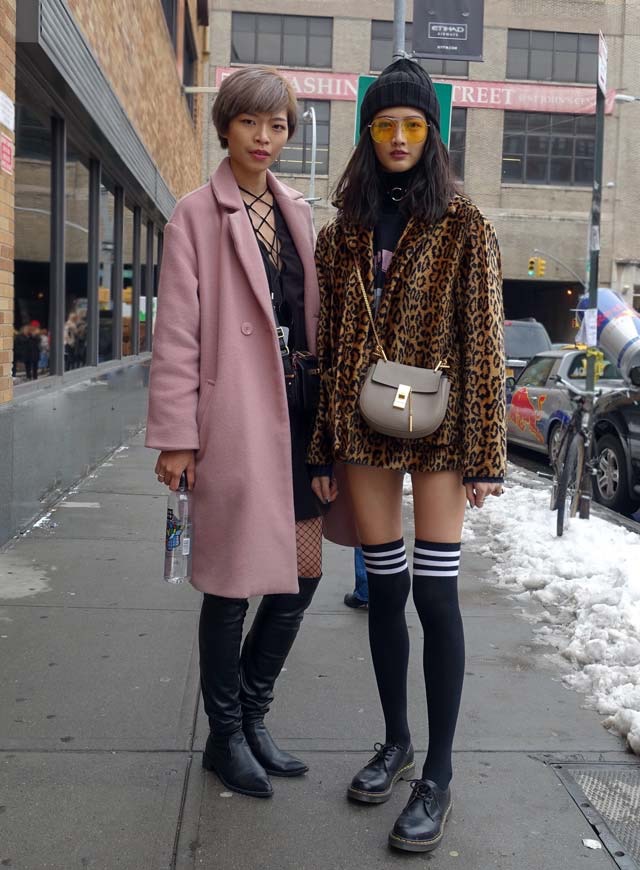 What is your favorite look with OTK boots?
XO, Janea
---