Have you ever been to the Santa Cruz Beach Boardwalk? If you have, you've surely seen the Giant Dipper, one of the oldest roller coasters in the world (from the 20s) built of all wood and still one of the scariest amusement rides I can think of.
Mark and I recently escaped horrible rain storms in Seattle and were fortunate to experience a milder version here in Santa Cruz, California. When the storm cleared, the first place I wanted to go was the old boardwalk. I have a nostalgic place in my heart and was feeling playful. I suppose that's also why I wore these high-waisted, super wide-legged oversized pants with athletic stripes down the sides.
The amusement park was closed since it was an autumn weeknight, but it made the ambience even better. There were a few people wandering around the brightly-painted rides and murals, and the quiet allowed me to imagine the park in times past: like back to the 60s when the Beach Boys debuted, further back to the 40s when surfing first became popular in California, and the 20s when the Giant Dipper was built. Although the park opened in the 1900s, I couldn't go back that far!
The sky was blue, and the sun was setting gloriously. I love that time of day when colors take on a warmer cast. The haunted house may be a newer addition, but it still has a sort of old world feeling – the gargoyles are especially eery.
My outfit was nearly the opposite of the feeling I got from the amusement park: modern and fashion-forward. I suppose, however, that extra wide legs aren't exactly a new thing. They're not only reminiscent of the 70s but also the 30s in which women wore "beach pajamas" for hanging out in just this type of place or the 20s when oversized pants reflected Asian inspiration.
Modern twists are the athletic stripes down the side and the short-sleeved turtleneck.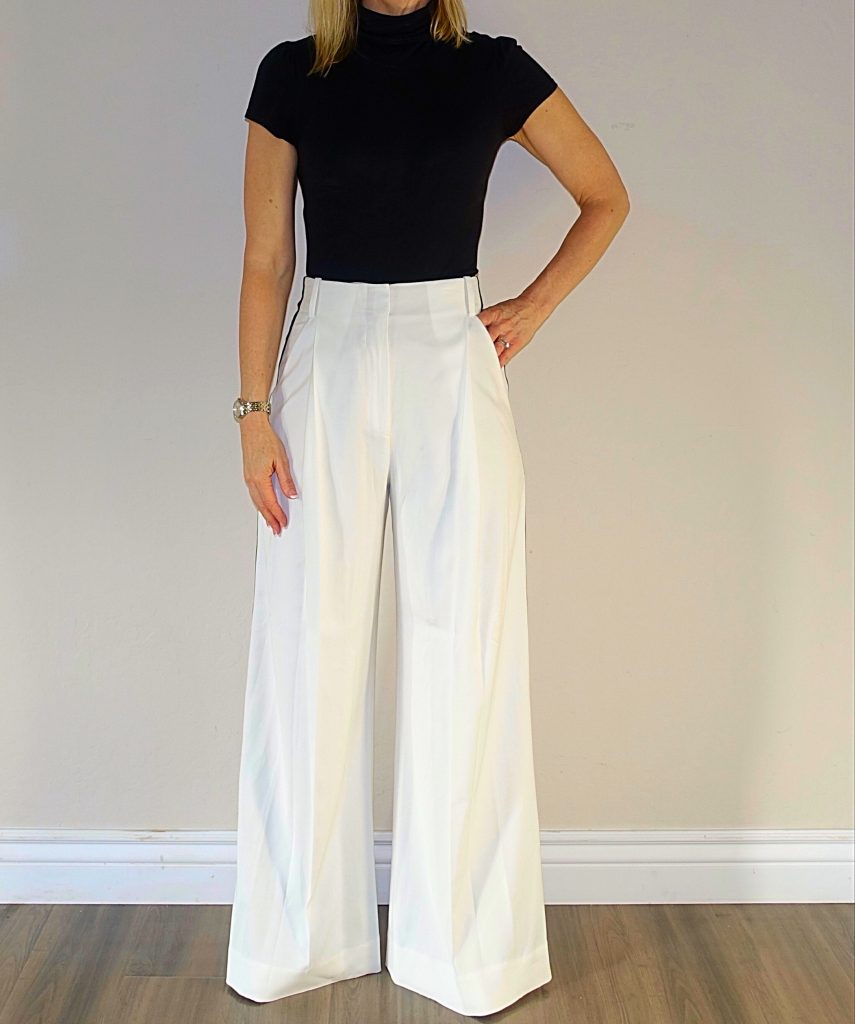 I added a long knit vest once temperatures began to drop, which made it look a bit like the 1920s wide-legged pants with a long tunic look.
I typically wear more fitted clothing with the exception of another pair of oversized (cropped) pants. With a pear-shaped figure, it's nice to just go with lots of volume on my bottom half – instead of fighting it! The effect is dramatic, and sometimes it's just plain fun to play with proportions. I made sure to wear high-heeled booties, mind you, to keep the silhouette long and wide (rather than stubby).
I'm looking forward to continuing to wear these trousers in even colder weather; they're lined, made of wool, and contrast nicely with my mostly dark-colored fall/winter wardrobe. I wouldn't dream of wearing a fitted pair of white jeans because of the volumizing effect of white, but with such an exaggerated silhouette, I feel that I can go for it.
My main reason for visiting the park was to show Mark the magical carousel from 1911 of hand-carved horses, There's a ring dispenser from which you can grab a metal ring – if you're on an outside pony – to then throw into the gaping mouth of a painted clown face. I'm sure my baseball-obsessed sweetheart would love it.
Although the carousel was behind locked glass doors, I recognized right near it, a mural by an artist from this era, John Pugh with whom I once dined in Santa Cruz. A world-famous muralist, John captured the spirit of this timeless place in "Seaside Serenade." His signature style is reflected in the crumbling walls at the outer edges.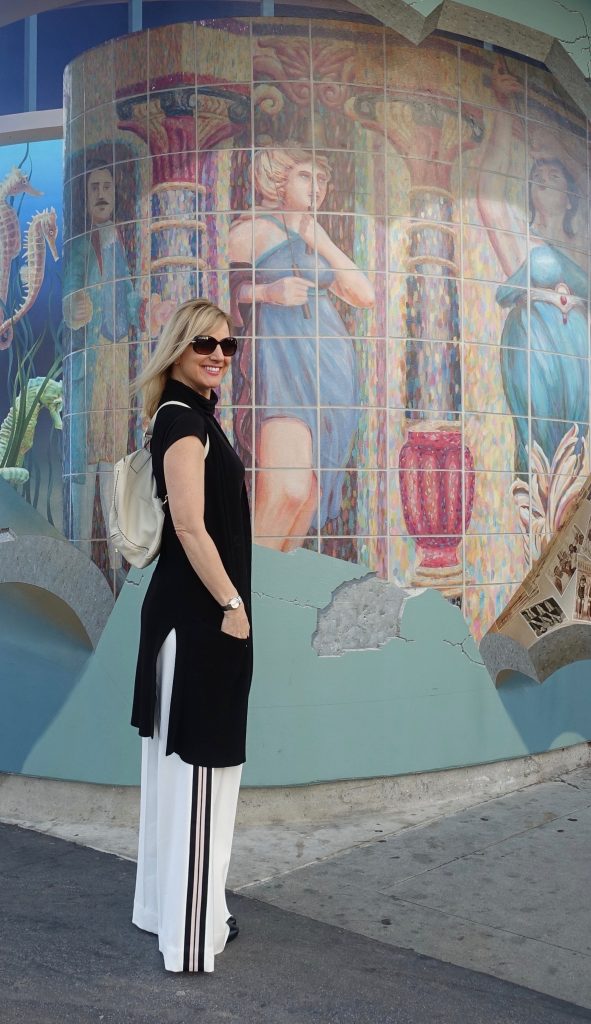 I wouldn't call this my signature style, although it's definitely a lot of fun!
XO, Janea
---