My husband is on a business trip to London this week, and he's invited me to come along – lucky me! While he is in business meetings, I am wandering around the more interesting parts of the city shooting street style. The day before yesterday, I walked a total of 8 miles – what was I thinking?! – past Big Ben, past Harrods, past Buckingham Palace. It was a great getting-acquainted-with-the-city individualized walking tour, and I got some fun shots. Needless to say, I had to stand under a hot shower for about a half hour afterward in order to restore my body heat.
Yesterday, I took a taxi – big indulgence when you can pretty much walk everywhere or take the tube, but I was running late to a show: Wicked. Traffic was horrendous as usual (I'm told) and the taxi driver and I had considerable difficulty understanding each other with our respective accents, but I made it to the show with ten minutes to spare. I am so grateful for clean taxi windows, because I caught this lassie walking along the sidewalk. I couldn't NOT whip out my camera and shoot.
If I were to choose an exotic hair color to wear in London, it would definitely have to be light pink. If you're going to go trendy, you might as well go with the "It" color, don't you think? Besides, it goes so well with rosy cheeks, which is precisely what the cold winter wind seems to create all around here. I really can't tell you why, but it seem so…so…English to me.
It also looks great with little pink socks.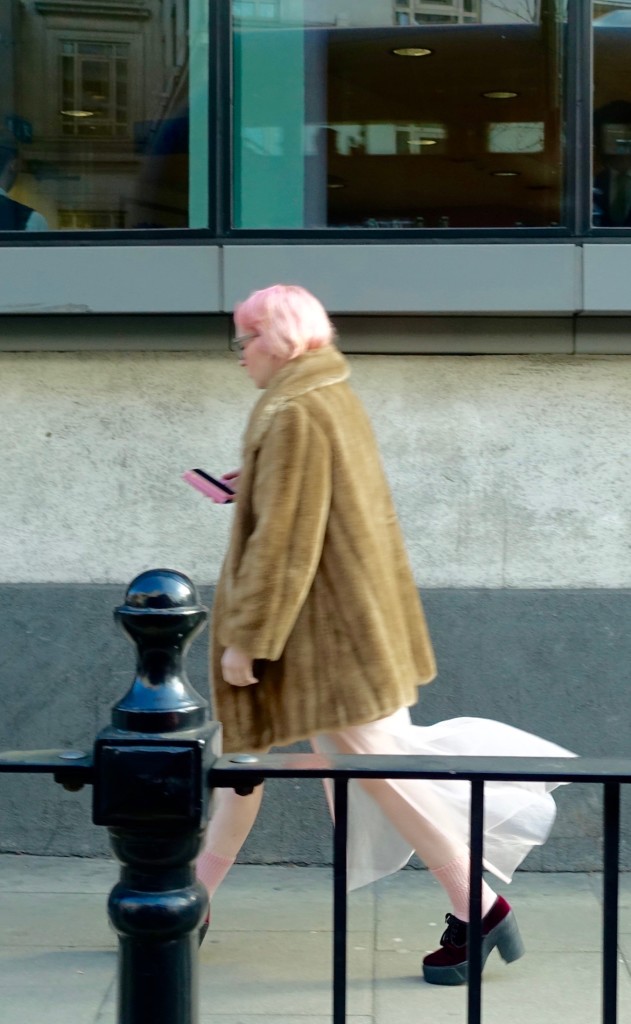 XO, Janea
---
????