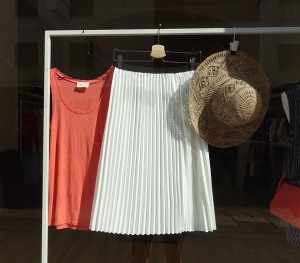 "I can't wear pleats!" As much as I love the uber fem look of a pleated skirt, I've had that motto ever since I grew a pair of hips (at around 18). I like to call my shape upper-half-Twiggy-lower-half-Jennifer-Lopez. Since I avoid too-billowy-anything on my lower half, I have steered clear of pleats…until very recently.
With the old school pleated skirts, a more flattering style (which doesn't add unwanted volume) has pleats stitched down at the waist. As a ladylike classic, I love the way the woman pictured below combines it with a relatively simple dark-colored tee and casual, stylish flatforms.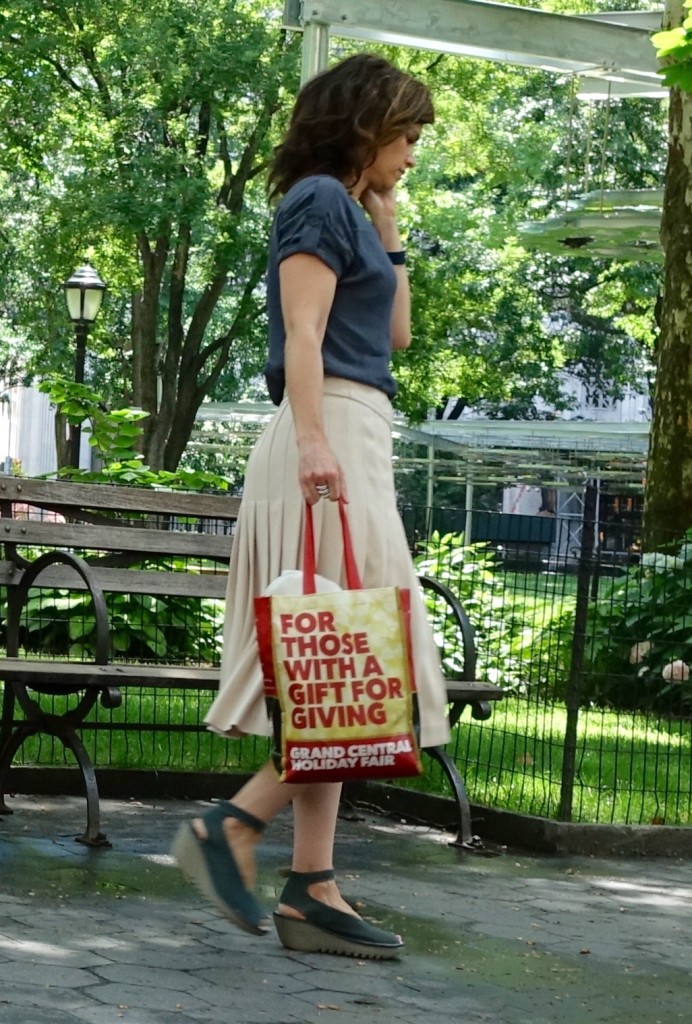 For those of slender thigh and hip, the traditional pleat never looked better, especially with a neutral or black somewhat-fitted top and understated footwear. Since the eye is immediately drawn to pleats, it is generally a good idea to stay away from too much detail in other parts of one's ensemble unless you have the coordinating skills of Katy Atlas.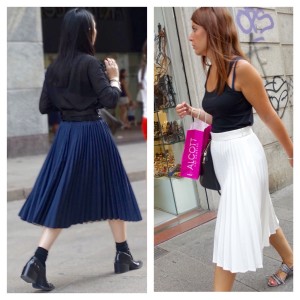 Many modern pleated garments have movement. Fabrics include silk, chiffon, and other wonderfully flowing things which treat curves in a much more natural fashion. Sometimes, as in the example to the right (below), the pleats virtually disappear.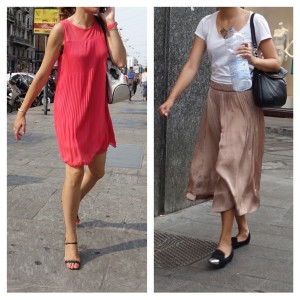 When it comes to coordinating with pleats, our next two Milanese muses demonstrate style to the nth degree. Notice on the left, a clever mix of contrasts: evening (black sequined top) and summer day wear (ivory handbag and thong sandals) to compliment a pretty pink pleated skirt. To the right, our paparazzo muse – seriously, she was continuously running down the street after a tall, lanky woman and alternately jumping into this pose! – smartly combines opposites as well: a ladylike black pleated maxi skirt with androgynous black tank and red Chuck Taylors. Masterful!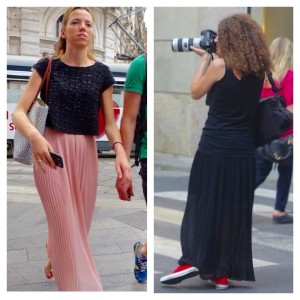 And finally, I want to share a photo of a pleated dress I found in Milan which does not accentuate my hips – woohoo! – and which allows me that longed-after ladylike air. The pleats of the skirt softly follow my curves without bulking up my silhouette. Who would have known pleats would come this far?!
Have you given up on pleats? If you are very slender, any kind of pleat, including a structured one, will offer you tons of options for coordinating fun. And if you are curvier on the bottom like me, you might be pleasantly surprised by trying on a garment with a softer pleat. Enjoy!
XO, Janea