Have you noticed an explosion of printed trousers on the streets?
Yes, they are everywhere, and it stands to reason. They are a way to infuse fun and hip-ness into one's work wardrobe – and they can also be awesome for play.
For the office or courtroom, a great recipe for success is a more tailored, fitted trouser with billowy blouse, button-up blouse, or tee with cardigan. I especially love black and white printed pants with a brightly colored top or sweater.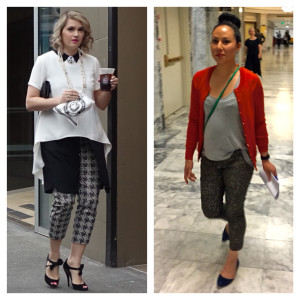 Notice how the looks below go more casual from left to right. One thing to keep in mind is that patterns draw the eye directly to them and subsequently, to whichever body part they cover. This can be desirable in the case of the extremely fit muse to the right, but I'd say a tad more roominess works better on most women. Of course, it's a good idea to avoid too billowy…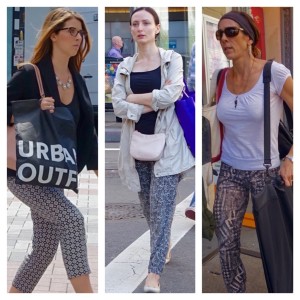 unless, of course, you are going for an ultra casual boho look.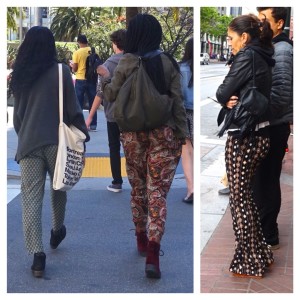 In theory, I love the idea of elastic cuff pants, harem pants and other baggy trousers with a wild print on them. They have the potential to give off an androgynous, slouchy-cool, maybe even theatrical vibe. But they can also potentially resemble pajamas.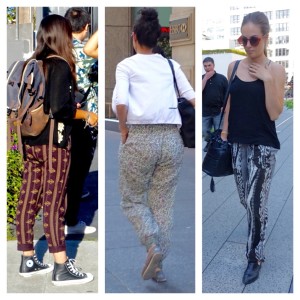 Sometimes a little structure can go a long way, if you know what I mean.
I believe most of us are drawn to some kind of balance; so, if the pant is more relaxed, the top, sweater or jacket should probably be of a slimmer fit. The muses below pull this off beautifully: don't they look incredibly hip?
A lot of these printed trousers look fantastic. I am holding off wearing them myself until I find a small pattern print – large often accentuates curviness – and a cut which downplays the tendency of these trousers to visually widen one's lower half. For those slender-legged lassies though, the world is your oyster: a decent silhouette is certainly not beyond your grasp. And as you can see, there is a lot of fun to be had here!
What do you think of patterned trousers?
XO, Janea