In Milan, everything is done with style. My favorite example of this is people's dress. This past weekend, temperatures soared to 99°F (37°C), and yet, Milanese still dressed to kill. Several women in particular, dressed nearly in pure white, caught my eye.
I want to share with you my 9 favorite Milanese muses in white.
First of all, notice the subtlety. These ladies prove that on even the most sweltering days, you need not wear a tank top and shorts – far from it! – to look and stay cool. Design can play a more important role in summer wear when fabrics are light and airy.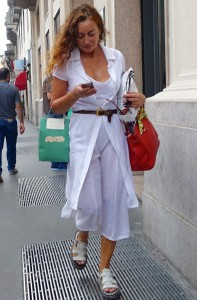 While going (almost) all white, a striking effect is achieved by adding a colorful or otherwise eye-catching designer handbag. White or ivory sandals of interesting design or strappy flat sandals in a contrasting color also work well.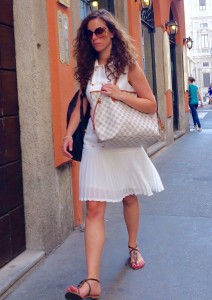 I love the way the muse pictured below (center) combines her ultra fem ivory lace dress and pearl-beaded bracelet with light beige booties of androgynous variety. The Louis Vuitton handbag adds a slight contrast of color without distracting from her ensemble's play on opposites.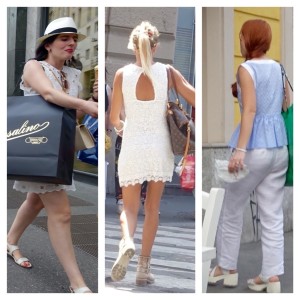 Of course, I never begrudge a girl for adding some flowers to a white background!
Simplicity can also be stunning.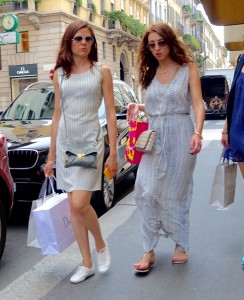 This final glimpse shows us that while dark-colored panties are to be avoided under a white dress of lightweight fabric, a black bra is certainly doable.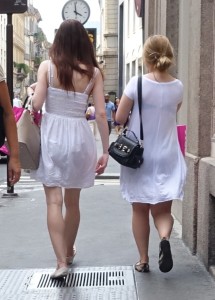 Go ahead; you can now remove your sunglasses. Ah, the brilliance of Milanese style! Hope you enjoyed the elegant light show as much as I.
xo, Janea