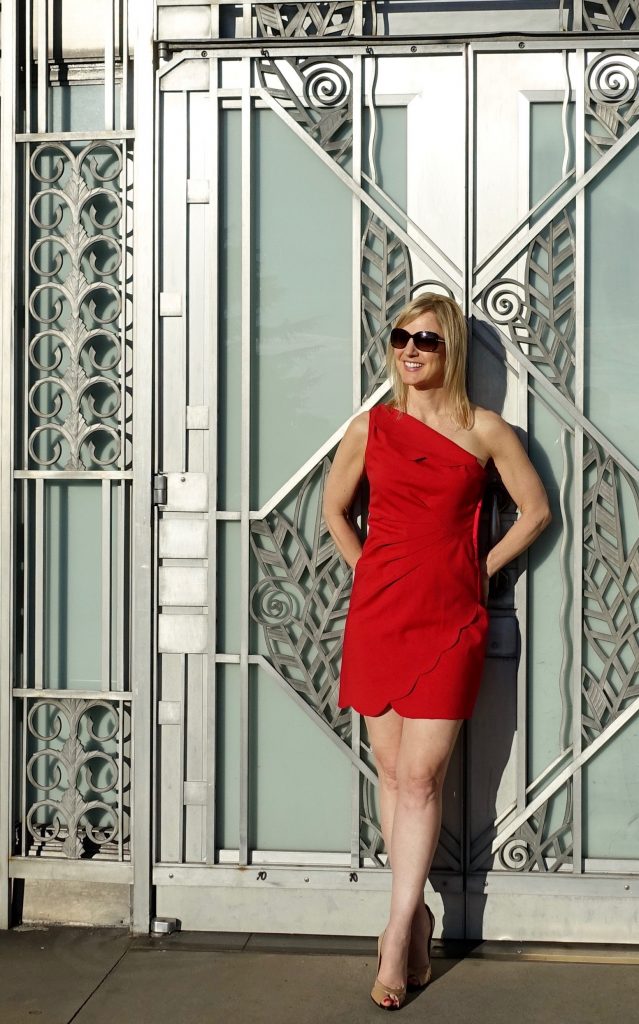 Today's post was going to be about street style in San Francisco. How-e-ver, as you read this, I am flying to NEW YORK FASHION WEEK, and I can't help myself from sharing the resultant inspiration.
I will (hopefully) soon be featuring whacky/inspired outfits from the streets of Manhattan, but in the meantime, I want to share a special designer treasure I've been storing in my closet for the right occasion.
I had searched high and low for a red cocktail dress for years. And in May, this Valentino fell into my lap. Even though I am on my way to the ultimate party right now, I thought: why not have a little dress rehearsal in Seattle before leaving? 😉 And so here it is!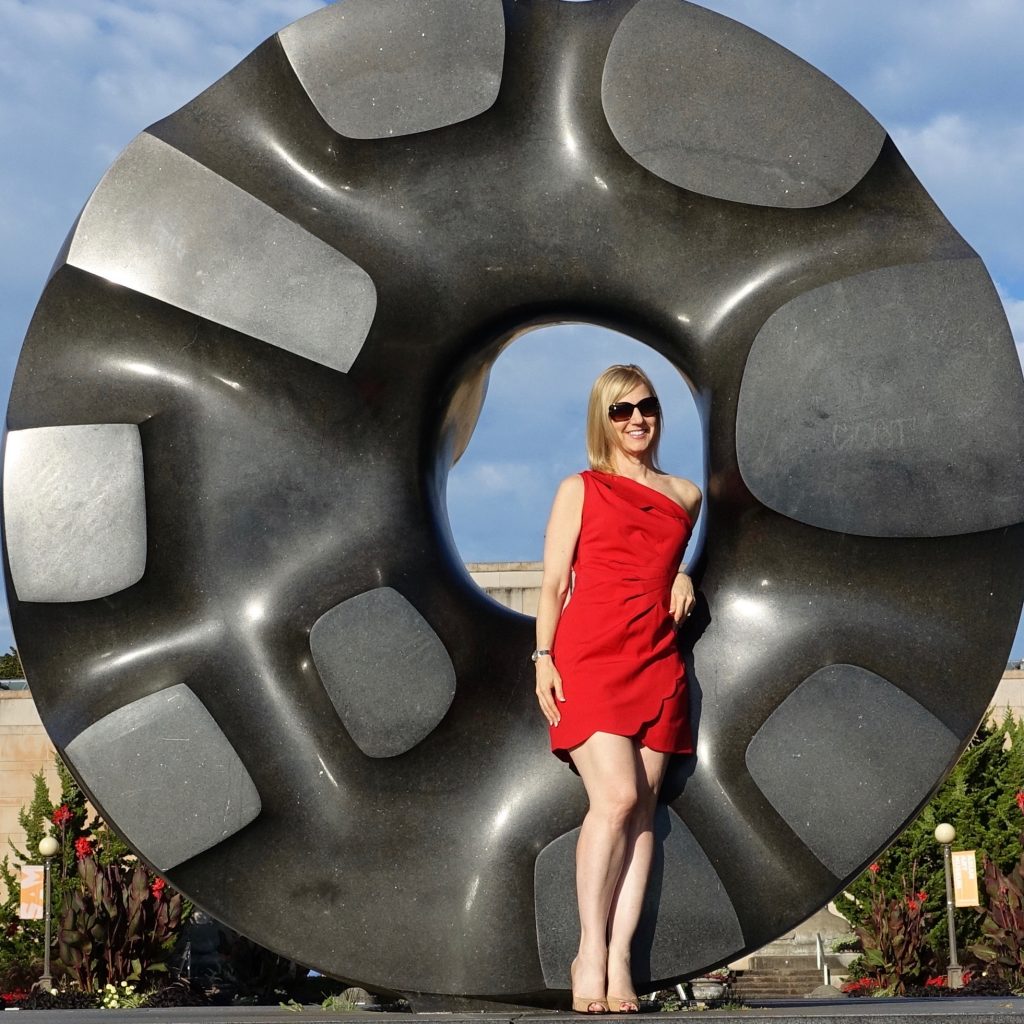 I can't imagine a more fitting location for the shoot. This sculpture in Volunteer Park is a favorite of mine. While in college, I would come here with some friends, a bottle of Moet champagne, and Dick's burgers. We picnicked right at this very spot overlooking downtown Seattle.
It wasn't until years later that I realized this piece was created by Isamu Noguchi, a Japanese American sculptor with an amazing sculpture garden in New York. I don't know of any other artist who better quenches my thirst for beauty in minimalism – how appropriate for this simple, yet elegant red dress!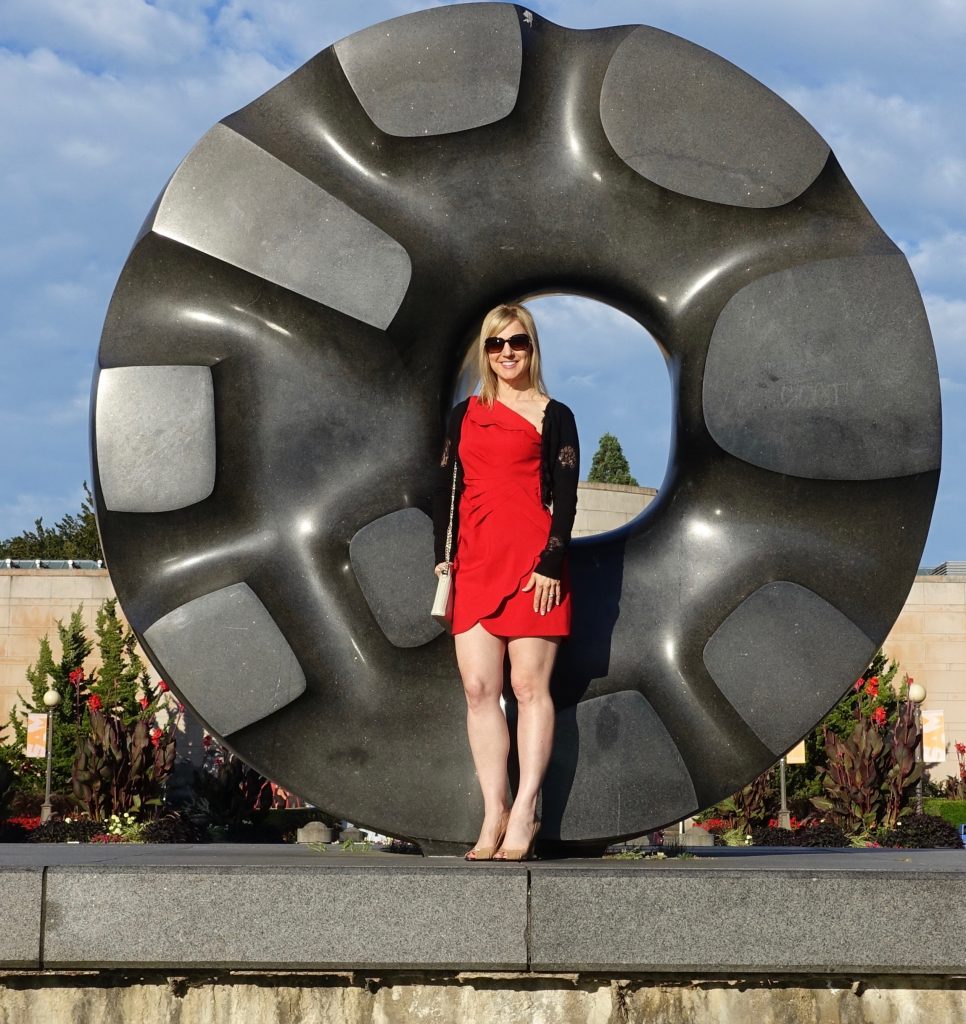 Of course, the art deco entrance to the nearby Asian Art Museum in my opening shot is also beautiful and captivating in its own way for a complimentary ornate aesthetic.
There are several reasons why this dress is super flattering. The one-shoulder neckline with a sort of structured ruffle adds volume and accentuates a smaller bust. The gathers at the side define the waistline while flaring just enough to cover a little extra curviness in the hips. And that curviness is made to look slimmer by the diagonal overlay of fabric.
A one-shoulder dress is particularly flattering for women with narrow shoulders and average to smaller breasts. On the other hand, it offers little support for women with a larger bust, who might prefer for that very reason, a square or V-shaped neckline. For women wanting to create the appearance of narrower shoulders, a strapless dress or one with a halter neckline work well.
My peep-toe pumps in nude, also featured in this post, do a great job of visually elongating my legs.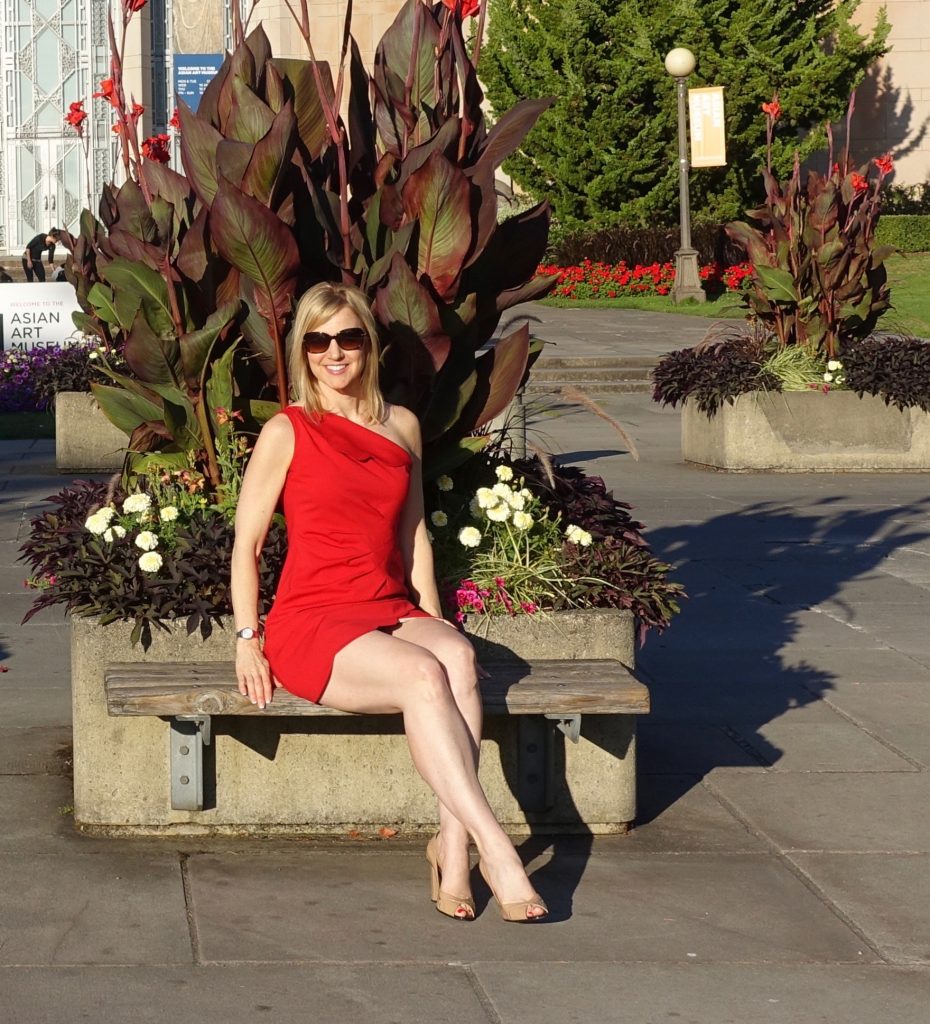 You might remember a previous post about scoring this dress at On Que Style, a consignment boutique in SoCal. It's original retail price was $2900, but I got it for less than $200!
How is it possible? 
Apparently the dress stood on the rack for months. Although it was made for a more hourglass shape, it doesn't offer a lot of support on top for a large bust. And then this pear shape came along! I actually had the back of it taken in, since it gaped on my narrow upper body.
So, I not only saved my pocketbook but a bit of conscience. Did you know that Americans toss about 193,000 tons of clothing into landfills every year? Yikes!
Apart from Noguchi's "Black Sun," the real sun made it's appearance (with a bit of wind) for this little dress-up of mine. In fact, it inspired me to want to wear a little dress in the first place. Now let's hope that I get invited to a party in Seattle on another rare occasion in which it isn't raining – or better yet, in California where I plan on spending more time this year.

Does sunshine make you want to dress in brighter colors?
XO, Janea
---