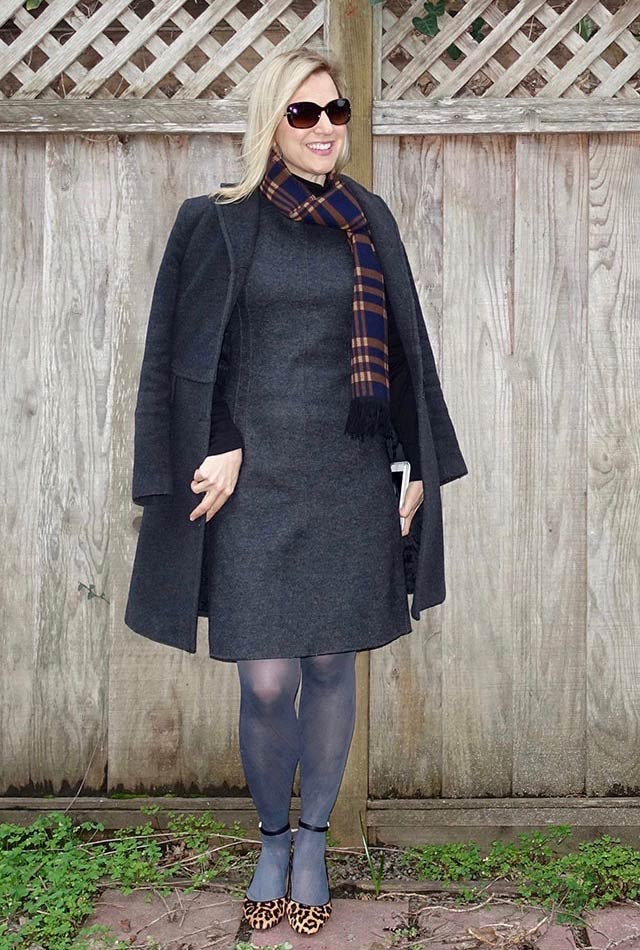 As much as I love trying out a new trend (that suits me!), there's something just so compelling about fashion icons of the past. Today's outfit, in fact, was Jackie-O-inspired. I've always loved her clean, classic lines.
Zara dress – similar and coat – similar / Splendid turtleneck tee / Sam Edelma pumps / Versace tote
WORKS IN INCLEMENT WEATHER
As you can tell in some of the photos, it was very windy when I took the shoot. In fact, it was just before one of our recent California rainstorms! Fortunately, I walked to work as a court linguist in these calf-hair pumps without incident. Of course, I didn't wade through any puddles! The style is perfect for a job in which you're on your feet quite a bit, with its block heel and ankle strap.
Besides the fact that I love the combination of tan and grey, I wore grey stockings strategically. They don't camouflage or hide these cute ankle straps! When I felt a little chilled, I just added a plaid wool scarf that brings in more of the tan color.
RETRO/CLASSIC
There are certain looks that are practically eternal. They simply work regardless of the decade, even when they evoke a retro vibe. This outfit reminds me a bit of Mary Tyler Moore's "career woman" character – with the turtleneck and scarf.
The dress and the coat are pieces I've held onto for years. That's the beauty of buying classic basics, like a wool sheath dress and matching coat. I don't think they'll ever go out of style.
When I tire of my classic pieces, I like to fold them or put them in a far off closet so that I don't see them for a while. Eventually, I'm ready to dig them out again.
The shoes
Although the shoes are relatively new – this is their debut on the blog! – they are also a classic style. Since I tend to avoid any hints of yellow close to my face (unflattering!), they are an ideal way for me to wear leopard print. Yes, the LEOPARD TREND has won me over!
I bought these a few months ago and have only stored them in my closet until now. I suppose it's been mostly boot-wearing weather in Seattle. But come Spring, I plan on taking them out for a stroll more often. I also look forward to the challenge of styling them with brighter colors – definitely red. It's worth a try! 😉
I hope you liked my retro-inspired work look. What colors would you mix with leopard print?
XO, Janea
---