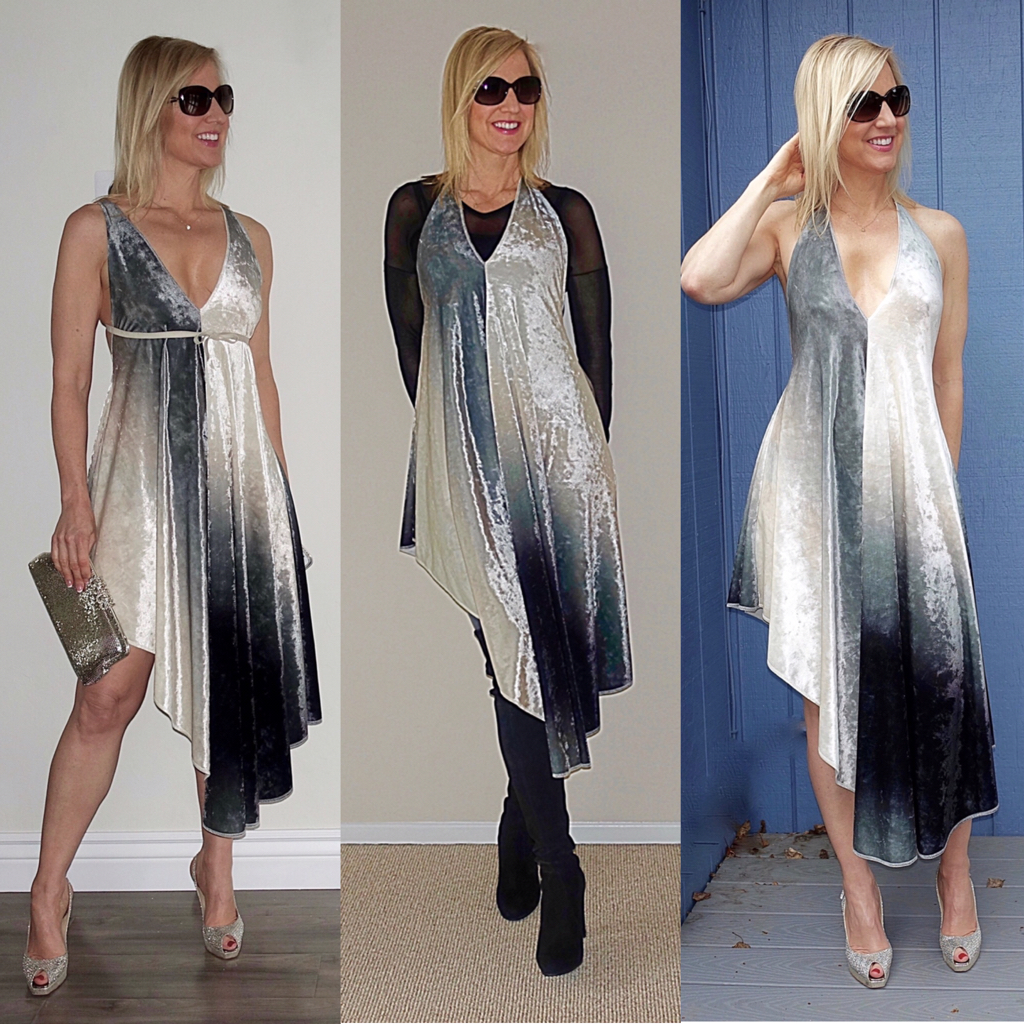 I was so excited to get this Richard Hallmarq dress for New Years at a pop-up in San Francisco last month.
It's the most psyched I've been about a NYE dress since a sequined tube dress I wore clubbing eons ago. I wore that one as a fitted midi skirt and styled it with an oversized cashmere cardigan and booties. (Trust me, it was dope!) I can also wear this Richard Hallmarq dress multiple ways. And the crushed velvet fabric and shimmer make it the perfect party dress!
Versatility of my Richard Hallmarq dress
Not only is this dress so interesting – with a vertical divide in the color patterns, beautiful coloration ranging from a very light eggshell to almost black, and asymmetric hem. It is also super versatile. In Seattle, I can wear it over this black sheer long-sleeved top (as seen above) and OTK boots. Richard recommended wearing it in winter – for a more everyday occasion – over a turtleneck with grey leggings.
Fortunately, however, I will be in Santa Cruz, California for NYE. And so, I'll wear it resort-style. That is to say, with nothing but a pair of sexy sandals and maybe a clutch. It definitely gets the best reviews from Mark this way!
I can tie it up like a halter or wrap the shiny straps around my torso to create an empire waist. It's the garment that just keeps giving! 🙂
Meeting the Designer
Another really cool thing about buying this piece was meeting the designer Richard Hallmarq in person. If you saw him on Project Runway, you know that he is extremely talented. He is also just as personable and friendly as you (hopefully) saw him there.
As I mentioned when writing about buying from Emily Payne, I feel good getting something from an independent designer. I don't have to wrestle with guilt over promoting a system in which garment workers get paid a few dollars a day. Neither do I have to worry about running into someone else wearing the same dress at a party – or anywhere else!
I hope that you too will consider an independent designer the next time you want a special garment for a special event – or even for your everyday wardrobe. I definitely recommend looking up your favorite designers from Project Runway, for example, on Facebook. Here is Richard's.
I'd love to hear what you think of this dress and if you have an idea on another way to wear it. Have a great week!
XO, Janea
---