Is your sunscreen safe? I had to ask myself that a while back. I came across information regarding studies by the Environmental Working Group on sunscreens, and I realized that the famous brand I was using was not only toxic, but it also offered pretty shady (pun intended!) protection from the sun.
My father died of cancer at an early age after being diagnosed with melanoma. As a result, one of my sisters had ALL of her moles removed, another started having full-body photos taken of her skin, and me? Well, I admit that I have always loved that feeling of baking in the sun…
But then, one day I noticed how young a friend of mine with ivory skin looked even though she was 10 years my senior, and then another friend who had lived in L.A. showed me how her left arm looked years older than her right arm – from driving to work and back! I started rethinking sunscreen – admittedly for vanity over health reasons.
Since I've already done a bunch of research on sunscreens' effectiveness and safety, I thought I would share my results with you, especially in the summertime when we're all headed to the beach, on holiday, or just lounging in the backyard with a good book.
My arsenal of sun (and premature aging) protection includes only products with super low scores on the Environmental Working Group cosmetics database when it comes to toxicity. When I did my research, they also had great ratings for UVA and UVB protection.
The moisturizer
What's great about Keys Solar RX
I wear this every day of the year. I don't know how, but it seems to plump up my skin and smells great. It doesn't clog my pores or turn my face white. For years, I used this as my "foundation" although I now use a real one and powder when I want a more even complexion.
Possible limitations
For wedding photos, I was told to avoid any sunscreen on the face. I don't know that this one would cause a sort of white cast, but just in case, I skipped it on the big day.
Sunscreen for outdoor sports
What I like about Thinksport Kids
I love this for running; it has the perfect consistency for covering everything and stays on even when I sweat. While writing this, I realized that I accidentally ordered this product although my fave is ThinkBaby – with the least toxic ingredients and same consistency. My husband likes Thinksport for 50-mile bike rides.
Some limitations
It is a little thicker and if I apply enough, whiter than what I like on my face.
Lighter-weight sunscreen for running / everyday use
Why I recommend Elta MD, SPF 47
This is what I prefer it on my face while running. It doesn't make me look like a zombie but stays on even when I sweat (which I do a lot of while running!) I also apply it on my neck, arms, and legs during non-sporty occasions.
A limitation
It does cause the skin to look a little more pale. I've learned, however, that red toenail polish goes beautifully with ivory skin! But, when I want to avoid that lightening effect – especially at or around the beach – I use this next product.
Tinted sunscreen
What I love about Physician's Formula Healthy Wear SPF 50
This is the perfect sunscreen moisturizer when I want color. Although it's supposed to be for the face – in summer, it's the only thing I need for a totally natural look – I also use it on my arms, legs, and chest while in L.A. I've had spray-on tans in the past, but I would only get them now for vacations when the hotel's housekeeping service can bleach out bed sheet stains.
The only potential drawback
I take care to avoid touching light-colored clothing after applying this. Fortunately, I haven't stained anything with it, even temporarily.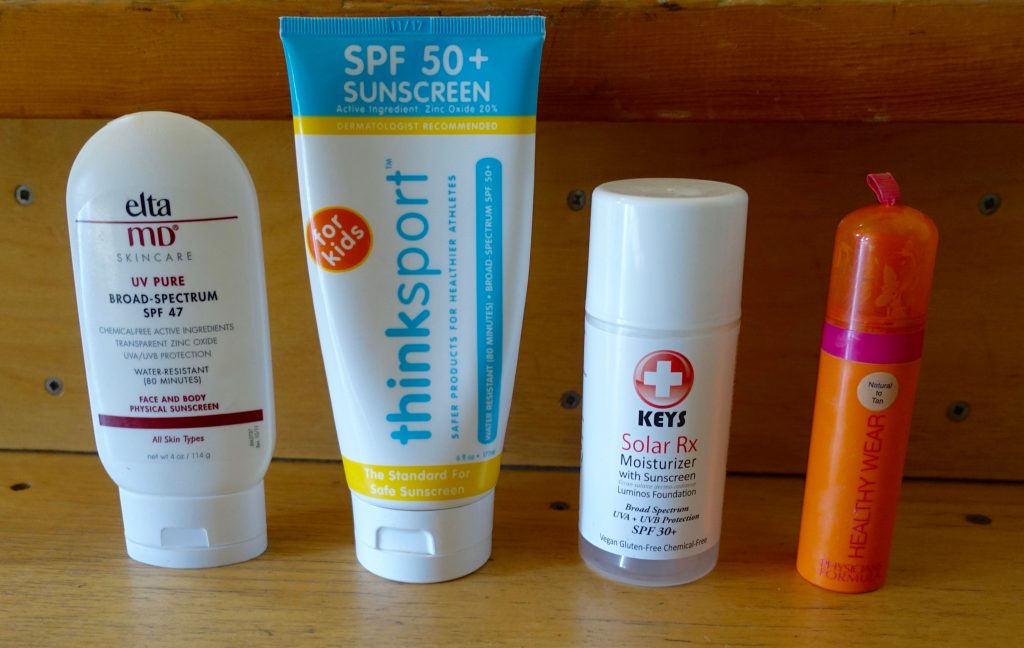 A recent Time magazine article had a very interesting title: "SPF 30 Sunscreen May Cut Cancer Risk by 80%." It certainly can't hurt to protect our skin, especially when it's so easy.
I have a feel that you'd also like these products I mentioned, but you could always check out the EWG database to select something else. If you are in Europe, feel assured that your sunscreens have more UVA protection than products in the U.S. Unfortunately, sunscreens don't protect from all kinds of sun damage – that, dear reader, you only get from the shade!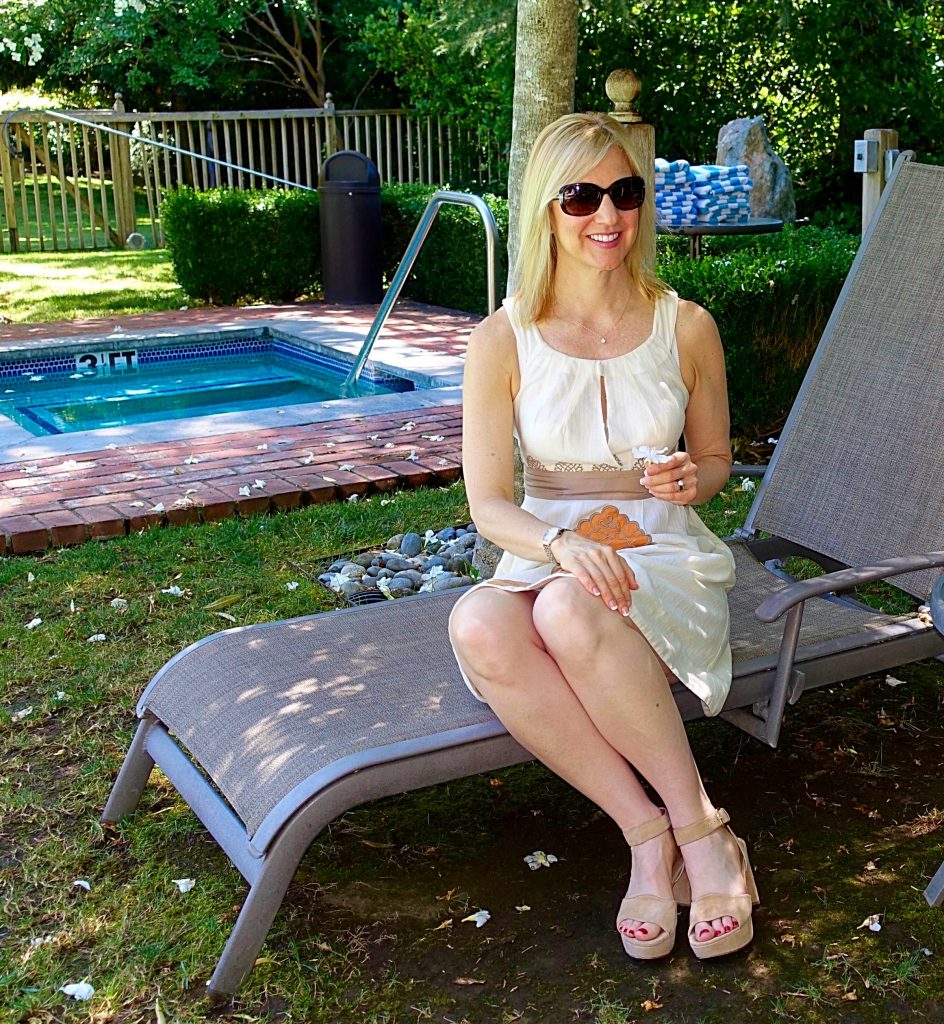 Hope you are enjoying a beautiful summer!
XO, Janea
---