For all the hustle and bustle around Christmastime, I know how tempting it is to just stay home in your pj's, curled up with a hot cup of tea. There's definitely a natural tendency within me to avoid crowds. But this past Sunday, I dove straight into two popular shopping sites in the San Francisco Bay Area. My reward? Inspiring street fashion! Here are 8 of my favorite shots of holiday street style in and near San Francisco. The subjects may not be celebrities or fashion editors, and it's not Fashion Week. But these women are perfect examples of how to look amazing this holiday season!
Holiday Street Style on Santana Row 
I flew into San Jose at around noon on Sunday and had a couple of hours to kill before an appointment in San Francisco. And so, I headed to this gorgeous outdoor mall. Santana Row is full of European-like sidewalk cafes, lovely little boutiques, and – of course! – palm trees.
Yulia's look was the first to call out to me. I especially love her bright coat with a mix of textures and how she accessorized with a contrasting studded bag and boots. It's so Winter Wonderland, in spite of the fact that temperatures were around 62°F (16°C).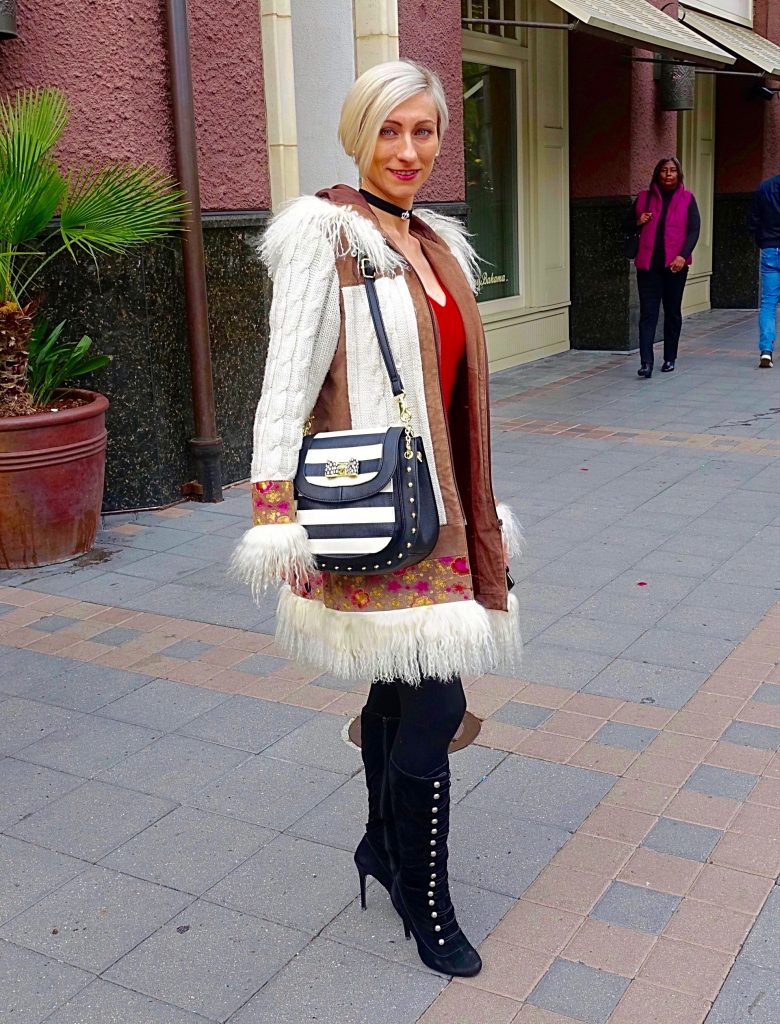 For a perfect holiday-time athleisure look, I also had to get a shot of this next lovely woman. She obviously knows how to keep "sloppy" and "athletic wear" separate. A subtle chevron pattern on the sweatshirt is a nice touch as well as a matching white handbag and sneakers. Of course, double rows of studs on the pants lead me to suspect that they're not meant for the gym.
These next two casual looks are subtly perfect. The one to the left seems like a suggestion of winter, with cutouts in the winter white sweater and sandal-booties. Hey, it's California! A fur-lined leather bomber with the large cowl neck sweater to the right are both chic and perfectly balanced (in terms of volume) by skinny jeans and narrow-toed booties.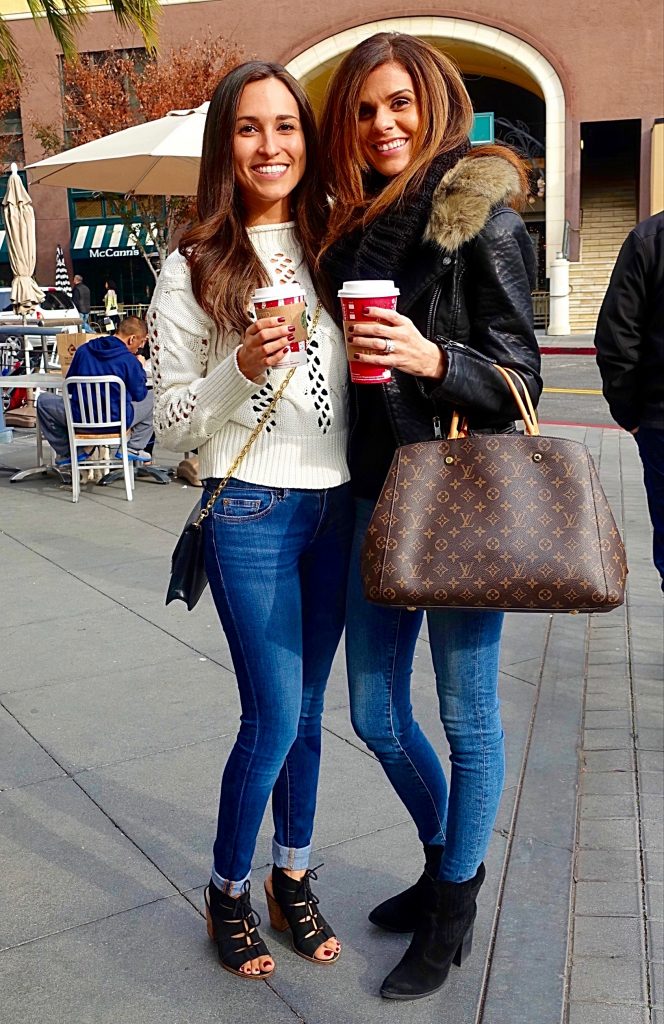 Holiday Street Style in San Francisco
When I arrived in San Francisco later in the day, it was cooler – around 57°F (rough, I know!) but the mood was festive. A giant Christmas tree and ice skating rink are installed in Union Square. And smiles were everywhere.
Guess who I ran into? Yulia (in my first photo) happened to be walking across the square at the same time! Great minds…? 😉 I learned then that she bought her coat right there in the Union Square area several years ago – definitely a keeper!
Another fabulous look here also featured cheery pops of color. A combination of yellow and pink is very on-point. Years ago, some of us may have noted disapprovingly that there is red – not pink! – in this woman's scarf. But, I have to say that it works for me. Her street style shows exactly how fashion is turned on its head – in a good way!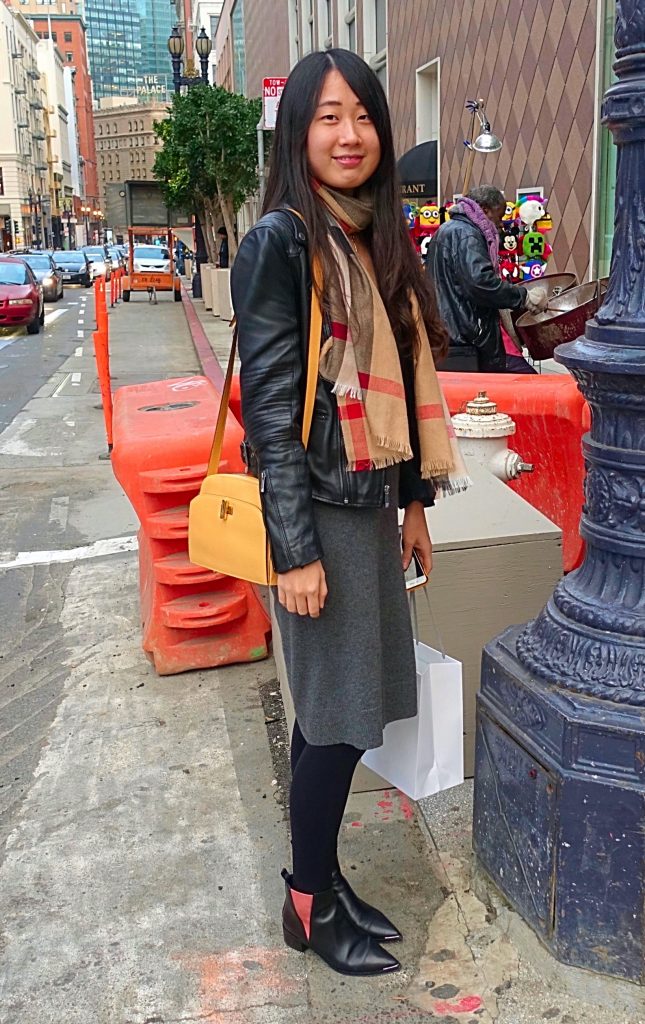 These next two looks were like eye candy, each featuring two lively and lovely shades of color with black boots. I like the idea of this basically monochrome look with a black "base".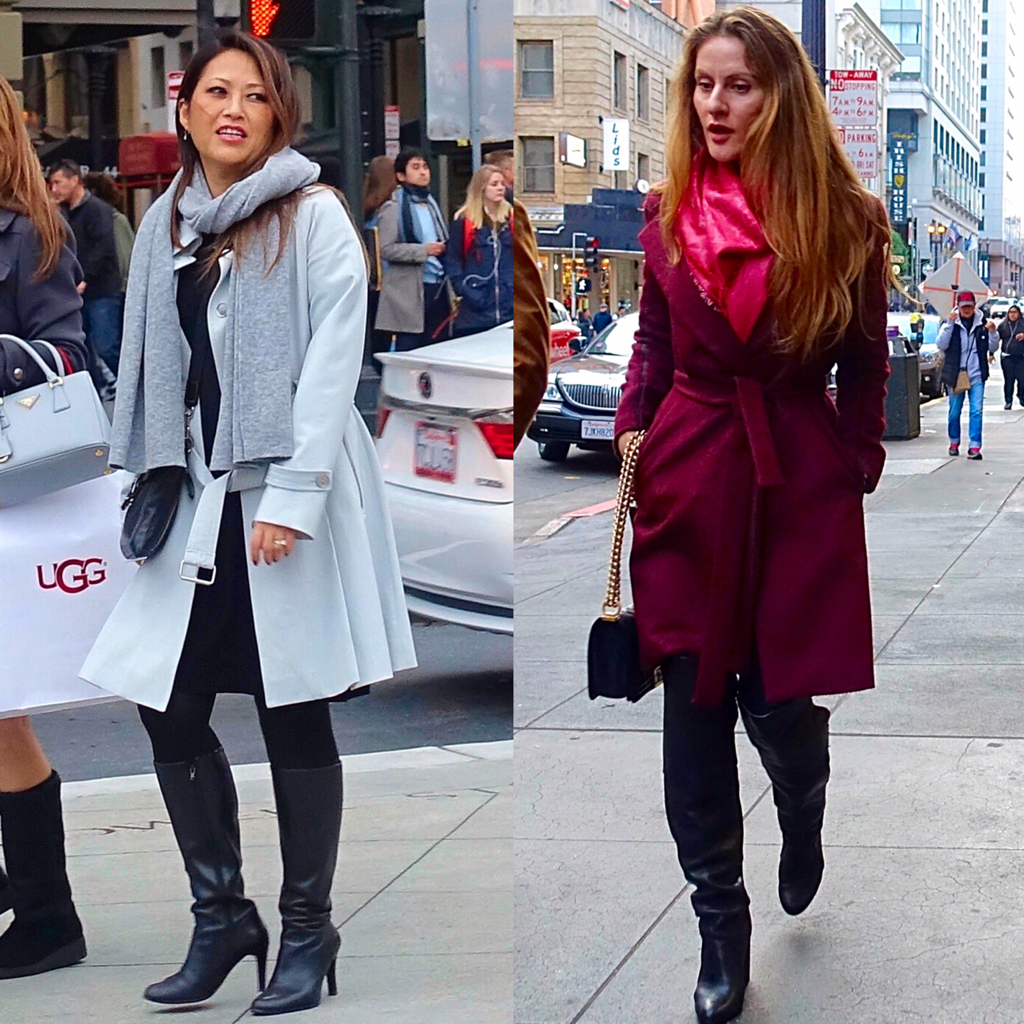 And last but far from least, we have a quintessential San Francisco holiday look – urban, edgy, and chic. A beanie and faded denim jacket give the outfit a shot of "cool" while a black turtleneck, skinnies, and booties keep it cozy enough for December.
Yes, it was an all-around fantastic day, allowing me to gather these images of holiday street style. And the cheer was so contagious. I hope you've enjoyed the holiday dress inspo!
XO, Janea
---