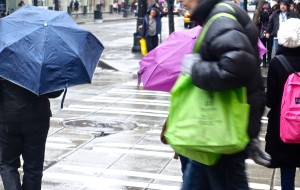 On a rainy winter day in Seattle, bright colors and light illuminate the downtown area, in the form of umbrellas.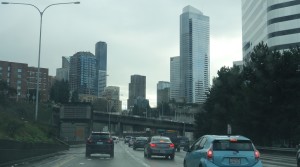 Much has been said about grey skies, winter blues and endless rainy days in the Pacific Northwest. Store fronts show what you might consider "Seattle dreaming" (or reality for those fortunate enough to get away to a sun drenched destination for a week or so): resort wear, complete with sandals you wouldn't dream of wearing to cross the misty streets.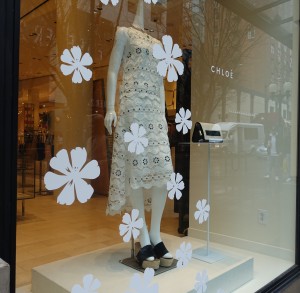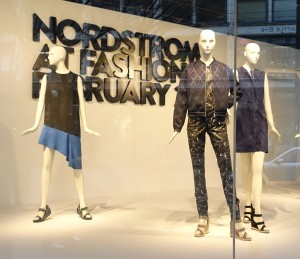 My good friend Erin tells me that only tourists use umbrellas in Seattle, but I seemed to see a lot more the other day than I had ever remembered – even in less touristy areas of the city. I can't help but wonder if the influx of ex-pat Californians is altering the winter landscape. Or perhaps these bright halos have become another tool – besides coffee – to deal with a less-than-tropical reality.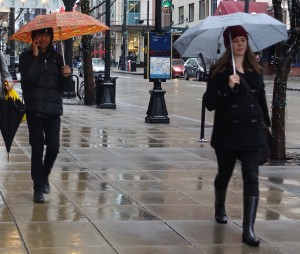 I don't know about you, but these bright colors certainly elevate my mood!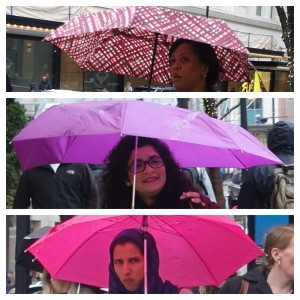 I also delighted in spotting a couple of great Seattle landscape umbrellas (pictured below).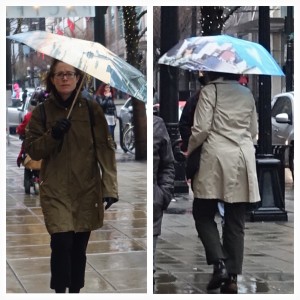 There was such a variety of umbrellas, I couldn't help but wonder if there wasn't a huge sale over at Bella Umbrella, a local Seattle (and online) seller/renter of new and vintage umbrellas.
Of course, I mustn't leave out the black and white umbrellas, which also have their place. They might not be as bright, but they are lively.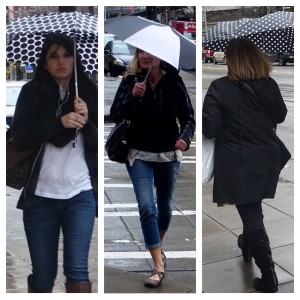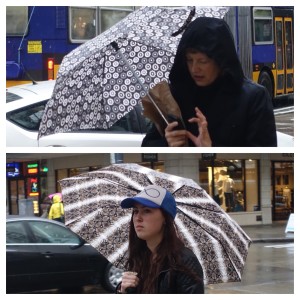 For those who forego the umbrella as it is said Seattleites often do, pops of brightness are still made possible thanks to wonderfully colorful clothing choices.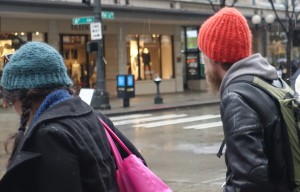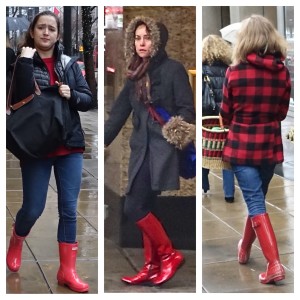 If there were a prize for the most interesting pops of color the day I wandered around downtown Seattle, it would undoubtedly go to the two lovely ladies pictured below. One wore leggings featuring the Virgin of Guadalupe and the other, leggings depicting Frida Kahlo paintings.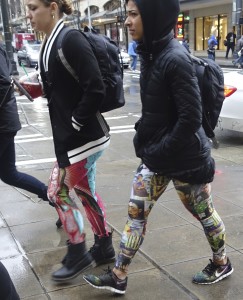 Everywhere you looked, there were flurries of color. Bravo, Seattle! I think I might want to leave my black umbrella at home the next time I travel to Seattle and find something more fun to shield myself from the sprinkles.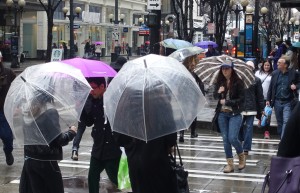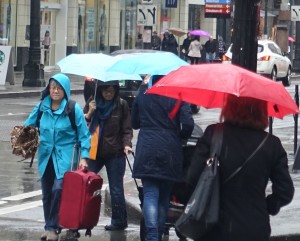 Seattle is a super happening place in terms of art, music and food. Many of its residents lead very active/outdoorsy lifestyles, and the industry is vibrant. It is no wonder that creativity abounds in the use of brilliantly colored clothing and umbrellas against a backdrop of more muted winter hues. When life gives you rain, Seattleites seem to make the best of it!
VIva Seattle style!