How do you define San Francisco street style?

This was the question I asked myself on a recent people watching outting one balmy winter afternoon in San Francisco. While focusing on such a metropolitan, multi-cultural mecca, I obviously had no simple answer. As I glance across the cornucopia of images I captured of people who caught my eye that day, however, I can say I have a few inklings. First and foremost, San Francisco has style.
While I hope you enjoyed our previous two posts featuring delightful people watching in San Francisco, I believe you are in for a special treat with this final episode. I invite you to take a look at some of my favorite muses and hope they will also give you another glimmer as to what makes up San Francisco style.
Classic Elegance
In spite of the city's far out eclectic, experimental and intellectual leanings, it is awesome to see San Franciscans rocking a classic elegant style, don't you think?
As in our last post. you might notice that colors and weights of clothing worn by these muses are a bit unorthodox for winter. I like to think it has to do with a greater inclination for free thinking. It is certainly more comfortable to ignore these kinds of fashion mandates (like wearing dark hues in winter) in a city where seasons are a'jumble.
Hipster
Considering San Francisco's past of embracing counterculture from the beat generation to hippies to punk/thrash/rave movements to revolutionaries of gay liberation, I can see how it is a rich breeding ground for hipstersdom and those who eschew the mainstream fashion scene.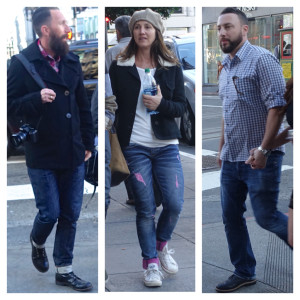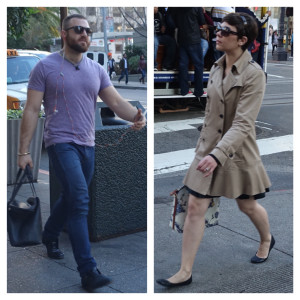 Although I'm not sure why this opinion would appear on Forbes.com, San Francisco's Mission is reportedly the second best hipster neighborhood, only second to LA's Silver Lake and outranking it's birthplace, Williamsburg in Brooklyn. 
A Creative Flair
My hands-down favorite flavors of San Francisco style are the artistic, creatively inspired, wacky and "vintage collage". Expressive play with texture, color and trends represent a richness of culture and a freedom from convention, which in my mind are synonymous with our City by the Bay.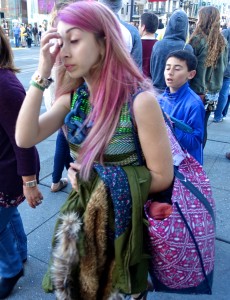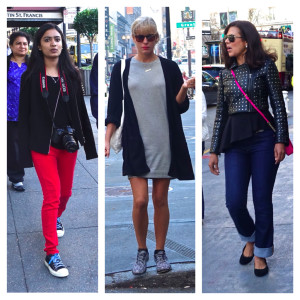 Melissa Davies, of the blog Bike Pretty, prettily exemplifies the creative spirit of San Francisco culture: Imagine, riding your bike in a long dress! The shoes and socks are pretty awesome too, wouldn't you say?
I suspect that not only locals but also several tourists in Union Square enjoy dressing a la San Francisco. Where else can you fit in equally well either dressing in head-to-toe vintage or haute couture?
San Francisco's cultural atmosphere seems to me to foster originality and boldness. After being home to revolutionary poets, artists and musicians, why wouldn't it roll out the welcome mat for cutting edge start up techies? To quote Jerry Garcia, "What a long, strange trip it's been."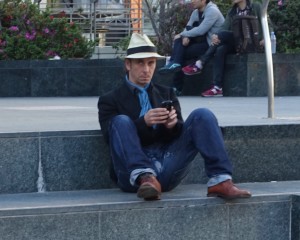 So, how would I define San Francisco style? My thinking has evolved from attempting to identify tendencies to finally grasping the reality that San Francisco style – if we must rely on that term – is really a kaleidoscope of diverse looks co-existing in relative ease and harmony. Meaning, I give up!
Yes, San Francisco seems to encourage diversity and self-expression. People I recently watched ranged in dress from classic in style to trendy to counterculture. Those dressed for summer day in February, in my opinion, were probably not simply tourists who mistakenly assumed that the climate would be tropical since they were coming to California.
Yes, San Francisco is a haven for playful creative types and style-lovers, but I also feel it refuses to fit into a definition. I would love to hear your thoughts.