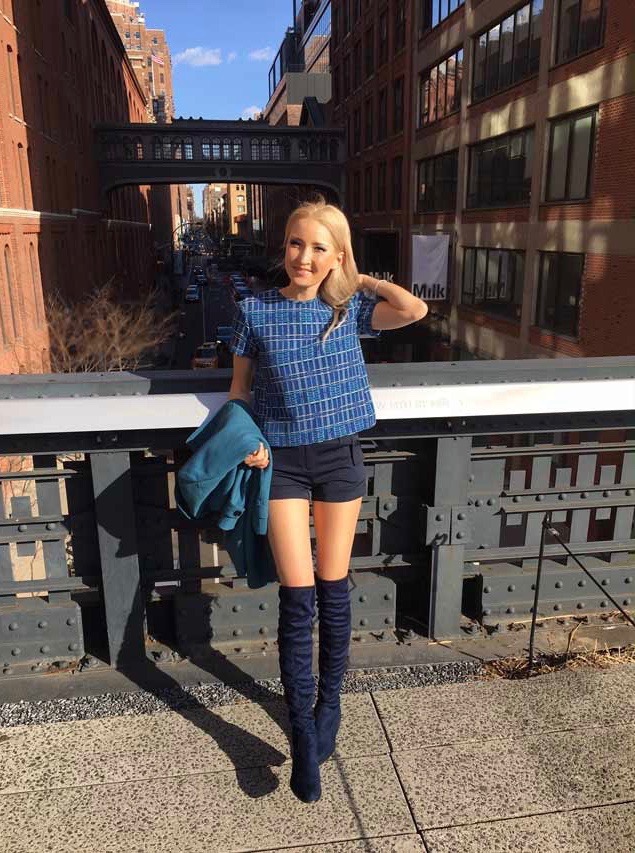 I like to call this outfit "all shades of blue." It was an appropriate look and hue for a recent  beautiful, sunny, and truly spring day in New York.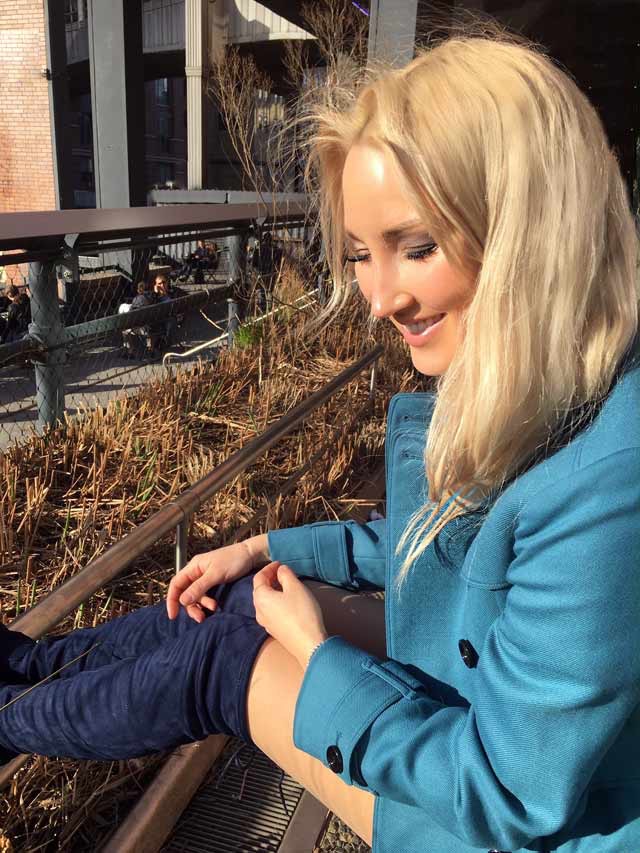 That is, after my winter hibernation in Boston. This winter I survived a couple of big snowstorms. And I mean BIG!
I am Russian, which means I've seen snowstorms. But even for me, they were horrendous. I'm especially referring to one in March. I could barely get anywhere in Boston, because everything was buried under the snow! And at the time, I would see photos on Instagram of friends in Moscow walking around, wearing spring clothes. 😐
You can imagine how happy I was when the thermometer outside finally hit 60 degrees. It was so warm and beautiful!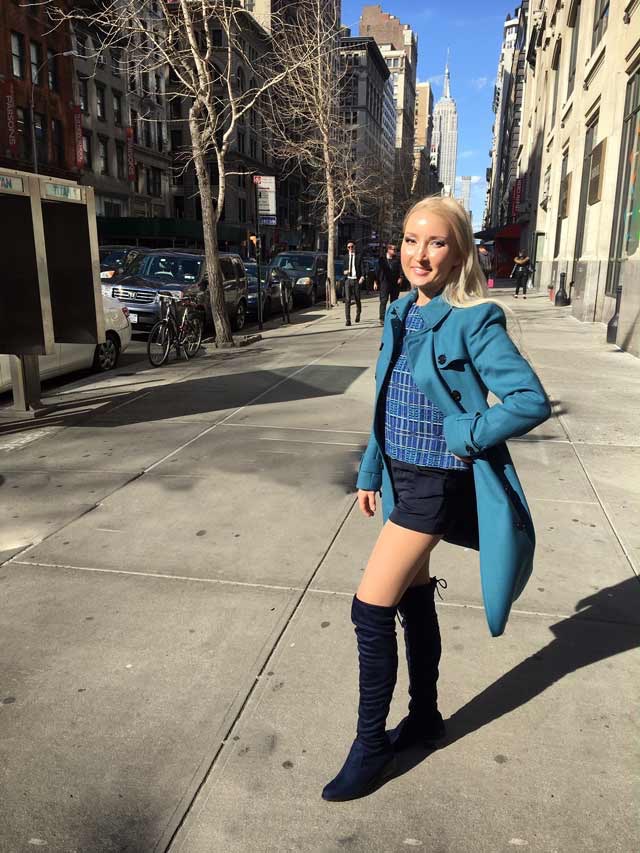 These shots are from my first day back in the city. That day, I did everything I missed about New York: walking the High Line…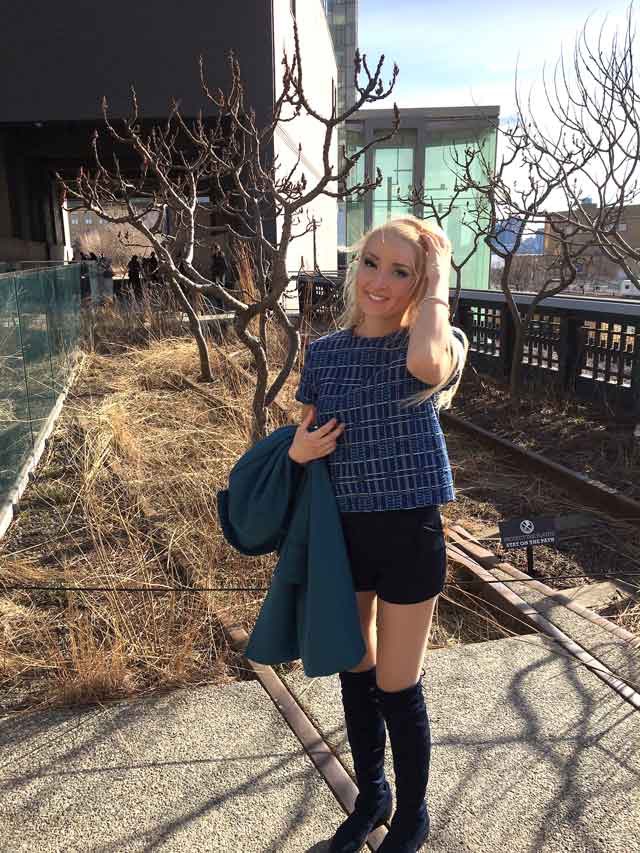 …enjoying a giant Stumptown latte, and…eating See's candies. Okay, that last part was a digression.
I love See's candies! In San Francisco, I first discovered this store where you can come and pick out the chocolates you like to make your own box. It turns out that that's where the company started. Later I found another two See's candy shops: in Portland, Oregon and Dallas, Texas.
I was really happy when I found that last location. Every time I would go to see my folks, my mom and I would drive to North Park Mall – 40 minutes from where they live! – to buy See's candy. That's because there was no store in New York. What a tragedy!
Of course, you can buy them online, but there is nothing like walking into that little black and white shop full of cute boxes (now with an Easter theme) and the delectable smell of that creamy milk chocolate l love.
Long story short, I was walking to Stumptown Coffee Roasters in the West Village. And I almost started jumping for joy when I saw that a See's candies store had just opened there!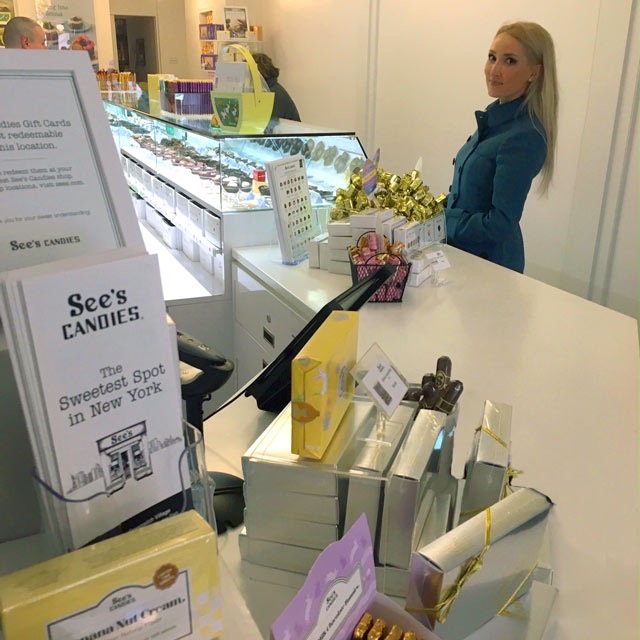 After a long walk on the High Line, I couldn't resist getting my favorite rum nougat milk chocolate bars and snacking on them with that perfect latte. What a day!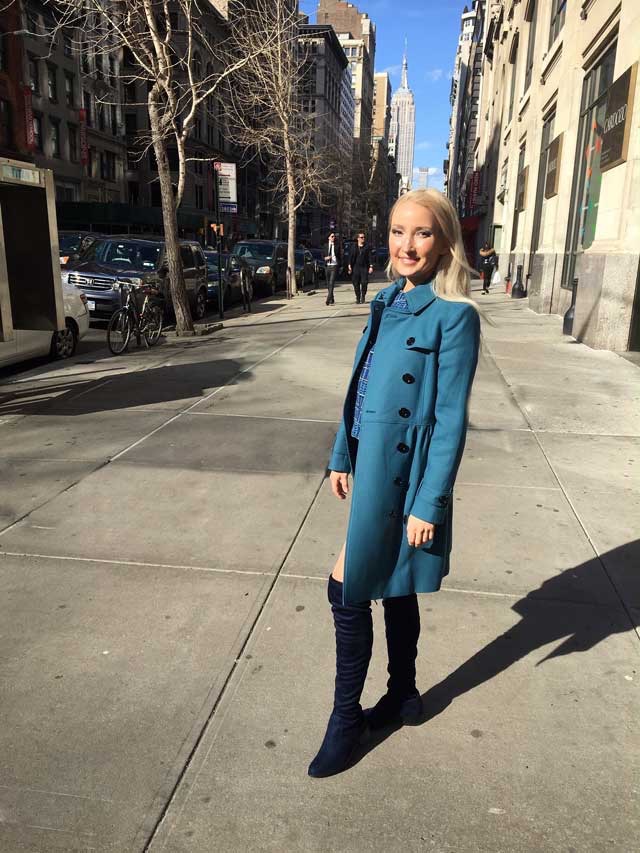 Paul & Joe Sister tweed t-shirt – SIMILAR / Elizabeth and James high-waisted shorts – SIMILAR / OTK boots by an unknown brand – super cheap ($89). I bought them in a small store somewhere between downtown and Soho. But they're super cute and comfortable! / BURBERRY COAT
---