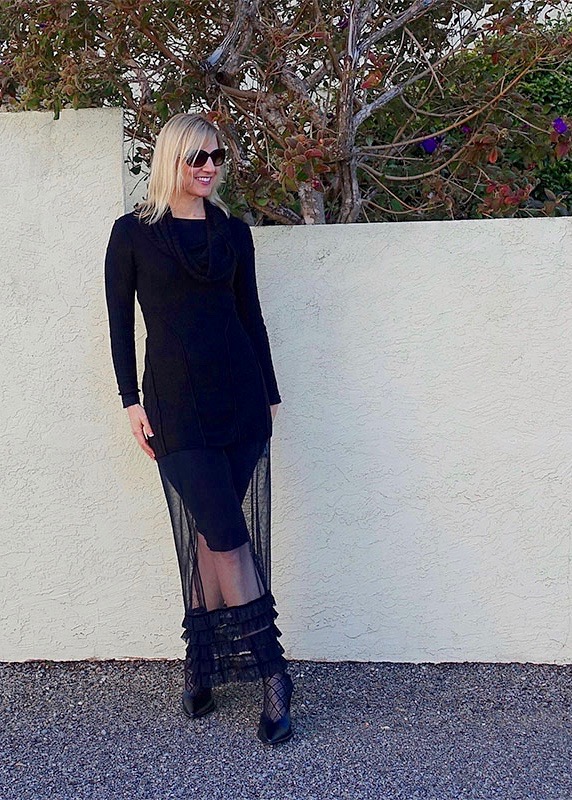 If you've been reading the STYLEtti for a while, you'll know that I love a challenge. And that's that's my reason for buying this sheer maxi skirt at a local shop a few months ago with no idea whatsoever of how to wear it.
Twenty8Twelve sweater – similar / Anny & Adi Jacobson Pour Toi skirt – similar / Stella McCartney mules – similar
Does it work?
When I ventured out to my fashion shoot on these cliffs overlooking a (Santa Cruz) California beach, I have to say that I imagined receiving looks. I don't mean to say that I felt especially lovely. But rather, I predicted that my skirt with kneecap leggings might be perceived as unusual – maybe even a tiny bit weird.
Reactions, however, were far from that. Upon passing me, dog walkers and sunset viewers alike complimented me on my "beautiful skirt." I don't know if I can thank the fact that this town is accepting of things outside the mainstream. But, it was definitely decided that my sheer skirt outfit would be repeated!
My inspiration
To give you a little background, this skirt hung in my closet for months. It occasionally came out when I'd periodically try it on with everything from a slip (forget it!) to long leggings. Nothing seemed to work until I was inspired by THIS AWESOME POST by Leandra Medine. In it, she wears a sheer dress over…you guessed it: kneecap leggings!
Leandra actually shows three different ways to wear knee-length leggings, which she reports as being hot on the Chanel runway as of late. I've noticed as well how John Galliano for Maison Margiela has peppered his recent haute couture show with loads of lovely sheer pieces (SEE HERE).
I do love sheer garments and noticed that they were a popular choice during New York Fashion Week last September.
This slideshow requires JavaScript.
Outside of Alexander Wang's SS17 show
I am more concerned with wearing an interesting piece – like something George Jetson-ish – than being on trend. I have to admit, however, that I'm not terribly disappointed that this skirt/legging combination might be considered on point – especially with the ruffles!
ALTERNATE WAYS TO WEAR THE SKIRT
Although I'm still a little stumped when it comes to other pieces that could work under this sheer maxi skirt, I imagine ways to give it more of an evening vibe. I'm thinking that on Valentine's evening, for example, it would look great with a pair of white or black pumps (sans ankle socks.)
On top, a black blouse in a silky fabric would also make it dressier. I'm thinking of trying something like the semi-sheer top I featured last year around Valentine's Day in THIS POST. It could be perfect, in fact, for New York Fashion Week next week!
I'd love to read your style ideas. What would you wear under a long sheer maxi skirt?
XO, Janea
Psst! Check out these two completely/partially sheer pieces by Layana Aguilar on Shop theSTYLEtti!
---