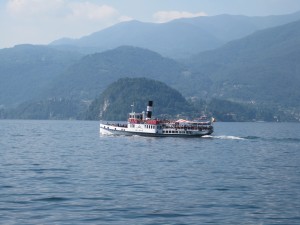 I have discovered this awesome shoe store, called El Capriccio, in Bellagio on Lake Como (no, not Vegas!) which of course, sells shoes made in Italy. Their merchandise is lovely, comfortable and much more economically accessible than say, Gucci or Prada. 
As soon as my fiancé Mark and I first stepped in, I found some gorgeous black court pumps. Since I had just purchased two pairs of heels in Barcelona and had little room to spare in my luggage or budget, I walked away without buying them. A month or two later however, I could take it no longer and emailed the shop owner (thank you, Google!) a description of the shoes and photo of Mark and I. Can you believe she remembered which size (thank you, Barbara!) fit better? My beautiful pumps arrived by mail relatively shortly thereafter.
The second time Mark and I vacationed by the lake, we stopped by Il Capriccio with a tentative plan of getting shoes right then and there. I had resisted a Saks sale with lovely $500 Prada heels and figured I deserved (at a reasonable price) sexy beige-colored, high-heeled sandals. 
It wasn't an easy decision, however. The beige sandals, although excellent for leg-lengthening, were in fierce competition with some blue high-heeled sandals featuring a sexy criss-cross ankle strap. In my wardrobe, I have loads of blue.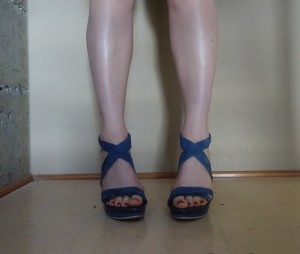 This time I waited a whole three and a half months to email Barbara at Il Capriccio. She knew, of course, exactly which blue sandals I was coveting and sent them on their way. 
When a couple months passed with no shoe box at my doorstep – and after a Nordstrom package had gone missing! – I started to panic. I emailed Barbara, who began to look into the matter from her end. I started giving up hope, especially after a neighbor recounted having had stolen from her front porch a shipment of books by female English Victorian authors. How low those package bandits stoop!
That next month Barbara emailed me a photo of the package with a big "Unclaimed" stamp on it from the U.S. Postal Service! Unclaimed! We had taken a trip to the east coast for the holidays. It could have arrived during those few days or something else had seriously gone awry on this side of the ocean. For extra security, I emailed Barbara with Mark's Seattle office address for the next attempt, and the shoes made it there in record speed. Who cares that the box was a little worse after the – triple! – journey oversees.
The gestation period between trying on and receiving the sandals was nearly nine months. But they are cute, sexy and Italian-made, which means a girl can keep them on for hours with no discomfort. And they are mine at last!
I would say they were worth the wait, although having recently moved to Seattle from California, I might be wearing them more at home for fun than out on the street.
Do you have a story about obtaining some longed after pair of shoes, garment or accessory – perhaps about what you (or the shoes!) had to go through to be united/reunited? Feel free to write a comment or email me a post (thestyletti@gmail.com) – I would love to publish some of your stories!