Shoe mania is a common girls' affliction, and I am no exception. My collection has more than 53 pairs of shoes. That only includes boxes I can count; I keep some pairs without boxes, like seasonal shoes (Uggs, etc.), and so it's hard to keep track of those.
My shoe shopping is always impulsive. I never think about a particular brand, color, or occasion when I am looking for a pair. Spontaneity makes the buying process less stressful, more pleasant and widens the variety of my collection. I usually remember the circumstances, mood, and atmosphere which made me buy a particular pair; so, each one has a little story.
It is a well-known fact that New Yorkers walk at an average person's jogging speed. It is completely true, and sometimes the jogging part turns into a race on an obstacles course, especially when your route passes a tourist attraction. With this in mind, I feel all the heels I buy should be as comfortable as they are good looking and fit for walking 30-40 blocks, no problem.
I would like to share 5 pairs I picked for you. They might not be the most valuable specimens in my collection but definitely some of my favorite heels and so New York:
Prada. There are no heels like Prada. Their shoe is the most stable and comfortable for me.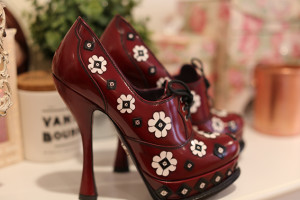 I bought these precious heels in the winter season, 2012/13 at Saks Fifth Avenue in New York City. Surprisingly enough, they survived the 30% sale period, and I bought them at a 50% discount, which is a rare thing. I take either a size 5 or 6 shoe, and so, there are usually not many choices for my feet.
Louboutins are love. They are simply perfect. These pumps were a present my mom gave me during my graduation party from a Masters program. They are blue, the color of my MFA Social Documentary Department logo, and so, this is a pretty memorable pair.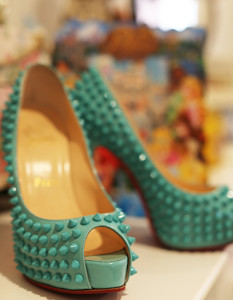 Jimmy Choo. These are not heels, but they are so New York: black and elegant, and you can walk in them all day long.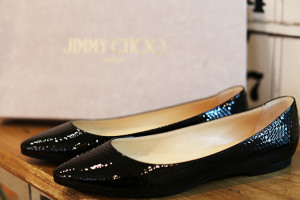 Miu Miu. Despite the fact that the heel is pretty high, these are the most comfortable shoes I've ever had. Partied in them all summer long. Surprisingly enough, green shoes work with many outfits and can bring a fresh note to any look, even an all-black one. I usually coordinate these with a little green scarf from Anthropology or emerald earrings.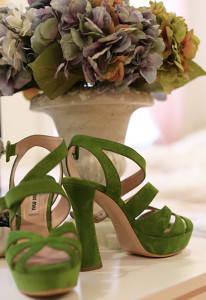 Manolo Blahnik. They are not so comfortable! Don't believe Sarah Jessica Parker who with a gorgeous smile, "easily" walked along the streets of Manhattan in these. No Carrie Bradshaw would survive the cobblestone streets of the meatpacking district. But after "Sex and the City", Manolos have become as much a symbol of New York as the Statue of Liberty.